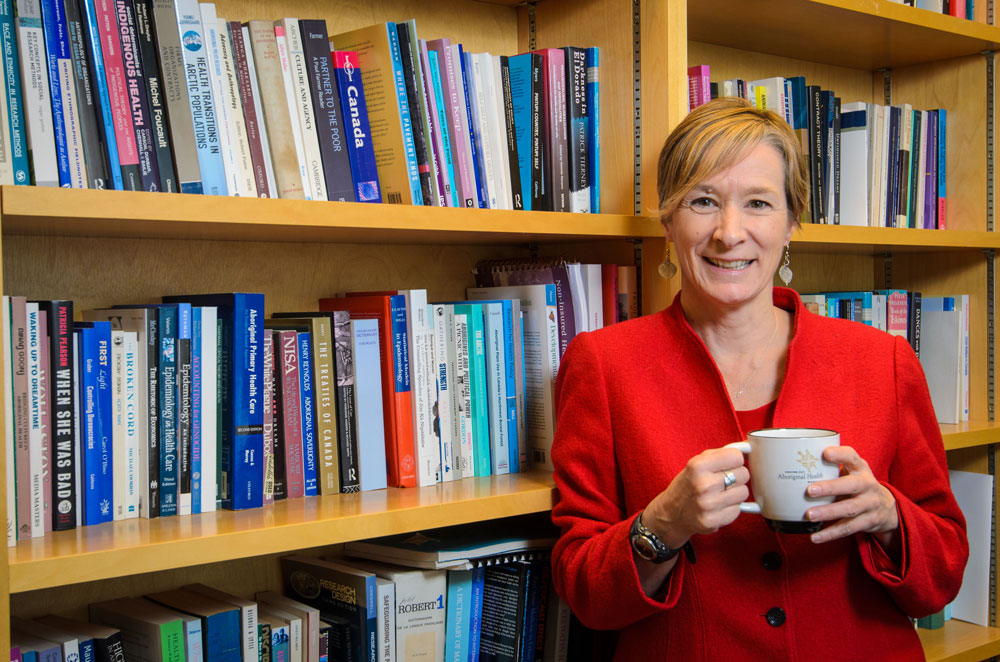 Research centre plans new office on Fort Garry campus
January 6, 2017 —
The centre for Indigenous health research on the Bannatyne campus plans to expand its impact with a satellite office on the Fort Garry campus.
The Manitoba First Nations Centre for Aboriginal Health Research (MFN CAHR), based in the Rady Faculty of Health Sciences, will establish an office in the Human Ecology Building on the Fort Garry campus, says Dr. Josée Lavoie, director of the centre. It's hoped the facility will open this spring.
MFN CAHR promotes health research that addresses the self-defined needs of First Nations, Metis, Inuit and international Indigenous communities. Because the centre's mandate includes social, cultural, environmental and population health, Lavoie wants to encourage research projects in fields that are based on the Fort Garry campus.
"Health research could be in anthropology, nursing, education or linguistics, for example," she says.
MFN CAHR also develops Indigenous health research skills among students and researchers by providing mentorship opportunities.
"We want to reach out to Indigenous students," Lavoie says. "We want to create a space that emulates what we have here on the Bannatyne campus, to better serve Indigenous students and health research faculty."
MFN CAHR originated as a research group 30 years ago, making it the oldest centre of its kind in Canada. Unlike most university research centres, it has an open-door policy. It invites researchers, both Indigenous and non-Indigenous, academically trained or not, to become members (at no charge) and share expertise.
"Not all knowledge is university-based," Lavoie says. "We recognize no boundaries."
The centre currently has 55 members. It is part of a consortium of research centres including Nanaandawewigamig (of the Assembly of Manitoba Chiefs), the Manitoba Metis Federation and the Manitoba Inuit Association.
The U of M has been a world leader in recognizing that research should involve and directly benefit the Indigenous communities that are studied, Lavoie says. The more exploitive style of research in which scholars arrived, collected data without consulting the community and then disappeared, has given way to respectful research partnerships with communities.
"That movement was mostly led by Indigenous communities pushing back against research that was conducted on them, but not with them," Lavoie says.
"Indigenous communities were tired of reading research reports that blamed their culture for the state of their health, or gave a damaging portrayal, rather than a richly contextualized understanding. Partnership-based research provides economic opportunities and employment in the communities. It also makes for much more accurate research."
Lavoie herself has just received a Canadian Institutes of Health Research (CIHR) project grant of more than $700,000 as the principal investigator for a three-year study in partnership with the Manitoba Inuit Association.
Every year, Lavoie notes, thousands of Inuit from the Kivalliq Region of Nunavut travel to Manitoba to access health care and other services. Some stay for weeks or months (for example, for rehabilitation after an accident or for specialized children's services). Some never go back, either by choice or because their needs can only be met in a southern centre.
"There are about 15,000 trips to Manitoba every year for medical reasons from the Kivalliq Region, which has 8,300 Inuit," Lavoie says. "That's about two trips a year per person, on average. Yet we know little about the needs of Inuit who are accessing services in Manitoba, relocating to Manitoba or being born in Manitoba."
The study will analyze data stored in the Manitoba Population Research Data Repository at the U of M's Manitoba Centre for Health Policy. Lavoie's team will examine the period from 1984 to 2016 to better understand the experiences and needs of Inuit in Manitoba.
"We can look at things like children in care, contacts with the justice system and public housing. We'll identify where Inuit might get lost in the system and get into challenges that undermine their health. Then we can work to build programs to respond to Inuit needs."
In November 2016, Lavoie says, the CIHR announced a significant increase in federal funding of Indigenous health research projects undertaken with Indigenous partners.
"The CIHR has nearly doubled the amount of its investment," she says. "It's time to dust off those research proposals and apply."