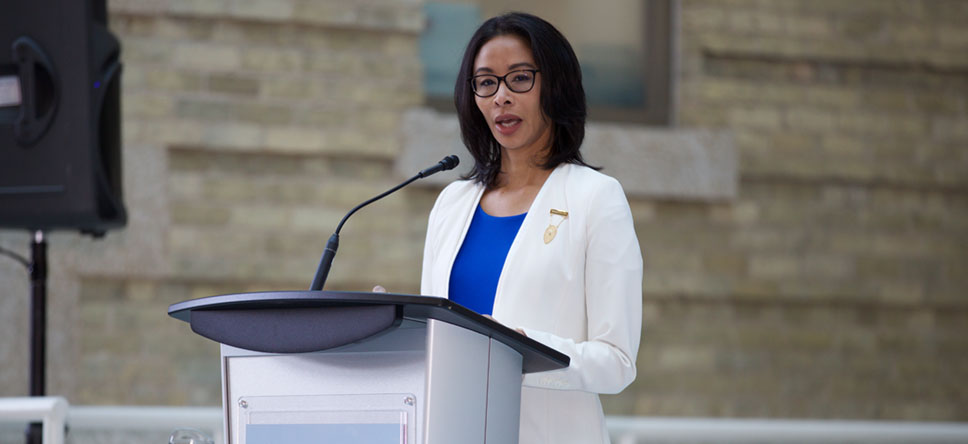 'Representation matters,' trailblazing surgeon tells new medical students
August 23, 2019 —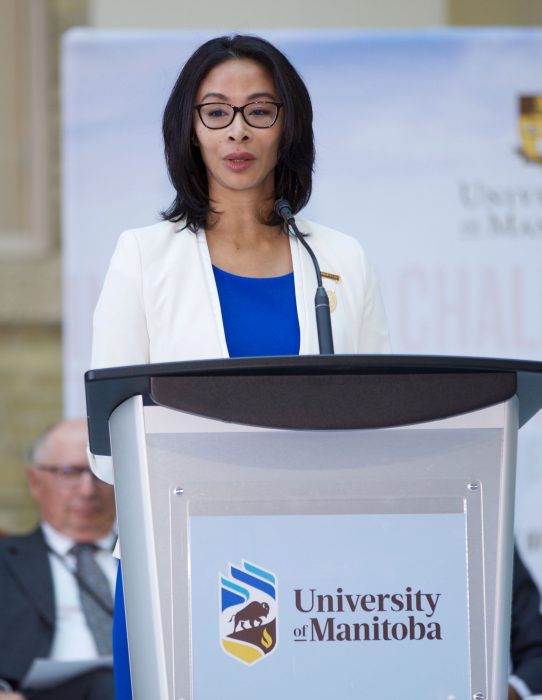 A Manitoba surgeon spoke passionately about diversity and inclusion at this year's welcome ceremony for first-year medical students.
"We need a physician workforce that reflects Canada's diversity," Dr. Gigi Osler told the Class of 2023 at Inaugural Exercises for the Max Rady College of Medicine on Aug. 21.
"For me, it's more than a professional issue. It's a deeply personal one."
Osler, a 1992 U of M medical alumna, is an ear, nose and throat surgeon who has just completed her term as president of the Canadian Medical Association (CMA).
Based at St. Boniface Hospital, she is also an assistant professor of otolaryngology-head and neck surgery at the Max Rady College of Medicine. She gave the Alan Klass Memorial Address at the ceremony in the Brodie Centre Atrium on the Bannatyne campus.
Osler was the first woman of colour – and the first female surgeon – to be elected to the high-profile role of CMA president. She learned from leading the national association that representation matters, and that she is a visible role model for others.
"I learned this through the many medical students, residents and physicians who told me that they had never seen someone who looks like them in such an important leadership role," she said.
There is a growing body of evidence, Osler said, that the more diverse the physician workforce, the better the patient outcomes. Yet discrimination and bias still create barriers.
Osler urged the students to become physician advocates and work for change. "Remember the power of your platform and the power of your voice," she said.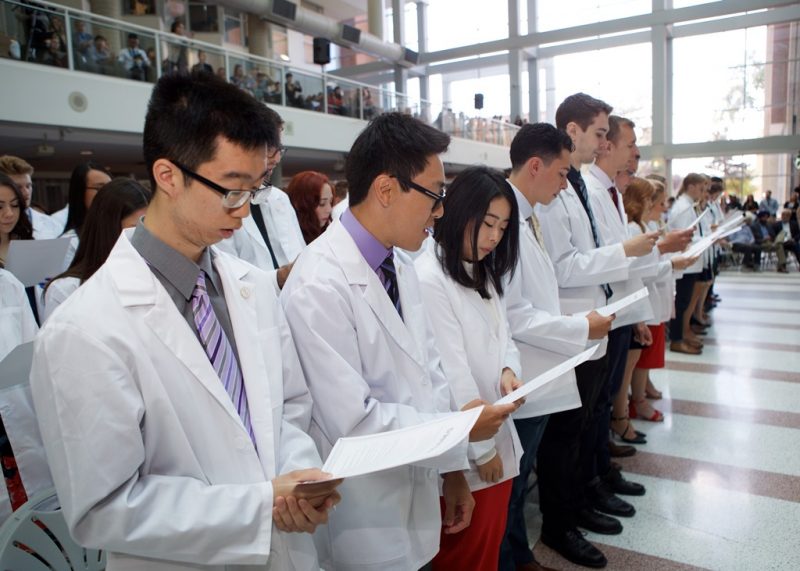 As Osler noted, the makeup of the Class of 2023 reflects the Max Rady College of Medicine's commitment to equity, diversity and inclusion in its admission policies.
The 110-member class includes 15 students of self-declared Indigenous ancestry – the highest number to date for a U of M medicine class.
Dr. Brian Postl, dean of the Max Rady College of Medicine and the Rady Faculty of Health Sciences, said the class also includes strong representation of students with rural backgrounds; those from the first generation of their families to attend university; students from families with incomes below the Canadian median; those who consider themselves part of a visible minority; and students whose first language is other than English or French.
Postl and other speakers called on the Class of 2023 to serve patients with compassion, dignity, humility and integrity. Then, to applause and cheering from the audience, the students were formally cloaked in their first white coats.
Together, they recited the Physician's Pledge, which includes a vow not to permit any factor such as gender, race, ethnic origin or sexual orientation to interfere with their duty to a patient.
Paulina Nedjadrasul, a member of the class whose parents are immigrants from Iran and Poland, said the highlight of the ceremony was hearing Osler speak.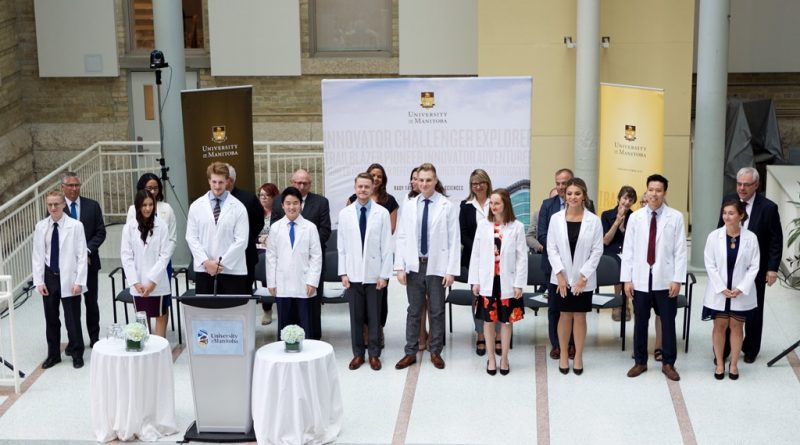 "I got chills," the 23-year-old student said. "She stood for a lot of the same things that I want to stand for. She's an inspiration for young women and people with different backgrounds."
Bobby McNair is a Métis student who grew up near Roseisle, Man., and speaks French as his first language. He is entering the medical college's bilingual stream, which prepares graduates to serve patients in French and English. He plans to practise rural family medicine.
"Métis people are the fastest-growing population in Manitoba," said McNair, 24. "If I can be a Métis doctor who can relate to Métis and Indigenous people, I think I can make that much more of a difference."
Kevin Boreskie is an accomplished health-science researcher who will be continuing his PhD studies while in medical school. He hopes to work as a clinician-researcher – a practising doctor who advances knowledge through research.
"Getting the white coat on was a real privilege – a really empowering feeling," said Boreskie, 27. "I feel very honoured."