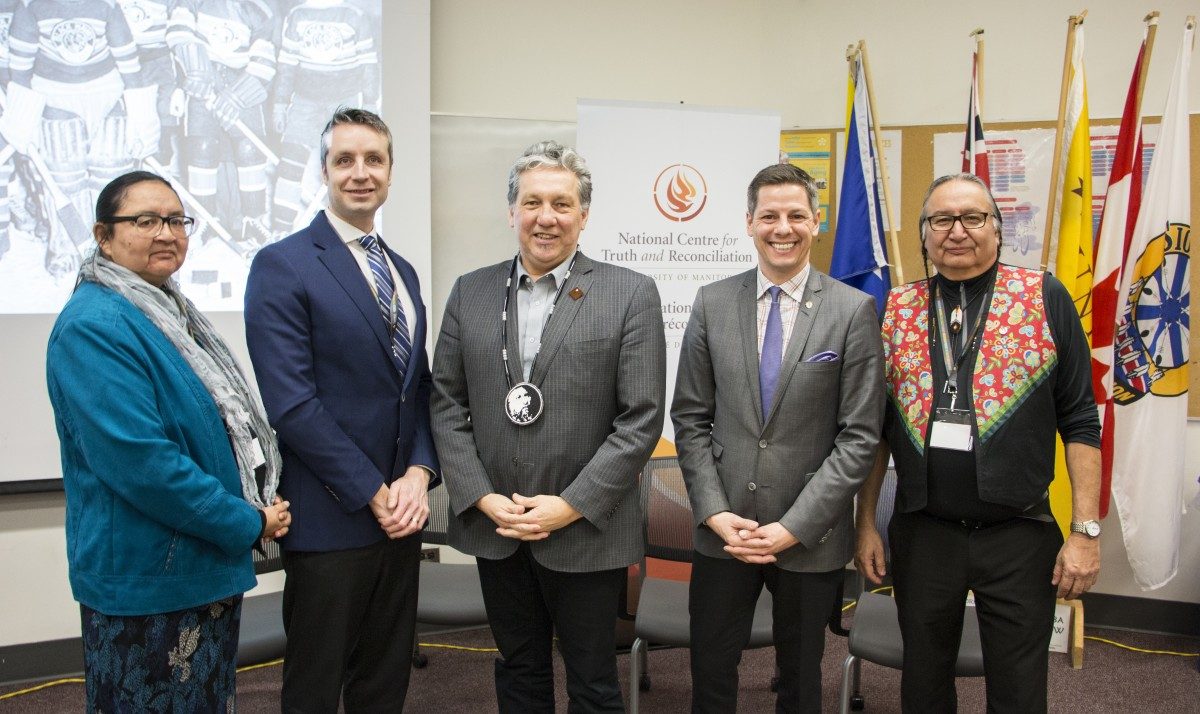 Removing barriers to sport & creating relationships critical for Reconciliation to work
February 28, 2018 —
The inaugural Sport and Reconciliation Gathering at the University of Manitoba wrapped up Friday, Feb. 23 with a succinct message: sport fosters trust and belonging—but significant action is required to build mutually beneficial relationships to forge a path forward for Reconciliation to work.
The emotional three-day forum explored ways to achieve the Truth & Reconciliation Commission's nine Calls to Action (#87 – #91) related to sport (#87-#91) and education (#62-#65) that will support the development of culturally relevant sport, recreation, and physical education systems.
Amongst the panelists and speakers sharing their experiences and knowledge were residential school survivors and their families, Indigenous coaches and community leaders, and sport and recreation program coordinators.
The gathering occurred in the wake of an emotionally trying time for the Indigenous community with regard to the recent events surrounding Colten Boushie and Tina Fontaine.
Former NDP MLA Kevin Chief spoke the morning following the not guilty verdict in the Cormier trial. In what was a somber start to the day, Chief's words gently swirled the room, calming the air with empathy and hope.
"Right now, this is the best possible place we can all be. We're all in this working together," said Chief.
Through keynote speeches, panel discussions, and group sessions, the forum identified a variety of core issues related to sport and recreation at the Indigenous level, and recommendations on how to move forward.
It was agreed that Indigenous youth face far too many barriers in accessing adequate sport and recreation programs in their communities, specifically in north end Winnipeg.
Also identified was the crucial need for sport and recreation champions in the Indigenous community.
"We need to do a better job of sharing our stories of success—and building up our champions. For all the stories of struggle we hear about our people, there are just as many good and powerful stories as well," said Chief, as he spoke with an image of Team Canada Olympic hockey player Brigette Lacquette displayed behind him.
Discussed, too, was the need to re-design long-standing sport and recreation funding and organizational structures to incorporate Indigenous values and ethics.
"Systemic racism stops opportunities from going forward. Rules and regulations based on colonial models will not work," said Eugene Arcand, a residential school survivor and catalyst in the Indigenous sports community. "They have to realize that Indigenous people have their own ways of organizing things and that needs to be respected."
Forum coordinator Bruce Miller is pleased with the progress and outcomes of the three-day event. He admits there's still lots of work ahead—and it will take plenty of courage to continue the conversations.
"This work is not easy, but it's important to drive ahead and have those awkward and difficult conversations about the history of residential schools, racism, and sports and the ripple effects it all still has today," said Miller. "I'm pleased there's interest to further what we achieved over these three days."
Next steps include the Manitoba Aboriginal Sports and Recreation Council (MASRC) taking the recommendations from the gathering and working with sport and recreation bodies to enact "change and progress," Miller added.