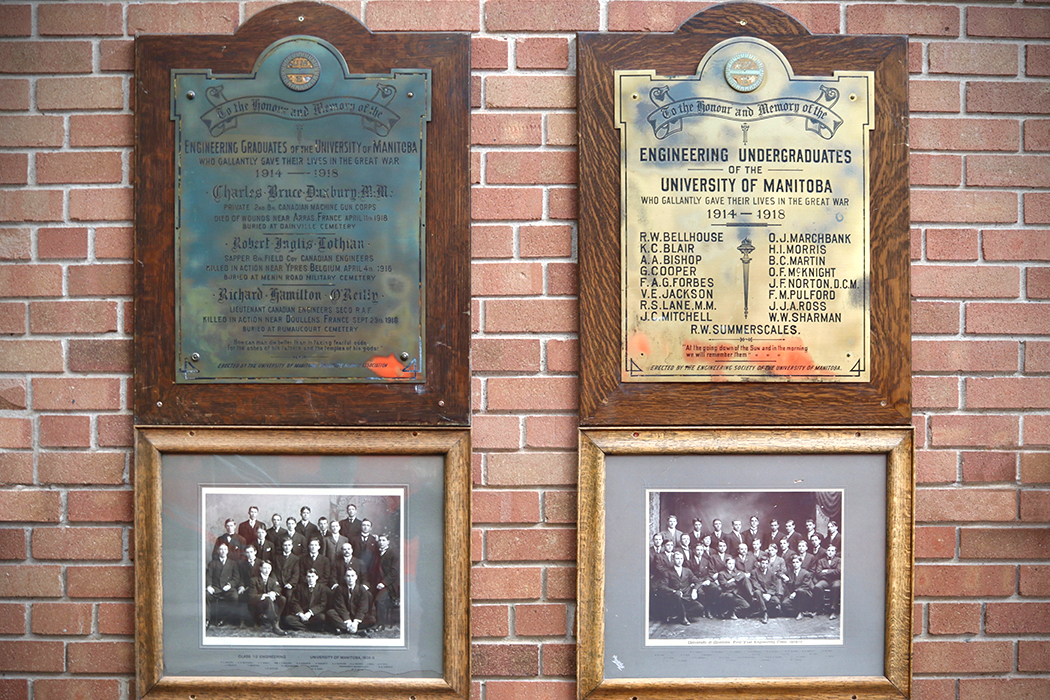 Remembering Our Fallen
Faculty of Engineering remembers students who gave their lives in World War I
November 8, 2019 —
Remembrance Day holds special meaning for the Faculty of Engineering.
When WWI took hold of the globe, engineering students at the University of Manitoba put down their pencils, packed their bags, and headed overseas to serve their country in a fight for freedom and peace. On November 11th, 1918, 4 years, 3 months and 2 weeks after it began, WWI came to an end, bringing to a close what at the time was described as "the war to end all wars".
Soon after, troops began to return back to their homes. The Faulty of Engineering lost 20 undergraduate students and 3 Faculty graduates who perished in battle and would never return. This, of course, does not include the number of who died in the years to come from disease and illness which they contracted during their time serving overseas.
Today, two restored plaques and two photos are permanently drilled into the south brick wall of the Engineering Information & Technology Complex atrium. Those that served will forever be honoured as engineers who gave their lives so others could become what they never had the opportunity to achieve.
Engineering Undergraduates who gallantly gave their lives in the Great War
R.W. Bellhouse, K.C. Blair, A.A. Bishop, G. Cooper, F.A.G. Forbes, V.E. Jackson, R.S. Lane (M.M.), J.C. Mitchell, O.J. Marchbank, H.I. Morris, B.C. Martin, O.F. McKnight, J.F. Norton (D.C.M.), F.M. Pulfordm J.J.A. Ross, W.W. Sharman, R.W. Summerscales
Engineering Graduates who gallantly gave their lives in the Great War
Charles Bruce Duxbury, died from wounds near Arras, France, April 11th, 1918
Robert Inglis Lothian, killed in action near Ypres, Belgium, April 4th, 1916
Richard Hamilton O'Reilly, killed in action near Doullens, France, September 29th, 1918
"Remembrance Day is a day to remember and show respect to those who have laid down their lives for our freedom today. I hope everyone can put aside their differences on this day, and honour all Canadian soldiers." – Laura Stoyko, 112th Senior Stick, University of Manitoba Engineering Society.
There are several services taking place in Winnipeg on November 11 for members of the public to pay respects and remember all who gave and continue to give for our country. Full listings can be found by visiting veterans.gc.ca/eng/events