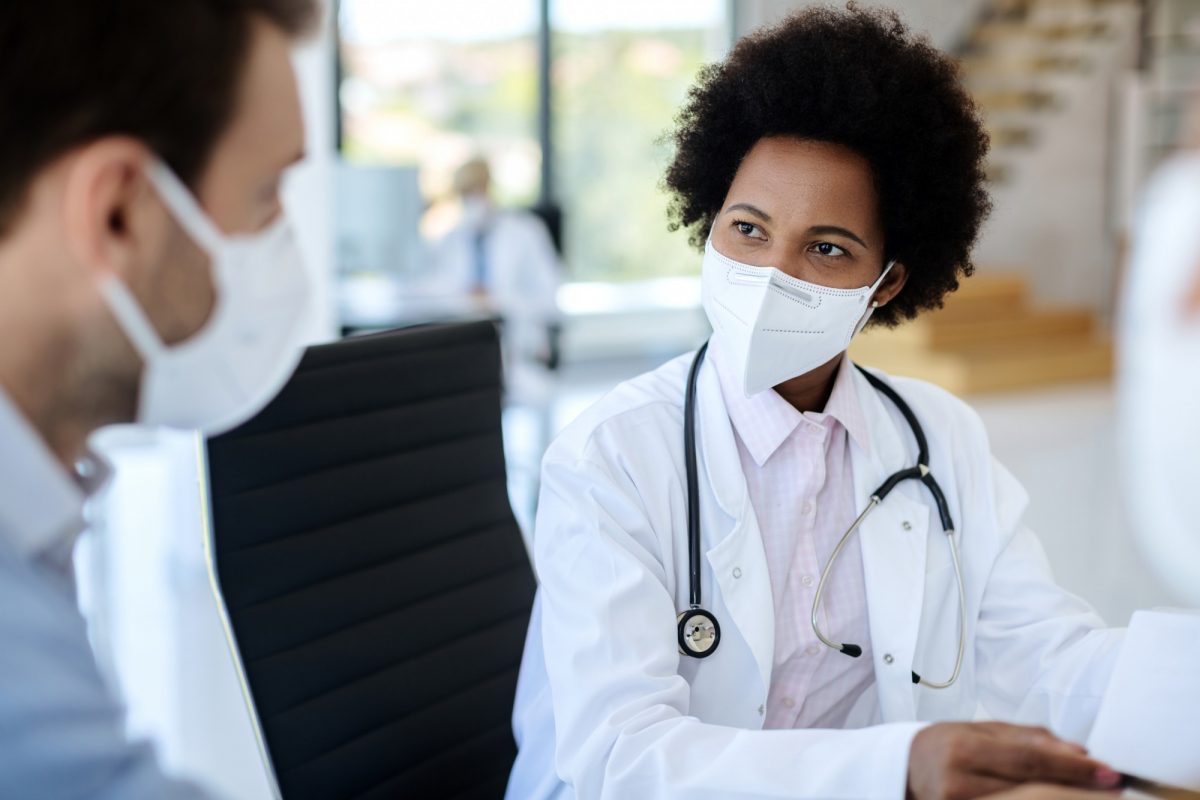 Relationships Built on Trust
How family doctors have helped get Manitobans vaccinated
February 9, 2022 —
Family doctors build relationships with their patients over years, sometimes even decades. Now, as Manitobans have been rolling up their sleeves and getting vaccinated, family doctors are relying on the trust they've cultivated with their patients to help some of them, over multiple visits, become more comfortable and better informed about COVID-19 vaccines.
Dr. Jose Francois has been helping his patients understand the vaccine process, possible risks and correcting vaccine misinformation.
"Sometimes those conversations have to happen multiple times," says the head of the department of family medicine in and Shared Health's provincial specialty lead, family medicine. "I've had patients initially say no to the vaccine and then after a few months they decide they're ready to get it."
These ongoing conversations are part of why Francois chose the family medicine specialty 21 years ago.
"What I like about family medicine is the ability to care for people over time," he says. "I get to know these people and develop a rapport. Seeing the impact of care over the years is very satisfying."
Francois says what's been unique about the COVID-19 pandemic is the amount of data family doctors are able to access. They've been able to take a proactive approach by cross-checking their patient lists with a list of those who have not yet been vaccinated.
Patients who discuss vaccines with their family doctors get their information from a reliable, trusted source that is looking out for their best interest, without having to turn to Google and possibly stumble on harmful misinformation.
When Dr. Mandy Buss reaches out to her unvaccinated patients, she takes a non-judgemental approach and lets them lead the conversation.
"People are hesitant for a lot of reasons. For First Nation, Inuit and Metis people, historically there have been unethical experiments done on them. They may have experienced racism in healthcare settings or felt like they weren't getting the standard of care the rest of Canada was getting, so you have to be gentle in your approach," says the first Indigenous health lead for the department of family medicine.
Buss listens to her patient's concerns and gives them accurate and helpful information so they can make their decisions for themselves.
"I want to empower patients and make sure they know they have autonomy. The vaccine can seem scary with the risks of blood clotting but giving a perspective about what that risk really looks like," she says. "For example the risk of blood clotting during pregnancy is huge. It can be a risky endeavor, but most people are just fine."
By reaching out to patients, physicians can understand what potential barriers may stand in the way of getting vaccinated besides hesitancy. Francois says part of his job is assessing those barriers and figuring out how to make getting vaccinated as easy as possible.
"It can be as simple as being homebound and not having the transportation to get you to the clinic or not having access to the technology to book an appointment," says Francois.
For those patients, health care providers have been trying to bring vaccines to them as much as possible. Mobile outreach vans, house calls or community clinics are used to overcome mobility barriers and make getting vaccinated simple.
As the pandemic has lingered on Probe Research has found that 4 in 10 Manitobans have begun to lose faith in the vaccine. Understanding why there are still restrictions even after most Manitobans have been vaccinated and why the Omicron variant is so contagious can be confusing for people without a strong health background, says Buss.
"The messaging around vaccines is constantly changing because the virus is constantly changing. We are collecting new information as we analyze the data and I can see why that may cause distrust as an outsider," she says. "I have conversations with patients and educate them on why the vaccine is less effective at preventing illness against the Omicron variant. The virus is changing fast and that means we have to pivot our knowledge."