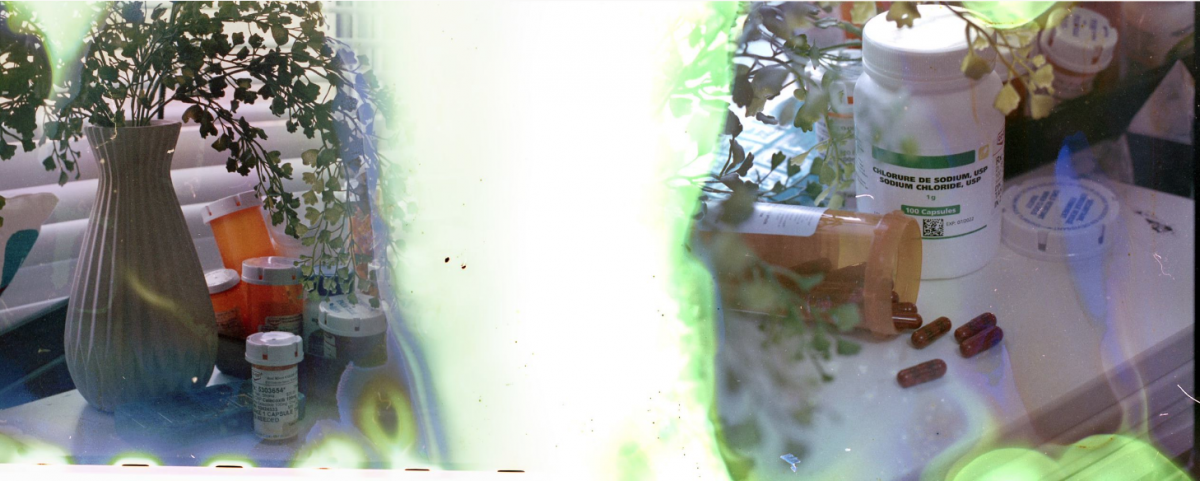 Reimagining boardroom art
UM Art students commissioned to diversify Rady boardroom walls
March 14, 2022 —
If you're visiting 206-207 Chown boardroom, you'll find yourself face to face with nine new works of art by emerging artists from the University of Manitoba's School of Art. The Rady Faculty of Health Sciences purchased the pieces from soon-to-be graduates to showcase art in its boardroom that speaks to the faculty's commitment to addressing equity, diversity and inclusion.
While 206-207 Chown is normally used for hosting deans' councils, conferences and meetings, it now gives faculty, staff, students and visitors a chance to see and appreciate contemporary students' artistic interpretations of health and medicine.
"Many of our boardrooms feature portraits of past deans which are predominantly, if not exclusively, White males. The idea behind this initiative was to engage with current art students to commission works of art that better reflect the diversity of our faculty, staff and learner populations and the communities we serve across all our health professions," said Dr. Brian Postl, dean, Rady Faculty of Health Sciences and vice-provost (health sciences).
Mark Neufeld, associate professor in UM's School of Art, asked his colleagues to recommend names of fourth-year students to help him create a list of potential artists. He had open-ended instructions to pick pieces that reflected the diverse communities served by the Rady Faculty of Health Sciences and ran with the idea.
"I selected the work knowing that the Rady Faculty plays a vital role in community health," he says. "It was an opportunity to ruminate a little on how art can relate to the body, or to health, or to diverse communities."
The collection features paintings, mixed media and photography. One of the pieces, titled God's Grace, is a mixed media work that uses memory boxes, quills, deer hide and embroidery.
The deer hide is formed in the shape of a teacup. A quote from Sister Marie de L'Incarnation, the first Ursuline nun that came to Canada, is embroidered on the deer hide reading "see what grace God has given these people who would otherwise be in hell for eternity." Embroidered flowers circle the quote. Sharp quills surround the hide.
Artist Tracy Charette Fehr created the piece while working on her Master of Fine Art. For her thesis, she has been researching how colonialism, residential schools, the influences of nuns and the Catholic church, have impacted Métis material culture.
"I wanted to see the influence the nuns had, like on a certain style of embroidery, which the nuns would teach Indigenous girls at residential schools," said Fehr, who is Métis. "The quills, they're not decorative. They're like an act of resistance, stabbing the words on the piece. It shows there was a cultural and personal resistance."
While the connection to health might not be immediately obvious, Fehr hopes to share a piece of Métis history and culture with visitors and allow them to reflect on how their work affects different groups.
"I'd like them to think about the people that my piece represents. Being in the faculty of health sciences, I hope that the piece helps them understand the experience many of us have been through. I hope it adds another layer of understanding to the impact of colonial and religious force that happened in this country," says Fehr.
No matter what piece you're looking at in 206-207 Chown, you're likely to feel something toward the work. Which is exactly what Neufeld was hoping when he arranged the exhibit.
"I hope visitors see something they enjoy looking at, I hope the work raises questions or provokes connections. By 'connections' I mean either connections or resonances with their own experiences and connections between the artworks themselves. Themes are interesting in that they can be very apparent and easy to pick up for people, or they can be subtle," says Neufeld. "What is unique about this boardroom scenario, is that people will view the work repeatedly, over a long period of time."