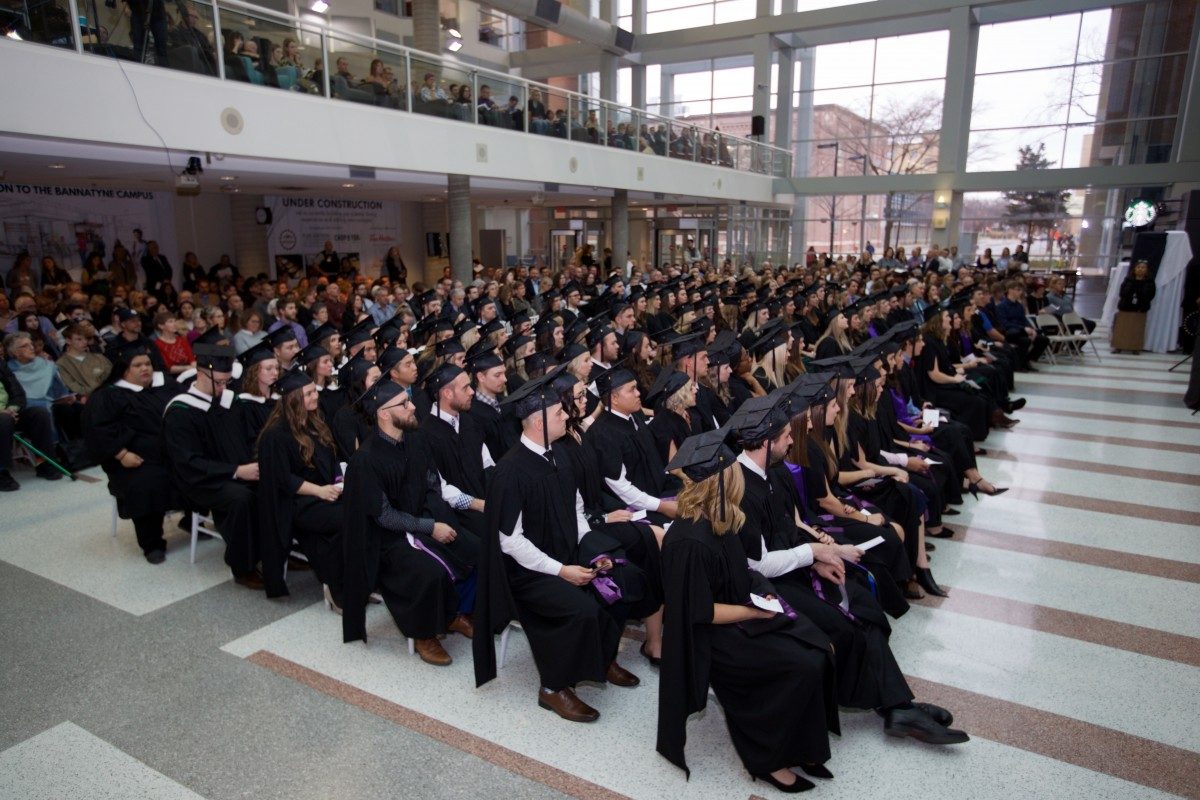 Rehab Sciences, MPAS grads celebrate first convocation on Bannatyne campus
October 30, 2018 —
Scott Coley had a lot to celebrate when he put on his cap and gown for the University of Manitoba fall convocation on Oct. 26 for College of Rehabilitation Sciences and Master of Physician Assistant Studies programs.
In addition to his Bachelor of Respiratory Therapy (BRT) degree, 28-year-old Coley received a Gold Medal award for attaining the highest degree grade point average in the program, and did so while balancing a very busy home life. Three weeks before graduating, he and his wife, Katherine, became first-time parents.
"My wife was truly amazing in supporting me through my journey back to school," he says, noting that his workload increased in his last year of schooling – the same time that she became pregnant. "I believe my biggest challenge was to find a balance between spending time on school and contributing to work around the house."
Coley was one of 16 BRT graduates and 126 Rady Faculty of Health Sciences graduates in total that received degrees at the convocation, including Master of Occupational Therapy (MOT), Master of Physical Therapy (MPT) and Master of Physician Assistant Studies (MPAS) programs.
Since launching in 2008, the MPAS program has graduated 106 physician assistants (PAs). Of them, 90 per cent are employed in Manitoba. This fall, 16 MPAS graduates join the ranks, helping to meet health-care needs across the province and in diverse settings including primary care clinics, hospitals, community settings and emergency and operating rooms. One of this year's MPAS graduates is returning to Alberta, while the rest plan on staying in Manitoba, including five who have accepted positions in rural communities.
Among the MPAS graduates was Alexandra Abt, who won the medical directors choice for outstanding Capstone project for her research and investigation into enhancing access to prenatal care. Ian Jones, MPAS program director, says Abt's work is a great example of the exceptional quality of work and effort shown by the U of M's PAs.
"These graduates consistently display their intelligence, problem-solving skills and dedication to patient centric reflective practice," Jones says. "The PA model and these amazing individuals are well suited to supporting and optimizing patient care in Manitoba's health-care system."
For the first time, the convocation took place in Brodie Centre atrium at Bannatyne campus. Dr. Catherine Cook, Vice-Dean, Indigenous Health, Rady Faculty of Health Sciences congratulated the graduates on being part of this milestone.
Cook also reminded the group they are at the forefront of new interdisciplinary and collaborative care models in rehabilitation sciences and health care in general.
"I hope you are learning to shed some aspects of what might be called our 'guilds' and move forward with your focus on finding the best way to serve your patients as a member of an interdisciplinary health team," she said. "This is a positive evolution that will ultimately benefit patient care and impact the way all health professionals work together."
President and Vice-Chancellor David Barnard told the graduates they will always be part of the University of Manitoba family, and that they will play a vital role as the university evolves to better serve the world in clinical and research settings.
"Ultimately, if we have done our jobs as educators and mentors well, tomorrow, this world will be in better hands," he said.
Also notable was the Distinguished Professor honour, which was awarded to physiology professor Grant Pierce, OM, B.P.H.E.(Hons.)(Lakehead), M.Sc.(Dalhousie), PhD (Manitoba). Dr. Pierce's transformative research has improved the well-being of people with cardiovascular diseases and diabetes around the world. As executive director of research at St. Boniface Hospital, he played a key role in establishing the Institute of Cardiovascular Sciences. He also established the Canadian Centre for Agri-Food Research in Health and Medicine, a unique collaboration bringing together Manitoba universities, the St. Boniface Hospital and the federal government (Agriculture and Agri-Food Canada).
"Dr. Pierce is internationally recognized for his research on cardiovascular diseases and diabetes," said Provost and Vice-President Dr. Janice Ristock. "Through his scholarly contributions, he has improved the well-being of people across the globe."
Prior to the convocation ceremony, 21 awards were presented to 17 Rehabilitation Sciences graduands at a luncheon. Multiple award winners included Naomi Hatherly (MOT), Meagan Sparrow (MOT) and Vincent Francisco (MPT). Click to view the full list of winners.
To view more photos from the convocation and awards ceremony, click here.