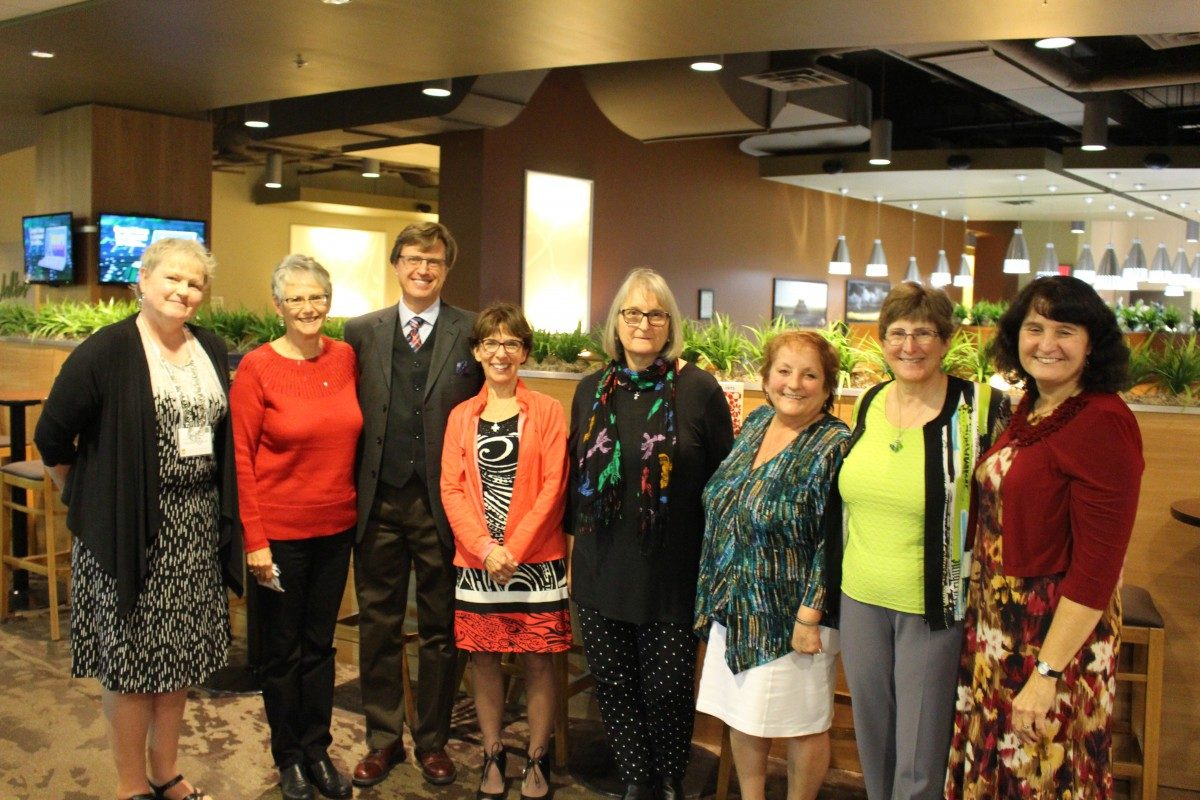 Rehabilitation Sciences Homecoming welcomes alumni, explores possibilities
October 3, 2018 —
A "world of possibilities" was the theme at the College of Rehabilitation Sciences' Homecoming dinner and reception held Sept. 28 at Canad Inns Health Sciences Centre.
The evening included presentations focusing on technology's evolving role in health care, including robotics and virtual reality.
College dean Dr. Reg Urbanowski shared news of an exciting new project underway. The University of Manitoba is constructing in partnership with Health Sciences Centre (HSC) and local high-tech industry the Ambient Assisted Living suite. When completed, the suite, located at HSC, will feature a 1,000-square-foot apartment equipped with tele-presence, tele-monitoring and assisted living technologies.
"Think of the possibilities," the dean said. "I, as a therapist, could actually discharge somebody from the hospital, and visually see how they're doing at home the next day through a tele-presence robot."
Dr. Meng Cheng Lau, a post-doctoral fellow at the U of M computer science department's Autonomous Agent Laboratory, presented live and recorded basketball, weightlifting and archery demonstrations by Polaris, a 93 cm, 6.7 kg robot.
Lau, whose robotics team, SnoBots, won international awards this year in Taichung, Tehran and Madrid, noted that similar technology can be developed to provide robotic personal assistants for people with disabilities.
The evening also featured a presentation via Skype from Dr. Kleber de Oliveria Andrade from Brazil about the use of "sip and puff" technology in video games, which is used to assist children and adults with asthma and other respiratory problems.
Following the presentations, alumni had the opportunity to try out SaeboVR, a virtual rehabilitation system that will allow patients with upper body impairment to practice general day-to-day activities within a virtual setting.
Over 60 alumni attended the event, including groups celebrating their 10th, 40th and 50th milestone class reunions from the College of Rehabilitation Sciences, Rady Faculty of Health Sciences.
U of M President and Vice-Chancellor David Barnard addressed the group, noting that strong relationships and collaboration with colleagues is important as health care continues to evolve.
"It's really quite delightful to see how you've kept in contact with each other, and how much pleasure you take from being with each other," the president told the group. "You have a shared experience and if you can maintain that over a long time period of time, that is extremely valuable."