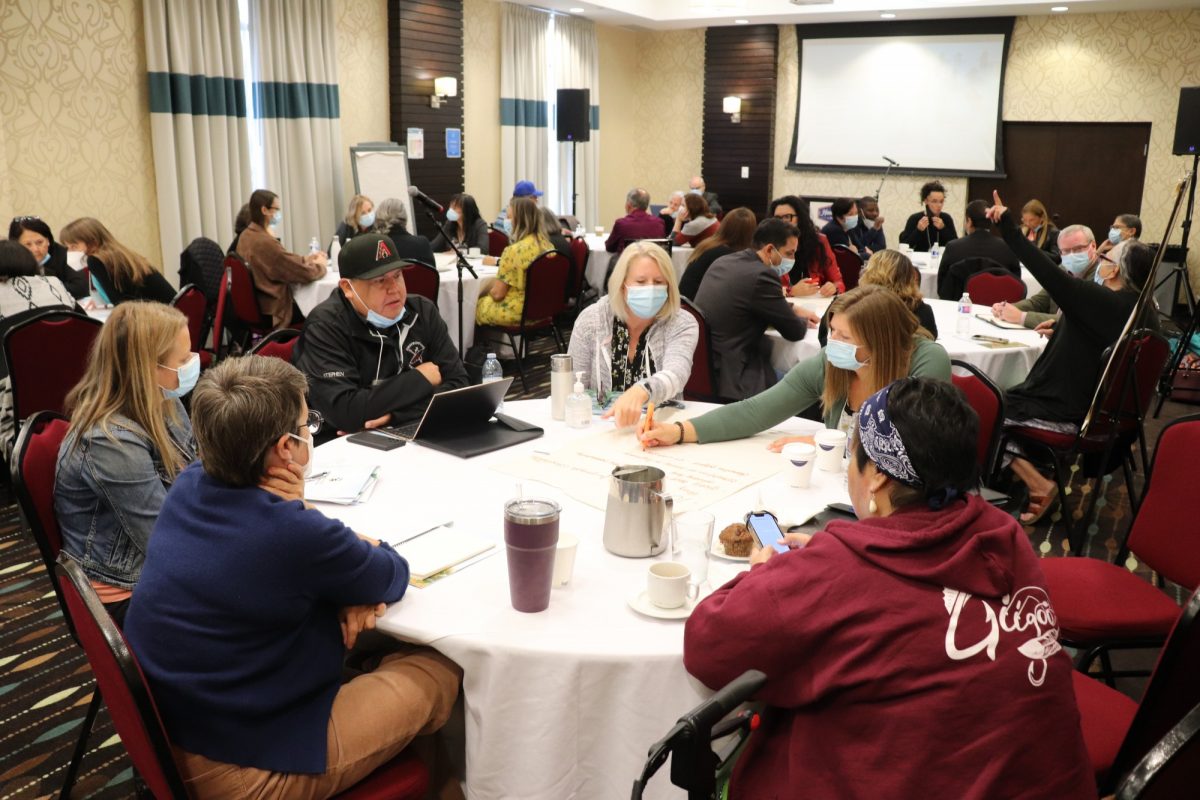 Rehab partnership with First Nations grows
December 15, 2022 —
A First Nations partnership at the College of Rehabilitation Sciences has doubled its community reach in the last six years.
The venture began in 2016 with five communities and has grown to 10 with the recent additions of Pimichikamak Cree Nation, Opaskwayak Cree Nation, Basskaandibewiziibing Ojibway Nation and Lake St. Martin First Nation.
The partnership is named Kiga mamo anokimin onji minoayawin / Ka mamawi atoskatenow minoyin, which translated from Ojibway and Cree means, "We will work together for health and wellness." Its goal is to bring the college's services to the communities, based on their self-identified needs and priorities.
It has included projects to help young adults who have aged out of children's services, people who are frail, and those who have dementia and their loved ones. New playgrounds and walking trails have also been built, and housing is being discussed as an issue to be addressed in partnership with Tech-Access Canada.
In October, the college held its first in-person retreat with the partnership communities since before the COVID-19 pandemic. The retreats were held annually prior to that.
"When we started this project six years ago, nobody would have thought we'd be where we are today," Dr. Reg Urbanowski, dean of the College of Rehabilitation Sciences, said at the retreat.
Seven communities attended the retreat, as well as representatives from Ongomiizwin – Indigenous Institute of Health and Healing, the Heart and Stroke Foundation of Canada, Tech-Access Canada, Riverview Health Centre and the UM Faculty of Law.
Honoured guests on the first day included Dr. Lalitha Raman-Wilms, dean of the College of Pharmacy, Dr. Anastasia Kelekis-Cholakis, dean of the Dr. Gerald Niznick College of Dentistry, and Marcia Anderson, vice-dean, Indigenous health, social justice and anti-racism, Rady Faculty of Health Sciences.
UM Elders-in-residence Margaret Lavallee and Norm Meade and Ongomiizwin Knowledge Keeper Leslie Spillett were in attendance for both days.
The two-day retreat provided an opportunity to hear from Elders and share ideas, opportunities and challenges. It began with the sharing of victories that each community had experienced since the last retreat in January 2020. It ended with the college and communities creating an action plan with priorities in five broad categories: housing, food security, addictions and mental health, human resources and education.
One of the priorities is to develop a team of college and community representatives to consider a strategy for each community and an overall strategy for all communities.
"Another priority is more far-reaching, as it involves the health system. It calls for developing a way to identify and implement restorative justice in rehabilitation settings and develop educational events for communities and health providers by March 2023," Urbanowski said.
"By working together, we are meeting community needs, and the communities are teaching our faculty, staff and students in a spirit of collaboration and sharing."
The event was hosted by Michael Redhead Champagne, an Ininiw public speaker, writer and community advocate. Raised in Winnipeg's North End, Champagne identifies as a member of Shamattawa First Nation. He has hosted previous partnership retreats and speaks a message of honouring relationships, appreciating people's gifts and taking action.
"It's been great being able to come back, time and time again, to check in with these communities and all the leadership. I'm proud of you and the great work that you're doing," Champagne told attendees.