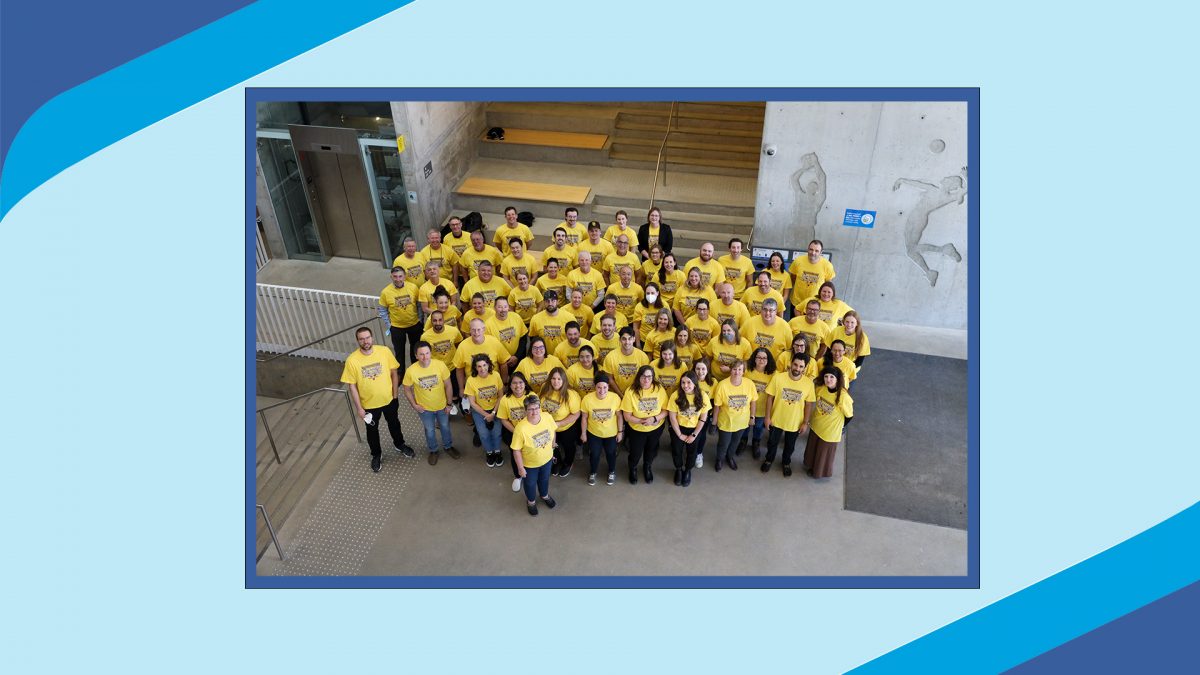 Reflecting on forty years of the Supervised Fieldwork Program
How the Supervised Fieldwork Program is building a community
March 30, 2023 —
On March 22, in the Active Living Centre agora, over 80 percent of Faculty of Kinesiology and Recreation Management employees gathered to celebrate a shared experience. More specifically, they gathered in celebration of their shared experiential learning. In bright yellow retro t-shirts, FKRM staff, students, and faculty had the opportunity to reflect on the Fieldwork Program's impact over the last 40 years.
To say experiential learning has been a core value for the faculty would be an understatement. Under the guidance of Dr. Don Hunter and Dr. Henry Janzen, the dean who help turned the School of Physical Education into the Faculty of Kinesiology and Recreation Management, the Supervised Fieldwork Experience program was established.
"I value EL/WIL because it impacts students sense of self in a positive manner, enhances confidence, and gets them excited about future possibilities," said Colleen Plumton, the current Fieldwork Program Coordinator.
A mandatory component of the Recreation Studies degree program, which would later become the Recreation Management and Community Development degree program, the Fieldwork Experience program allows students to enhance their learning and professional growth through experiential learning.
"The impact is life-changing for many of our students."
In its simplest form, the program allows students to take their knowledge from the classroom and apply it to practical professional settings by working with industry partners across the city and province. However, if you have the opportunity to speak with a student, past or present, who has been through the program, you quickly realize it is much more than just the chance to see what work outside of the classroom is like.
"The impact is life-changing for many of our students. Students often say Fieldwork is one of the most valuable parts of their degree program, and they wish they could do more EL during their degrees," said Plumton.
For Cole Scheller, the current Bison's lead strength and condition coach, Fieldwork gave him a chance to re-evaluate what he thought was possible regarding careers. He discovered new passions he hadn't known about.
"I did fieldwork, and it turned out I liked it so much," Scheller said. He liked it so much he ended up he ended up changing career directions. "I didn't realize that strength and conditioning was a profession that people could actually do until I did fieldwork."
Fieldwork doesn't end when the program finishes. Cole was able to begin a career he was passionate about. Jennifer Everard, the events coordinator for the Bison's who went through the program as a student, said she still thinks back on Fieldwork during her work today.
"The students not only learn about particular work environments, but they also can learn about the career and life paths of former students."
"I remember all the projects and the things that I did," said Everard. "I try to bring some of those lessons from my fieldwork, even though it was a long time ago."
But perhaps, most importantly, Fieldwork is often a student's first time entering a wider community. Since 1981, FKRM has enrolled over 2,300 REC and KIN students in the Fieldwork program. These students become leaders in their fields and, in turn, welcome a new generation of Fieldwork students.
Fieldwork helps create a community, bringing students together with alums in the workplace. This connection can be beneficial to help them imagine their paths after their undergrad, said Douglas Brown, Dean of FKRM.
"I certainly see and appreciate the valuable student experiences fieldwork provides, but I also see the many enduring community partnership forged by this program," said Brown. "The students not only learn about particular work environments, but they also can learn about the career and life paths of former students."
Plumton said experiential learning, which includes the Supervised Fieldwork Program, value the students' knowledge and skills while providing them a place to learn professional practices through mentorship.
"Students' deserve our best to prepare them for their future."
"The role of mentorship and reflective practice, which I deeply value, are key to work-integrated learning. Our Fieldwork program is special because it involves professionals who completed Fieldwork as a FKRM undergraduate and are now mentoring and supervising our students in their professional roles. It is a unique WIL experience and one I am extremely proud to be a part of." she said.
In her role as UM Recreation Services director, Tanya Angus is reflective of current students' knowledge. She is happy to be able to mentor students while allowing them the space to grow.
"One of the main things that I love about fieldwork is when we get to connect with students that are within our faculty, we can learn from them," said Angus. "Just keeping us kind of in the know of what are the things that other students are looking for."
So, on March 22, when the agora became crowded with members of UM Experiential Learning, PERKS, Bison's coaches, customer service staff, event staff, professors, instructors, the dean, and many more in yellow t-shirts, the group not only celebrated 40 years of Fieldwork but also gathered in celebration of a much larger shared connection. They were there to celebrate a shared community. A community that, over the years, has allowed them the opportunity to grow, learn, experience, and imagine.
"Students' deserve our best to prepare them for their future – Fieldwork works!" said Plumton.