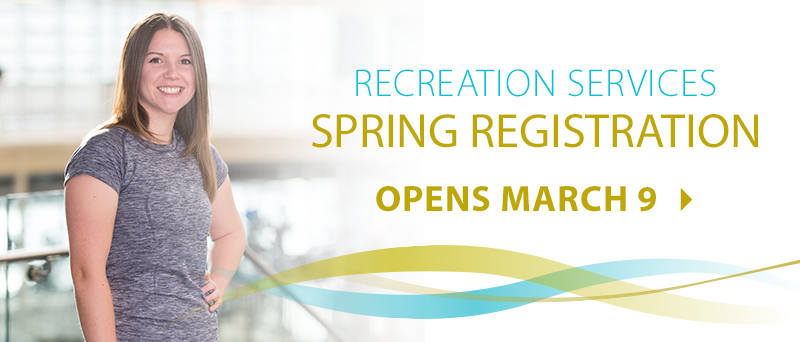 Recreation Services Gearing up for Spring/Summer
Spring/Summer Program Registration Kicks-Off March 9
March 8, 2016 —
Exciting times are on the horizon as registration for the University of Manitoba's Recreation Services' spring and summer programs opens Thursday, March 9.
And, as an added bonus and a spring/summer season first, Recreation Services members (including UofM students) will now receive up to 20 per cent off adult instruction and Group Fitness PLUS programs.
"It's a new programming season and we're excited about the diverse range of activities and programs we have available for our community," says Recreation Services Marketing Coordinator, Jared Ladobruk. "The discounted price for our members is something we're also excited about. Essentially, your membership will save you money."
Programs are available to both members and general public.
New to the spring/summer activity rotation are Aging Actively Gentle Yoga; Basic Outdoor Climbing Workshop; Rowing for Fitness, and TRX Wake Up.
The programs are available at both the Fort Garry and Bannatyne campus locations.
Amongst the new programs are the tried, tested, and true staples of dance, aging actively, aquatics, and group fitness activities such as Zumba, yoga, and cycle and circuit training to name a few. Click here for a complete detailed list of programs and fees.
All the programs are offered in state-of-the-art facilities, including the new Active Living Centre multi-purpose rooms. All instructors are experts in their fields and will provide a professional, engaging and enjoyable learning experience.
Registration begins 10 a.m. on March 9 and can be done so online or in-person at either campuses service desks.
The programs also offer an avenue to meet new people and to engage in a social and safe atmosphere – all the while improving your health and well-being.
"This is a great way to learn and be active by challenging yourself with something maybe you have never tried before," Ladobruk adds.
Don't forget to download the Recreation Services mobile app at both the App Store and Google Play Store. You can also connect with Recreation Services on Facebook, Twitter and Instagram.