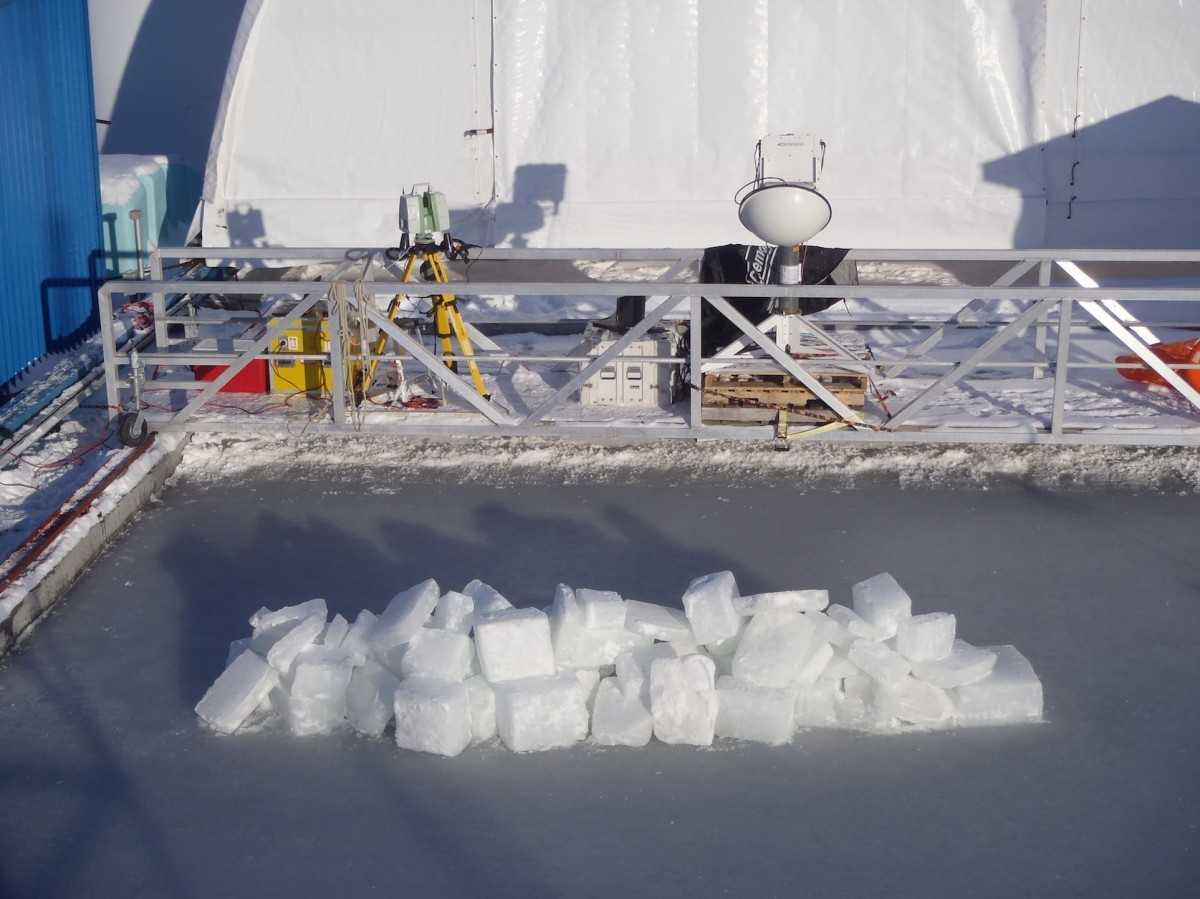 Recreating and studying arctic sea ice surfaces here in Winnipeg
Project aims to prevent satellites from duping us again, help us study fauna and aid Arctic navigation
February 10, 2014 —
Phase 2 of an Arctic sea ice experiment will run from Feb. 10-14 at the University of Manitoba's unique Sea-Ice Environmental Research Facility (SERF).
Thanks to the remarkably cold winter this year, media are invited to watch an Arctic experiment be conducted within city limits (map). The experiments will take place between 9 a.m. and 4 p.m.
Graduate student Megan Shields, supervised by Distinguished Professor and Canada Research Chair David Barber, will create an artificial ridge of ice and then scan it with radar and laser systems from above. Why? The project is trying to understand the signals that radar satellites read off of an ice ridge in the Arctic by duplicating it here on a smaller scale. In the north, conditions are often dark or cloudy, so scientists depend on radar imagery to properly understand it.
Years ago, Professor Barber released a study that showed Arctic sea ice had duped satellites into reporting thick multiyear sea ice where in fact none existed, raising doubts about the accuracy of satellite data.
Shields work will help scientists get more reliable data. Shields will decipher which signals serve as the best descriptor for the type of information they're looking for in the Arctic and SERF, combined with this year's frigid winter, allows her to create a model of what would be found in the Arctic. Over the course of the experiment, Shields will also blow various depths of snow on to the ridge, noting how it impacts the readings.
Properly identifying ridges has an impact from both an ecological and a navigational perspective as well:
Seals tend to den in the air pockets that are formed in ridges, and as seals are a food source for polar bears, they too are often found near ridges
Where there is a ridge, the ice is much thicker. If a large floe of ice (with a ridge) collides with a structure or ship, there is potential for greater damage. Large ice floes move with the currents and have enough momentum to crush man-made objects.
This research is being funded by the Natural Sciences and Engineering Research Council of Canada.
For reporters and producers looking for experts and breaking news, follow us on Twitter: @UM_Today
For more information contact Sean Moore, Marketing Communications Office, University of Manitoba, 204-474-7963 (sean_moore [at] umanitoba [dot] ca).
Or
Dr. Randall Scharien, Sea-Ice Environmental Research Facility (SERF), University of Manitoba, 204-474-9980 (randall [dot] scharien [at] umanitoba [dot] ca)
Research at the University of Manitoba is partially supported by funding from the Government of Canada Research Support Fund.