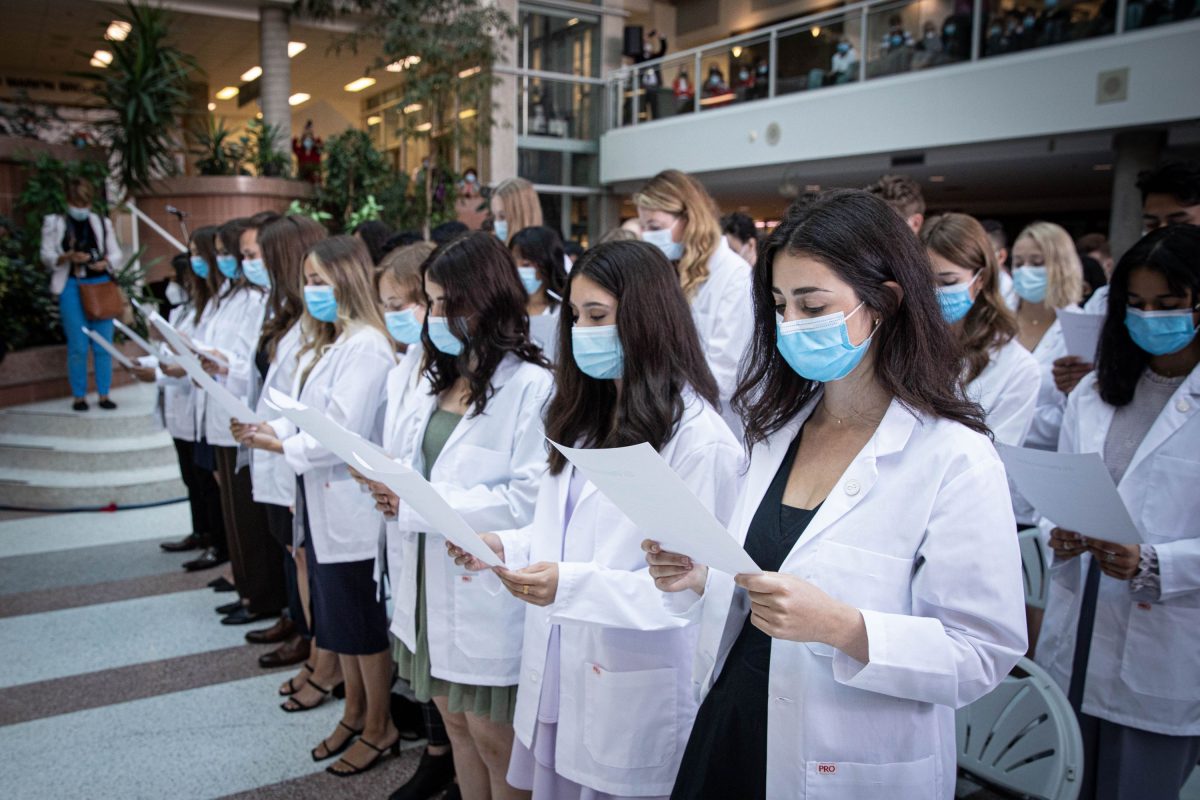 Record number of new medical students to receive white coats at UM
August 22, 2023 —
The largest medical class in University of Manitoba history – the Class of 2027 – will be cloaked in their first white coats as part of Inaugural Day Exercises for the Max Rady College of Medicine on Aug. 23.
The college has increased its enrolment to 125 incoming medical students, up from 110 students in recent years.
"Expanding our MD program to train more physicians is an important step toward meeting the health-care needs of all Manitobans as the population grows and ages," said Dr. Peter Nickerson, dean of the Max Rady College of Medicine, dean of the Rady Faculty of Health Sciences and vice-provost (health sciences).
"I congratulate these eager future physicians, who are going to help close health-service gaps in Manitoba. It's especially important to note the diversity in the class of 125, reflecting the communities we serve. For example, 53 students consider themselves members of a visible minority and 38 students' primary language is other than English or French. Thirty-one students represent the first generation of their families to graduate from college or university."
The Inaugural Day Exercises at 10 a.m. in the Brodie Centre atrium on the Bannatyne campus will include the White Coat Ceremony, the recitation of the Physician's Pledge and the Alan Klass Memorial Address, to be given by high-profile Manitoba physician Dr. Joss Reimer (see bio below).
A new feature of the event is that the students will receive "White Coat Notes" – messages of wisdom from alumni of the Medicine Class of 1973, who graduated 50 years ago. One doctor advised: "To become a great physician, you must learn to be a great listener … to the voices and stories of your patients."
The Class of 2027 includes 66 women, 57 men and two students who identify as non-binary. There are 10 Indigenous students and 59 students with rural attributes, meaning that they have rural roots, work experience or volunteer or leadership experience. Five students are enrolled in the bilingual stream. The future physicians range in age from 20 to 38 years old.
The class's ethnic and socio-economic diversity reflects the Max Rady College of Medicine's inclusive admissions policy. To remove barriers to participation and more accurately reflect Manitoba's population, the college advantages qualified candidates from traditionally under-represented socio-economic and socio-cultural backgrounds.
Meet some of the first-year students:
Jeannette Comte, 22, who will earn her medical degree in the college's bilingual stream, grew up on a farm outside the francophone community of Notre-Dame-de-Lourdes, Man. She has been a dedicated member of the Royal Canadian Air Cadets. She earned her bachelor of science at Université de Saint-Boniface and for three summers has worked in a UM research lab, studying the effects of air pollution on young lungs. She works part-time at a long-term care facility in her home community. "I would like to return my services as a physician to my hometown, or to other rural communities in Manitoba," Comte says. "I also want to aid and represent the francophone community in health care."
Kiana Tait, 23, is a proud member of Norway House Cree Nation. In Grade 11, she took part in a Health Career Quest summer camp at UM that exposed northern students to university life and health careers. At age 18, she left the reserve to attend UM. While earning her undergraduate degree, she was involved in many Indigenous programs on campus, including the Indigenous Circle of Empowerment leadership program. Her goal is to move back to Norway House Cree Nation and work at the new hospital there. "The main reason I want to become a family doctor is the realization of how Indigenous people are treated in the current health-care system," Tait says. "It's important for me to advocate and be a voice for my future patients and their families. "
Jessica Li, 23, and Jeffrey Li, 22, are high-achieving, Mandarin-speaking siblings, raised in Brandon, who both earned chemistry degrees at Brandon University. As research assistants in 2020, the two co-developed a helmet-style respirator for protection from COVID-19.
Jessica says working recently as a medical receptionist has helped her envision her medical career. "Having a dual cultural background, I have seen how language and culture can be barriers to receiving quality health care," she says. "I want my patients to feel safe and heard."
Jeffrey says studying medicine together wasn't planned, but both siblings see it as a plus. "Our parents were so proud that we both got accepted, and the fact that we have each other for the next few years definitely puts their minds at ease."
Biography – Dr. Joss Reimer
Dr. Joss Reimer, a UM alumna who will give the Alan Klass Memorial Address to the Class of 2027, is the chief medical officer and lead of medical services for the Winnipeg Regional Health Authority (WRHA). She is currently president-elect of the Canadian Medical Association and will start her term as president of the organization in May 2024.
Prior to assuming her current position in 2022, Reimer was the medical lead and official spokesperson for Manitoba's COVID-19 Vaccine Implementation Taskforce. In this role, she led the province through the largest vaccine campaign in its history. In recognition of her exceptional leadership of the vaccine project, Doctors Manitoba honoured her with its 2022 Dr. Jack Armstrong Humanitarian Award.
Reimer earned her medical degree in 2008 and her master's in public health in 2013 at the Max Rady College of Medicine. Now an associate professor, she has been a faculty member since 2012.
Prior to the pandemic, she worked as the medical director of population and public health for the WRHA. She also served as director of undergraduate medical education in population health at UM. She maintains a part-time clinical practice in low-risk obstetrics at the Health Sciences Centre Women's Hospital.
The Inaugural Day Exercises will be livestreamed at 10 a.m. on Aug. 23: http://youtube.com/live/N3oS5aTyBDQ