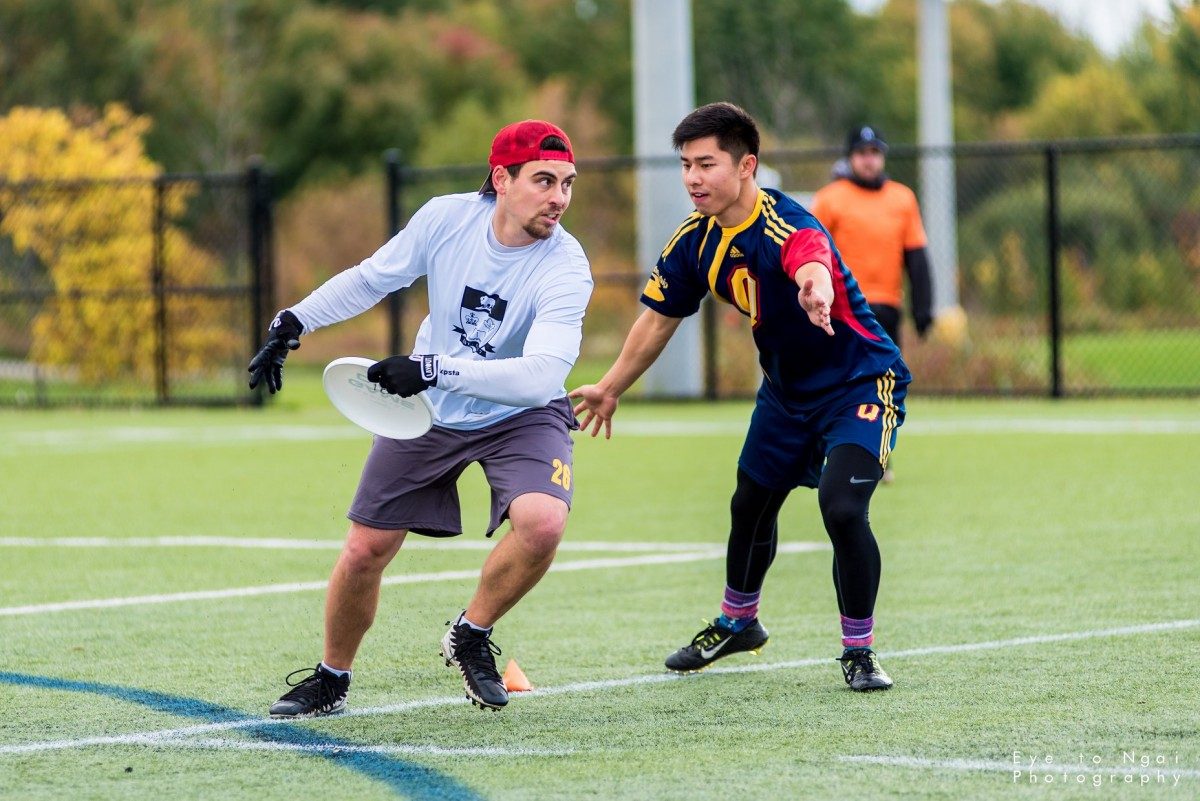 Rec Club Spotlight: U of M Ultimate
November 23, 2018 —
At the University of Manitoba, Recreation Services provides students, staff and alumni the opportunity to participate in organized sport and physical activity through Rec Clubs.
UMToday chatted with U of M Ultimate Frisbee club president, Aaron KS, to learn more about the club and why he loves being a part of it.
UMToday: Why did you decide to become president of your club?
Aaron: I wanted to bring back the Ultimate club after not playing in 2017. I felt like it was the right time with a lot of up and coming talent from our provincial teams to put a University of Manitoba team together. Everyone in the ultimate community supported my decision to lead the team, and there were a lot of mentors and teammates who helped me along the way.
What have you learned while being an executive member of your club?
There are a lot of behind the scenes duties that all executive club members must deal with. It becomes more than just playing the sport, but also handling all the logistics with running the club. Communication between members is essential and trusting your teammates goes a long way to making the season a success.
What are some social and/or physical benefits of being in your club?
Being part of the Ultimate club allows you to connect with a growing community of players from across Winnipeg. Ultimate Frisbee is one of the fastest growing sports in Winnipeg, due to its high level of sportsmanship, and inclusivity. The game itself is very physically demanding, however it is a non-contact sport with minimal risk of injury compared to other outdoor sports. Our ultimate club offers players a chance to compete against other universities from across the country and form meaningful connections with players.
Are there any specific events/tournaments/achievements you want to highlight?
The Ultimate club participates in at least two significant tournaments during the fall season. Both the men's and women's teams participate in Canadian Prairie University Ultimate Championships, where we compete against teams from Winnipeg, Alberta and Saskatchewan. The teams can decide if they would like to compete at University Nationals based on the results from the Prairie Championships.
The men's team has competed at University Nationals a total of 6 times since 2011. We won nationals in 2011, and 2014, with second place finishes in 2012 and 2015. Our team is known as one of the top university programs across the country.
Why do you think it's important for students to join a Rec Club?
Rec clubs provide the opportunity to connect with fellow athletes at the University and the chance to become a part of team that participates in meaningful activities and events. Whether your rolls is as a player or as a leader, every member of a rec club is welcomed and has a significant impact on the club's development.