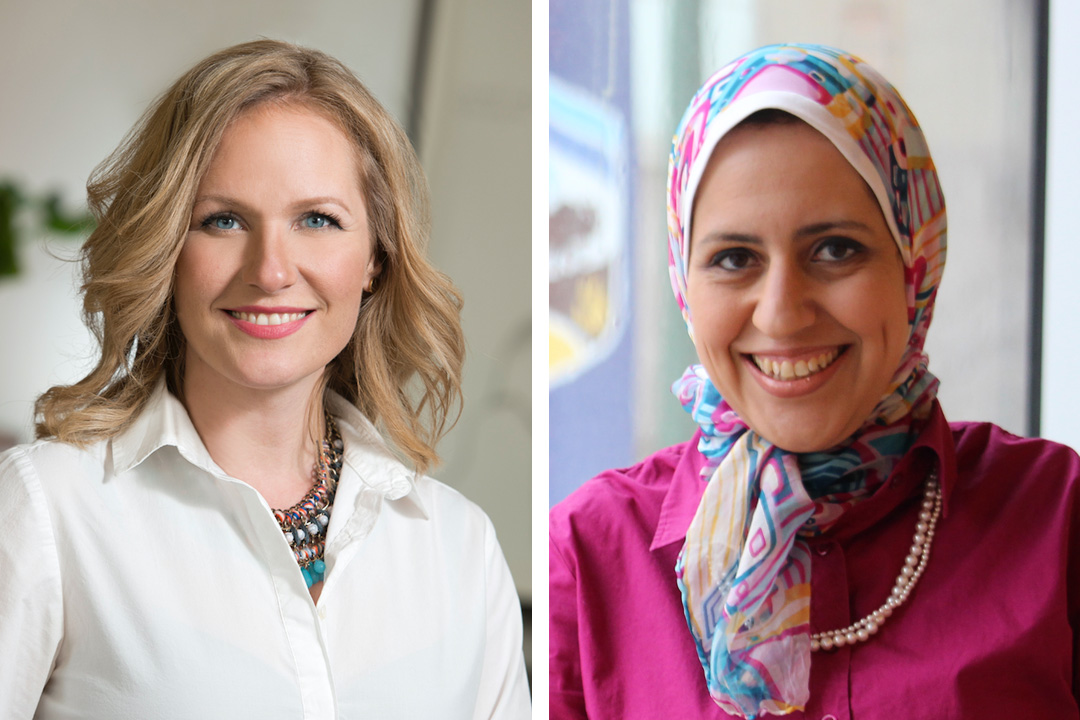 Rady researchers to develop 'placenta on a chip' and living lab platform
April 5, 2022 —
Two Rady Faculty of Health Sciences faculty members and researchers at the Children's Hospital Research Institute of Manitoba (CHRIM) were recently awarded New Investigator Research Grants from the Sick Kids Foundation, a national health education group, and the Canadian Institutes of Health Research, Institute of Human Development, Child and Youth Health.
Dr. Hagar Labouta, assistant professor, College of Pharmacy, received $300,000 for her research into nanotherapies to treat pregnancy-associated breast cancer, a challenging clinical condition that currently lacks an efficient treatment option without fetal health concerns.
"I'm trying to develop a safe and effective therapy for pregnant women with challenging diseases, like cancer, without having the nanoparticles cross the placenta, which separates the baby's organ's from the mother's," Labouta says.
Her team is developing a model called 'placenta on a chip' that will mimic human pregnancy in a lab. The goal is to learn how nanoparticles interact with the placenta so drugs can safely be administered without affecting the fetus.
"It's so different from testing on animals, because the placenta is formed very differently in animals," she says.
Labouta has a PhD in pharmaceutical nanotechnology from Saarland University in Germany. She completed several postdoctoral fellowships at Helmholtz Institute in Germany and the University of Calgary. She joined UM in 2019.
Dr. Mandy Archibald, assistant professor, College of Nursing, also received nearly $300,000 to co-design a living lab platform and participant registry for youth onset type 2 diabetes. Living labs offer a unique and adaptable way of doing user-centered research and working with stakeholders, like youth and caregivers, to create new solutions to pressing problems.
"The interactive platform will allow us to embed a registry of youth and then use that registry to generate a robust understanding of youth experiences of comorbid mental health challenges," Archibald said.
"We know that mental health is a priority for youth, is affecting self-management, and is implicated in youth not meeting their treatment targets. However, we are lacking an in-depth understanding of youth mental health experiences and care priorities."
The project will begin with a 12-month data collection phase, with approximately 50 youth sharing their needs and experiences. Youth mental health priorities will be identified, and Archibald, with a team of youth co-researchers, will collaborate to create knowledge translation resources to communicate these findings.
"We intend to use creative methods and arts-based approaches, like storytelling or video, but that will be determined by the youth we're working with," Archibald said.
Archibald received her PhD from the University of Alberta with fellowship support from the Canadian Child Health Clinician Scientist program, and completed a three-year Canadian Institutes of Health Research Postdoctoral Fellowship at Flinders University in South Australia. She also joined UM in 2019.
The grants will support their research for up to three years.