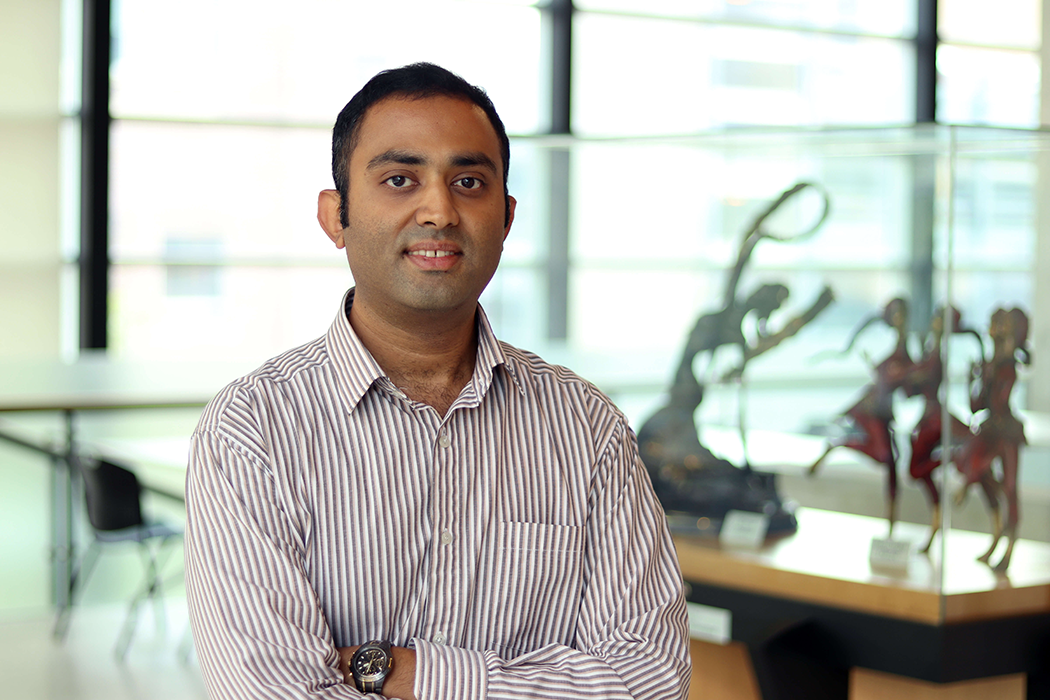 Rady grad student profile: Shahin Shabanipour's fascination with neuroscience fuels passion for Alzheimer's research
August 8, 2023 —
Shahin Shabanipour is a PhD student working under Dr. Jillian Stobart, an assistant professor in the College of Pharmacy.
UM Today spoke with Shabanipour to talk about his pathway to a PhD program and what motivates him to work on Alzheimer's disease.
What inspired you to pursue your field of study?
About 50 million people in the world are diagnosed with dementia, and this number is projected to triple, reaching up to 150 million by 2050. This statistic underscores the urgent need to understand and address Alzheimer's disease, which is one of the most prevalent forms of dementia. Witnessing the devastating impact of this condition on individuals and their families further fueled my inspiration to pursue my field of study. I am deeply committed to contributing to the scientific efforts aimed at unraveling the complexities of Alzheimer's and working towards effective treatments and prevention strategies.
Why did you choose the University of Manitoba (UM)?
I was truly fascinated by the abundance of cutting-edge research conducted in neuroscience at UM. The university's commitment to advancing knowledge in this field was evident through the myriad of research projects and studies undertaken by distinguished faculty and students alike. What captured my attention even further was the remarkable diversity in the subjects explored within neuroscience – from cognitive neuroscience and neuroimaging to neurobiology and neuropsychology. This dynamic and inclusive approach to research promises an enriching learning experience that goes beyond traditional boundaries, making UM an ideal destination for aspiring neuroscientists like myself.
Why did you choose this project?
My fascination with Alzheimer's disease and its study didn't simply emerge overnight. Like most students commencing their exploration of neuroscience, my field of interest was initially quite broad. It was during my time in Dr. Hassan Marzban's lab at UM, while pursuing my master's, that I delved into brain development and neurodegenerative conditions. This exposure piqued my curiosity regarding the multitude of ailments linked to memory and cognition impairment. I found myself pondering the mechanisms underlying these conditions and the avenues for comprehending them, as well as devising effective treatments.
Driven by a strong aspiration to acquire novel techniques, hone my skills and gain a deeper insight into the treatment realm, I embarked on my PhD in 2022 under Dr. Jillian Stobart.
My current focus lies in investigating the impact of Alzheimer's disease and aging on the brain's neurovascular system in mice. The ultimate goal of my project is to unravel the changes in brain blood flow regulation and the role of pericytes throughout the course of Alzheimer's disease and with ageing. We anticipate that our findings will pave the way for future pharmacological experiments aimed at improving vascular dysfunction in Alzheimer's disease and potentially mitigating cognitive impairments associated with the condition.
You were recently awarded $17,850 by Research Manitoba to pursue a research project, Brain pericytes and Ca2+ signaling in Alzheimer's disease mouse model. What was your reaction?
Receiving this award fills me with happiness and honour, especially considering the financial challenges that students often face. I strongly believe that such support enables students to approach science with greater relaxation, focus, confidence and creativity.
Why did you choose UM for your graduate studies?
In my opinion, students should progress through their academic journey at a pace that allows them to reflect on their life and career aspirations. Personally, during my graduate studies at UM, I found the perfect balance that enables me to do just that. The university offers numerous opportunities to acquire relevant skills aligned with my academic and career objectives. For instance, in my current lab, in addition to gaining wet lab experience, I have the chance to explore more sophisticated microscopic techniques and even delve into coding. This exposure allows me to assess my interests and passion for these areas, determining if they align with my long-term goals and if I can engage in them without losing enthusiasm.
What else motivates you to do the work you do?
One of my primary motivations stems from witnessing the impact of neurodegenerative diseases like Alzheimer's on some of my family members during my childhood. Though I lacked knowledge about these diseases back then, my higher education journey exposed me to their complexities and fueled my determination to delve deeper into the subject and seek potential treatments. Now throughout my PhD, I actively engage in programs that allow me to meet individuals facing neurodegenerative challenges, listen to their stories and offer assistance. These encounters emphasize the urgency of the situation, making it more tangible and driving my motivation. For me, scientific research goes beyond mere curiosity; it carries a profound personal meaning, enabling me to contribute meaningfully to a cause that matters deeply.
What is next for you?
While we have not yet started, the upcoming stage of my research focuses on treatment. Our strategy involves partnering with other laboratories at UM that are actively engaged in the development of pharmacologically promising drugs for addressing Alzheimer's disease.
I genuinely think that utilizing cutting edge imaging techniques along with complicated analytic methods would be one of the main steps toward building up my future career in this field. I would also like to apply for a post-doctoral fellowship.
While I desire to continue my work in an academic environment and achieve the rank of assistant professor, I am more than willing to join the field of neuroscience if the proper chance presents itself, as my passion extends beyond teaching it to practicing it.
This Q&A is part of a series on UM Today this summer featuring Rady Faculty of Health Sciences graduate students. You can find more grad student profiles here: #Radygradstudents.