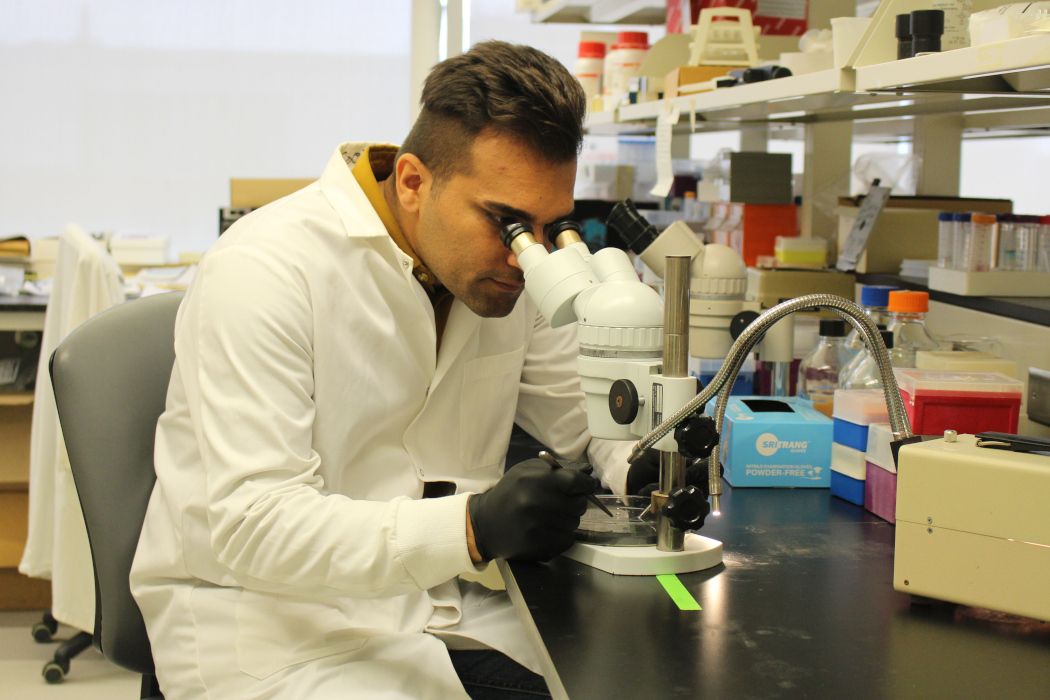 Rady grad student profile: Saeid Maghsoudi working on new drug to save newborns
November 21, 2023 —
Saeid Maghsoudi's research aims to develop a drug to treat babies that are short of oxygen at birth.
Maghsoudi, a third-year PhD student in physiology and pathophysiology at the Max Rady College of Medicine, is studying a disease called persistent pulmonary hypertension of the newborn (PPHN), a serious breathing problem in newborn babies.
"The heart muscle and lung blood vessel muscles have opposite jobs at birth – the heart must contract harder and lung blood vessels need to relax to let blood flow," Maghsoudi said. "These opposite events happen through a single system of signals inside the cell, called the adenylyl cyclase enzyme pathway. Adenylyl cyclase has ten types expressed in different parts of the body and lung blood vessels express mainly AC type 6 (AC6)."
His lab found that when a baby's oxygen level is low, AC6 stops working and prevents lung blood vessel relaxation. Even if oxygen levels are increased, they couldn't turn AC6 back on, he said.
Using cell and animal models of PPHN, Maghsoudi is trying to restart AC6 activity by designing a new drug that specifically targets the structure of AC6. His goal is to rescue the function of this enzyme in babies to treat PPHN.
UM Today sat down with Maghsoudi to learn about what motivates him and his experience as a PhD student at UM.
You received $17,850 in funding from Research Manitoba for a project titled Inhibition of Adenylyl Cyclase Isoform 6 by Cysteine Nitrosylation in Hypoxic Pulmonary Hypertension and Rescue with Novel Forkolin Derivatives. What are your thoughts on receiving this funding?
I received my first Research Manitoba funding during my first year of my graduate studies which was so helpful, and I am grateful for this generous funding. It's very important that you receive funding from a prestigious organization that believes your research is important. This new funding is a real motivation for me as well, and it's helped me work hard towards my ultimate goal, which is to bring a new drug to babies. I now have a strong motivation in addition to a fresh feeling of purpose and commitment as a result of receiving this studentship.
What motivates you to do the work you do?
Losing a baby because you could not treat them is so devastating, that's why I'm keen on pursuing my project. My supervisor, Dr. Shyamala Dakshinamurti, has always offered me guidance and mentorship with valuable insights, support and encouragement. She knows how to mentor graduate students. I also have very supportive lab members.
Why did you choose UM for your PhD?
The University of Manitoba has a strong academic reputation, known for its excellence in teaching and research in the fields of physiology and pathophysiology. In addition, I am working on a really fascinating project that combines biomedical sciences and medicinal chemistry.
What has been most rewarding during your time at UM?
I'm very humbled to be awarded several international, national and provincial scholarships at this university. Recently, my abstract was selected the best at the most prestigious conference of pediatric research worldwide, held in Washington, D.C., and I got the Society of Pediatric Research award. This is a huge recognition for me.
What do you love about science?
Science plays a crucial role in expanding our understanding of the natural world, from the fundamental laws of physics to the complexities of biological systems, leading to new discoveries. It allows people to make a positive impact on society. Our experience during COVID-19 shows how vaccines saved the lives of people around the world through science. You can bring something novel – something important to people – and that's why I'm very interested in science. I want to always be involved in science, discoveries, finding something new like drugs – anything that can help save the lives of many people. That's invaluable.
What are your future plans?
When you're at the PhD level, the concern you have is deciding to go into either industry or academia. I'm very enthusiastic about research. I'm passionate about discovery. I want to bring something new to people or patients. If I go into industry, I won't have this much opportunity I believe. I won't have an opportunity to mentor students, which I am really fond of. I want to be a principal investigator after I complete my PhD.
This Q&A is part of a series on UM Today featuring Rady Faculty of Health Sciences graduate students. You can find more grad student profiles here: #Radygradstudents.