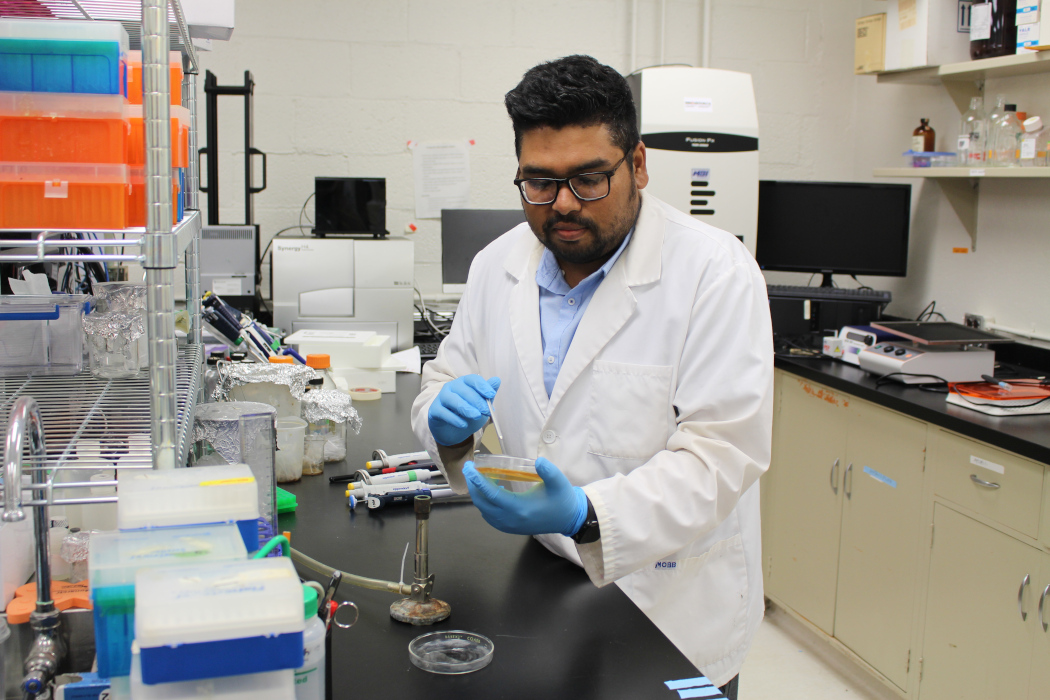 Rady grad student profile: Md Mahamudul Haque investigating new ways to combat bacterium
July 17, 2023 —
Md Mahamudul Haque is in a battle with a pathogenic microbe.
The fourth-year PhD student in oral biology at the Dr. Gerald Niznick College of Dentistry is studying Pseudomonas aeruginosa, a multidrug-resistant bacterium that causes serious infections, like those in the lungs of people with cystic fibrosis.
Because antibiotics and other drugs don't work against this bacterium, Haque is working on an alternative approach. He's targeting the mechanisms the bacterium uses to cause disease.
Haque is focused on Pseudomonas aeruginosa's type VI secretion system, which is a needle-like device that injects harmful proteins into cells. Haque said it isn't well understood, so he's investigating the function and regulation of the type VI secretion system to learn about bacterial interspecies and intercellular interactions. He hopes this research leads to the development of a drug in the near future that's successful against Pseudomonas aeruginosa.
UM Today sat down with Haque to learn about what motivates him and his experience as a PhD student at UM.
Why did you choose UM for your PhD?
After completing my bachelor's and master's at Jahangirnagar University in Dhaka, Bangladesh, I was seeking exciting opportunities in the field of microbiology. When I was looking for universities to do my PhD at, I came across Dr. Kangmin Duan, who is a professor of oral biology and cross appointed with medical microbiology and infectious diseases, so that caught my attention. I then read his research work and was eager to join his lab.
What motivates you to do the work you do?
Many people with cystic fibrosis don't get to celebrate their 40th birthday. People are suffering. Antibiotics don't work on Pseudomonas aeruginosa, and we have to do something about it. We must fight against these pathogenic microorganisms. Our research is coming at it with a different approach to help save lives.
What has been most rewarding during your time at UM?
I've received an International Graduate Student Scholarship, a University of Manitoba Graduate Fellowship and a Faculty of Graduate Studies Research Completion Scholarship. I have worked as a counselor with the University of Manitoba Graduate Students' Association and am currently working as a graduate student representative at Dr. Gerald Niznick College of Dentistry, which is rewarding. And I've had the opportunity to present my research at two Canadian Society of Microbiologists annual meetings and I also presented at two Manitoba Dental Association (MDA) conferences.
At the MDA conferences, you won the prize the last two years for the best basic research poster as part of the Dr. Gerald Niznick College of Dentistry's Research Day. What's the secret to your success?
I have to thank my supervisor Dr. Kangmin Duan. I look up to him a lot. He's my mentor and he motivates me to do better. He always provides feedback and tips to improve myself. I would also like to thank my committee members Dr. Raj Bhullar, Dr. Prashen Chelikani and Dr. Silvia Cardona for their feedback during my studies. I'm also a hard-working guy, so I think that's my secret. If you have passion to achieve something, you can do it.
What do you love about the work you do?
As microbiologists, we have the responsibility to win the battle against pathogenic microbes. The key to winning this war is to study the mechanism and function of these life-threatening microorganisms and discover how to stop them. It will be a truly rewarding experience for me when I can save lives through my research.
What are your plans once you finish your PhD?
I'm passionate about research and will contribute to the health sector. I want to stay in academia and become an independent researcher.
This Q&A is part of a series on UM Today this summer featuring Rady Faculty of Health Sciences graduate students. You will be able to find more grad student profiles here: #Radygradstudents.