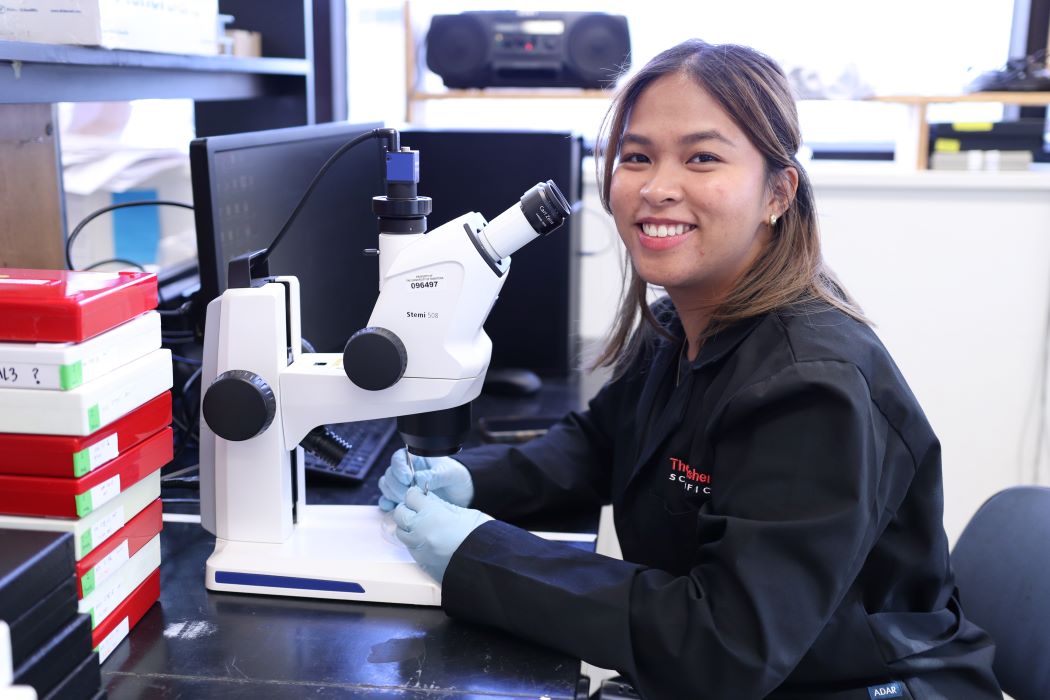 Rady grad student profile: Deanne Nixie Miao seeks genetic clues to hearing loss caused by cancer drug
September 14, 2023 —
Deanne Nixie Miao started her UM journey as a student in genetics on the Fort Garry campus.
She made a move to the Bannatyne campus to undertake the honours research project for her bachelor of science, supervised by Dr. Barbara Triggs-Raine, professor and department head of biochemistry and medical genetics.
After receiving the degree in 2021, Miao stayed on the Bannatyne campus, working as a lab technician.
She got so caught up in helping to plan a genetic study of hearing loss as a side effect of a cancer drug that she was inspired to pursue a master's degree and become a researcher.
"I was involved in this project from the very beginning," says the 24-year-old scientist, who is originally from the Philippines.
"It's the perfect blend of wet lab and dry lab. The wet lab involves studying the effects of this drug on the inner ears of mice, so I have learned skills like cochlear dissection. The dry lab gives me a different kind of intellectual stimulation because it's computer work, analyzing the datasets."
Miao's master's supervisor is Dr. Britt Drögemöller, assistant professor of biochemistry and medical genetics and Canada Research Chair in pharmacogenomics and precision medicine in the Max Rady College of Medicine. Drögemöller is also a researcher with the Children's Hospital Research Institute of Manitoba (CHRIM) and the CancerCare Manitoba Research Institute.
Miao received combined one-year funding of $17,850 from Research Manitoba, CHRIM and CancerCare Manitoba for the study. We recently spoke with her about her research.
How would you explain what you're investigating?
Cisplatin is a very effective chemotherapy drug that's used to treat a number of kinds of cancer. Unfortunately, it can cause permanent hearing loss as a side effect, or adverse drug reaction. The term for the damage it can do to the cochlea – part of the inner ear – is "ototoxicity." Child and geriatric cancer patients are at the highest risk for this.
Some studies have found genetic variants in humans that are significantly associated with cisplatin-induced ototoxicity. This means that depending on the expression of genes in a cancer patient's inner ear cells, they may be more susceptible to this adverse effect. We want to better understand which genes, pathways and specific cells are involved.
We're injecting mice with cisplatin and then examining the changes in gene expression in their ears. We're using single-nuclei RNA sequencing and single-nuclei ATAC sequencing. We are the first to use these techniques together to investigate how cisplatin affects gene expression changes at the single-cell level in the inner ear.
What are some of the goals of this project?
If we can identify potential causal genes, that could potentially lead to finding drugs that can help prevent this hearing loss. Maybe a drug can be used in conjunction with cisplatin that won't interfere with its chemotherapeutic abilities but will prevent the hearing damage.
With the information from our study, we are also developing and validating a polygenic risk score. This is a way of measuring how likely an individual is to develop ototoxicity when they take cisplatin, based on the presence of genetic biomarkers. For a patient with a higher risk score, other chemotherapy drugs could be considered as alternatives to cisplatin.
Are you interested in doing more in the area of precision medicine – this idea of tailoring drugs to the individual, based on their genetics?
Yes. Dr. Drögemöller, my supervisor, has really been instrumental in my learning about precision medicine. Health care shouldn't be "one size fits all." As we know more about how genetics work, treatments are going to become more personalized and targeted to the individual.
I'm planning on transitioning to a PhD. Eventually I hope to have my own lab that will focus on finding out why certain people are more susceptible to adverse drug reactions. I also want to focus on equity, diversity and inclusion, because in research we need to consider that there are genetic differences between populations, and some populations have been understudied.
This Q&A is part of a series on UM Today this summer featuring Rady Faculty of Health Sciences graduate students. You can find more grad student profiles here: #Radygradstudents