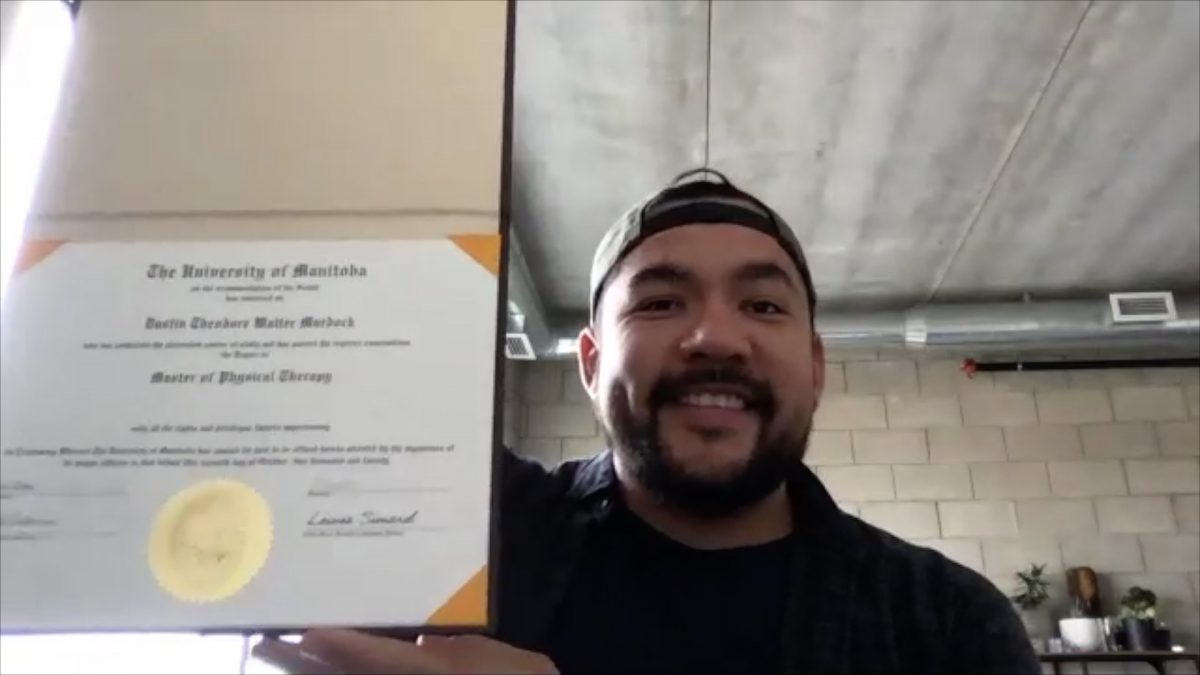 Rady Faculty students look forward to virtual convocation
October 20, 2020 —
For the second time in 2020, graduating students at the Rady Faculty of Health Sciences will participate in a virtual convocation, viewing the celebration with their family and friends online rather than receiving their degrees in person as they normally would at this time.
The UM virtual Fall Convocation ceremony on Oct. 22 will include graduates from the College of Nursing, College of Rehabilitation Sciences and Master of Physician Assistant Studies (MPAS) programs. The event will begin streaming at 5:00 p.m. CDT. Like the Spring Convocation in June, the event was moved online due to the COVID-19 pandemic.
Rehabilitation Sciences
Master of occupational therapy graduate Hannah Brown said the pandemic made the last semester for her and her graduating class memorable. Adjusting to online learning and virtual conferencing was particularly demanding for the 25-year-old, who was born with significant hearing loss.
"The cognitive fatigue plus Zoom fatigue added additional challenges as we had moved into virtual education," she said. "We basically came back from Spring Break, had one week of classes and automatically went online. We had to navigate how to take a test online and learn how to run group therapies over Zoom. We also had a practical exam that is typically done in person. It ended up being over Zoom with an imaginary client. It was definitely memorable this last semester."
Brown is excited to start working at Rehabilitation Centre for Children at Specialized Services for Children and Youth in the Jordan's Principle program, a national initiative for First Nations children.
In total there are 49 students graduating from the occupational therapy program, 50 from the physical therapy program and 17 from respiratory therapy.
Master of physical therapy graduate Dustin Murdock said he was initially disappointed that he wouldn't receive his degree in person, but that changed when he found it in his mailbox on Oct. 20.
"It's still just as valid as any other degree and I worked really hard for it," he said. "I was really proud of it as I was opening it up in the mail this morning."
Murdock, 30, is originally from Fisher River Cree Nation, where he hopes to return to improve the fitness and health of people in the community.
"I definitely want to work with my home community in some capacity. I'd be very interested in developing a program to deliver physiotherapy service there," he said.
Nursing
The College of Nursing will see 114 bachelor of nursing (BN) grads join the Class of 2020, along with two graduates of the baccalaureate program for registered nurses (BPRN), 17 from the master of nursing program and one PhD.
Nicolas Lees, 32, is one of 12 students graduating from the nurse practitioner stream of the master's program. The program combines classroom and online learning with practical work, which he said was challenging during the pandemic.
"We're working in hospitals and clinical settings, so with them trying to limit the flow of people, a lot of students were struggling to get their hours in," he said. That was the main impact we had. Luckily a lot of the people coordinating our placements were able to work with the clinics to find alternative ways."
The college will also hold a virtual pinning ceremony, welcoming the new BNs and BPRNs to the profession, in the morning of Oct. 22.
Laryssa Yakimoski, 23, graduates from the BN program and will begin her career at the pediatric oncology unit Children's Hospital. She said she's surprised at how quickly the last four years went by and how much she's grown in that time.
"I had a teacher in first week of nursing school tell us that you have to start being comfortable with being uncomfortable, and I'd say that's the big takeaway – be open to new things, be open to working with people and do your best to be as compassionate and caring as possible," she said.
MPAS
This year, 15 students will graduate from the MPAS program. Since launching in 2008, the program has graduated 136 physician assistants. Of them, 90 per cent are employed in Manitoba.
Carmen Konzelman, 26, came to the program with a bachelor's degree in biology from the University of Winnipeg and experience working with people with neurological disorders at the Movement Centre of Manitoba. She said she will remember her time in the program as a whirlwind of emotions and a huge accomplishment. She recently started working at the Selkrik Regional Health Centre Emergency Department.
"The MPAS program has prepared me for my future career as it's provided me with a stable foundation of a general medical knowledge and a skill set that I'll be able to bring forward with me to any career or specialty," she said.