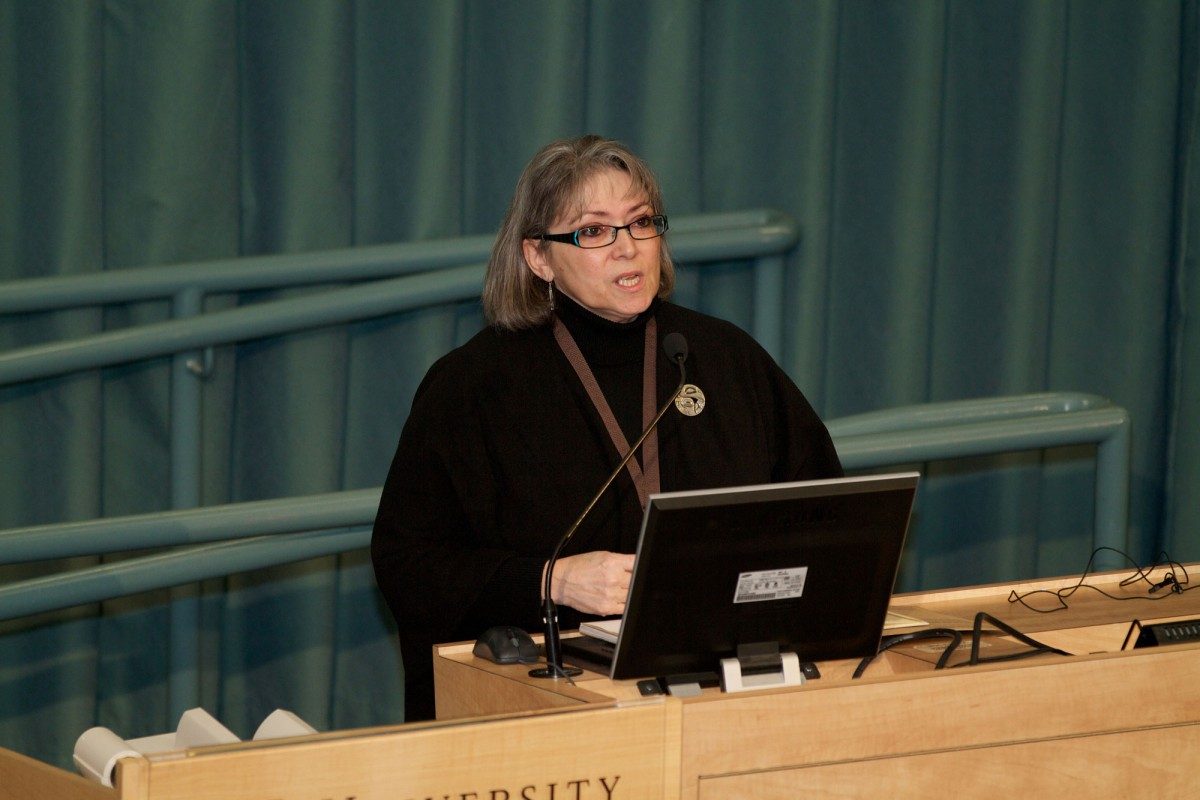 Rady Faculty strategic priorities highlighted at Town Hall
January 24, 2017 —
Interprofessional education and Indigenous initiatives were strong themes as the dean and vice-deans of the Rady Faculty of Health Sciences presented updates on strategic priorities at a Town Hall on Jan. 19.
About 80 people attended the noon-hour session at the Frederic Gaspard Theatre on the Bannatyne campus. Representatives of the College of Nursing, located on the Fort Garry campus, attended via webcast.
Dr. Brian Postl, dean, Rady Faculty of Health Sciences and vice-provost (health sciences), began by outlining the decentralized budget model that the university will implement on April 1. Moving to current priorities, Postl pointed to interprofessional collaboration across the faculty's five colleges (Dentistry, Medicine, Nursing, Pharmacy and Rehabilitation Sciences) as a strong focus.
"We are working hard to establish a new (faculty) chair to promote interprofessional education and innovation," he said.
Postl said the Rady Faculty's planned Indigenous Institute of Health and Healing is nearing approval by the U of M Senate and, it is hoped, will be launched in the coming months. He went on to summarize the five-year strategic framework for the Rady Faculty, encouraging all stakeholders to read the plan in draft form and send feedback to fhscomm [at] umanitoba [dot] ca.
Dr. Sara Israels, vice-dean, academic affairs, reported on the Rady Faculty's new Office of Educational and Faculty Development and on the transition to a faculty-wide process for promotion and tenure. She also noted the establishment of an awards committee that spans the five colleges. "We need to nominate more people in our faculty for external awards," she said.
Dr. Jeff Sisler, vice-dean, continuing competency and assessment, spoke about the recent creation of a new web platform which features online registration, learning and event management for high-quality continuing professional development programs. Sisler noted that a faculty-wide working group on internationally educated health professionals is exploring "the work we need to do around helping new Canadians enter practice in their chosen professions."
Dr. Christine Ateah, vice-dean, education, reported on topics including the new interprofessional collaborative care (IPCC) curriculum for all Rady Faculty students. First-year students are now assigned to small faculty-wide cohorts that complete certain assignments as a team. In response to a question about interprofessional clinical practice opportunities, Ateah said the scheduling of the five colleges poses a challenge, but there is strong potential for student-led learning.
Dr. Catherine Cook, vice-dean, Indigenous health, gave an update on the Rady Faculty's draft Truth and Reconciliation Commission Action Plan. Among the key themes of the nearly finalized plan are honouring traditional knowledge systems and ensuring support, mentorship and retention of Indigenous students. Of the latter, Cook said, "We do have a faculty-wide working group . . . and it's our hope to address any gaps and build on strengths."
Dr. Kevin Coombs, assistant dean, research, spoke on behalf of Dr. Peter Nickerson, vice-dean, research. From a funding perspective, Coombs said, there is a growing emphasis on collaborative health research conducted by teams and clusters. Coombs presented graphs showing positive results, such as the fact that the Rady Faculty's research funding increased by 16 per cent in the past year. "Keep up the good work," he said.
View the full PowerPoint presentation for the Town Hall.
Watch the one-hour webcast of the Town Hall.