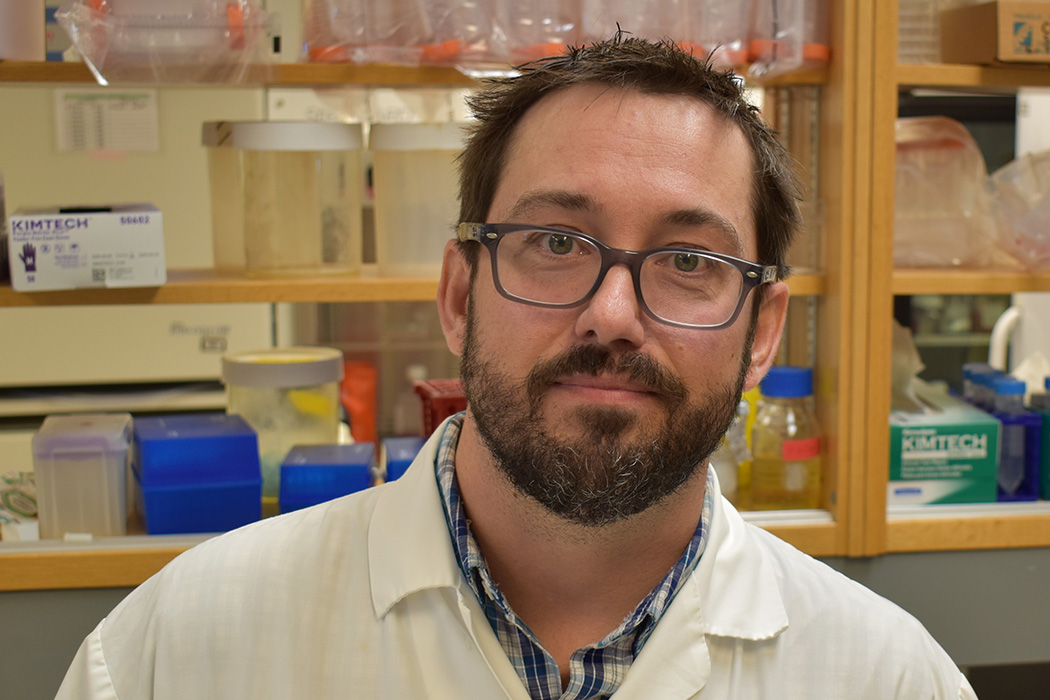 Rady Faculty scientist receives CIHR/CEPI Leadership Award for Excellence in Vaccine Research
April 26, 2023 —
Dr. David Safronetz is the recipient of the Canadian Institutes of Health Research (CIHR) and Coalition for Epidemic Preparedness Innovations (CEPI) Leadership Award for Excellence in Vaccine Research.
The award recognizes the achievements of mid-career investigators who are on track for, or have achieved, international leadership in vaccine research for infectious diseases.
Safronetz, an adjunct professor of medical microbiology and infectious diseases at the Max Rady College of Medicine, and a principal investigator at the National Microbiology Laboratory, Public Health Agency of Canada, will receive $400,000 over two years for his research on a Lassa virus vaccine.
"We're greatly appreciative to CEPI and CIHR for recognizing the work that we're doing and their willingness to contribute to it," he said. "The funding will help us look at different ways to treat and prevent Lassa fever through vaccination strategies."
Safronetz said that while Ebola virus comes to mind when most people think of a viral hemorrhagic fever, Lassa virus is one of the most prominent. According to the Centers for Disease Control and Prevention the number of Lassa virus infections per year in West Africa is estimated at 100,000 to 300,000, with about 5,000 deaths.
"We don't truly know the impact of the virus. I think that's part of the problem with Lassa virus. There haven't been very good clinical studies looking at the true incidence of the disease which primarily occurs in West Africa," Safronetz said. "Undoubtedly, thousands are dying every year of Lassa fever."
Safronetz said a Winnipeg team has developed a vaccine for Lassa fever, and his group will be conducting pre-clinical work to better understand how the vaccine works.
His team plans to target and eliminate specific cell types in animal models. By impairing certain arms of the immune response in these animals, the researchers will challenge them with Lassa virus to see how it affects the outcome of the infection and overall course of the disease.
"Because Lassa virus has such a complicated disease course that probably involves the host's own immune system, we first have to see what knocking out specific arms of the immune system does before we can apply that model towards understanding how the vaccine is working," he said. "Ultimately, the goal is to create a vaccine that will work across all the different lineages of Lassa virus occurring in West African countries such as Ghana, Nigeria and Sierra Leone."
Dr. Keith Fowke, professor and head of medical microbiology & infectious diseases at the Max Rady College of Medicine, said that Safronetz is a leader in the emerging virus field.
"This CIHR/CEPI award is a very prestigious grant," Fowke said. "Dr. Safronetz's award will allow him to develop novel approaches to Lassa virus vaccines and is national recognition for the excellence of his research program."
Safronetz said it's important for people to realize that Canada is an excellent place to be doing vaccine research.
"We have world class facilities in Winnipeg that allow us to do this research, and from our own backyard, we can conduct studies that have an international impact," he said.