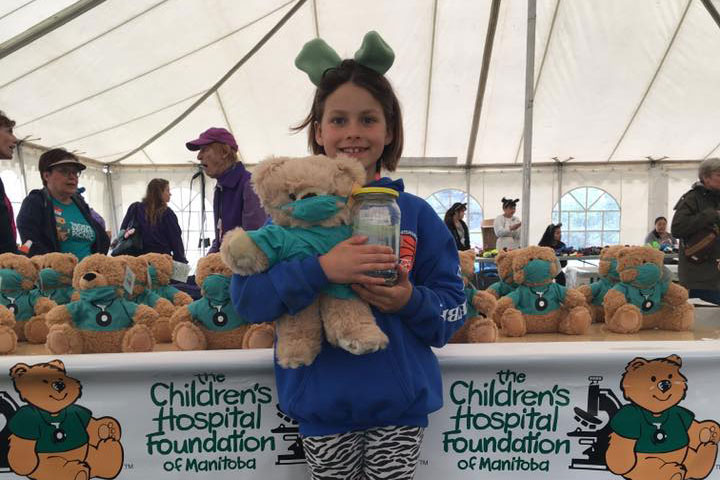 Rady Faculty of Health Sciences Students Volunteer at Teddy Bears' Picnic
Kids just want their bears to be happy and healthy—volunteers at the Dr. Goodbear Clinic helped out.
June 1, 2017 —
If your favourite teddy bear has a boo-boo, what do you do?
Why, you visit the Dr. Goodbear Clinic at the annual Teddy Bears' Picnic, of course.
Student volunteers from Rady Faculty of Health Sciences, like second-year College of Pharmacy student Kara Lipski, were on hand at the annual event with advice on how to safely and effectively administer medication to stuffed animals of all kinds. And for the injured teddy? "We had boo-boo cream!" said Lipski.
She and her fellow students were up for anything, showing children and their ailing stuffies how to use medication safely. There was fizzy Alka Seltzer for tummy aches, as well Tylenol for Toys and Blue Beary Bugs Be Gone Medicine, depending on the patient and the problem. For the first time this year, pharmacy students also administered "flu shots" to bears that hadn't been vaccinated yet.
But they were there for much more than dispensing prescriptions – advice and education were also part of the package. "We were able to talk to the child how it's important for Teddy to take his medicine and how they should ask their mom or dad about giving Teddy another dose of medicine at home," said Lipski.
In a setting like the Dr. Goodbear Clinic, there was also the opportunity to show kids and their families some of the behind-the-scenes activities that pharmacists would be familiar with, but which a patient might never see, like compounding. For example, "we could make stronger boo-boo cream by adding in pain crystals," said Lipski, which was Jell-O powder mixed into plain glaxal base.
Lipski herself is a long-time fan of the annual Teddy Bears' Picnic, hosted by the Children's Hospital Foundation of Manitoba. "When I was growing up I went to the Teddy Bear Picnic every year. It was always the best experience to go through the Dr. Goodbear Clinic and get my bear checked up," she said. "I remember being so excited to speak to the volunteers about what happened to my bear and to see the care plan that was put in place to make my bear feel better."
But as much as clinic is about warm fuzzies, it's also an important way to demystify medicine and to create positive associations with healthcare providers. "I know that as a child it can be very intimidating to talk to older people, but almost all children were able to tell me about their teddy's story," said Lipski. "It showed how important the Teddy Bears' Picnic can be to build a child's confidence."
Hailey Lincoln has been volunteering with the clinic for the past three years. "I had a fun day giving children a glimpse into the profession that I love and sharing it with them," she said. What keeps her coming back? "It's really fun to hear the very detailed stories that the kids have behind their stuffed animal's illness," says Lincoln. One of best was "a bear that was dancing with his brother so hard that he slipped and fell and broke his arm," she said. "And then he had an upset tummy too."
Tanya Williams, Director of Communications and Marketing for the Children's Hospital Foundation of Manitoba, is deeply appreciative of all the volunteers and all that they do. "The Dr. Goodbear Clinic, presented by Great West Life, is successful and the most loved attraction because of the incredible Children's Hospital staff and students. By volunteering their time, they are creating a special memory for children and their families that they will remember for the rest of their life," said Williams. "By sharing their talents, they are teaching children that the Children's Hospital is a wonderful place to come, too."
"I've heard of some adults that were inspired to go into healthcare from when they attended the Teddy Bear Picnic when they were a child," added Lincoln. "Hopefully we could inspire some children to one day become pharmacists!"