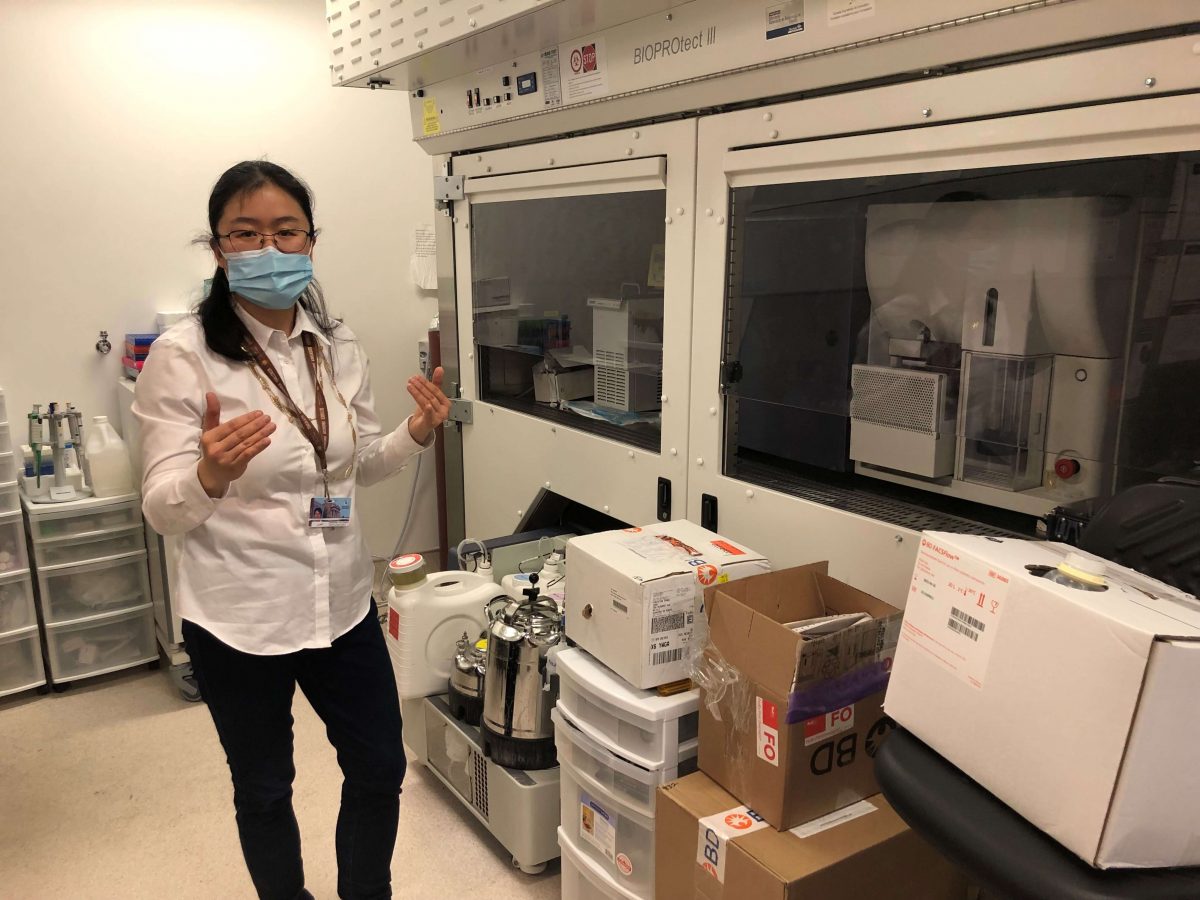 Rady Faculty invests in research through cutting-edge core platforms, labs
April 24, 2023 —
Dr. Jude Uzonna wants researchers in the Rady Faculty of Health Sciences to dream big.
Using 10 core facilities, platforms and services created and managed by the faculty, cutting-edge tools and technologies are on hand to help make dreams a reality.
Within labs on the Bannatyne campus, researchers have access to flow cytometry, advanced imaging, transgenic services, histology, big data analysis, Manitoba Centre for Proteomics and Systems Biology, lentiviral vector production, central animal care services and more.
"We're very proud of what the Rady Faculty has accomplished in establishing these facilities, platforms and services," said Uzonna, Rady vice dean (research). "Ordinarily, researchers would never have this kind of equipment in their own labs. You simply cannot have it."
Aside from the initial purchase costs – which can run into the millions – there are also ongoing service contracts and maintenance costs. Even more daunting, added Uzonna, is the challenge of learning to use the ever-changing technologies at the expert level – something the facilities or platforms can either provide or teach with their on-site staff.
"I never want to see a researcher's proposal turned down because they don't have access to everything they need," said Uzonna, adding investing in technology at this level is not unique to UM with many universities, including all the U15, consciously investing in this area.
"It's required to stay competitive and remain sustainable," he said. "The more you're able to allow your researchers to do cutting-edge research, the more funding you can attract."
Stella Onwah, a PhD candidate in immunology, is working in the flow cytometry facility to find a way to fight leishmaniasis, a disease spread by sandflies infected with a parasite. It's a problem within 98 tropical and sub-tropical countries around the globe, with the World Health Organization estimating 700,000 to 1 million new cases of leishmaniasis each year.
Some with the disease never know they have it. Others are treated quickly and recover. But in areas with limited access to health care, the disease can be a cause of disfigurement, stigma and even death. Onwah, working under Uzonna, is focusing on prevention.
"We are trying to show that when you delete a particular enzyme from the parasite, it will not be as pathogenic as the normal parasite," said Onwah. "That means it can be used as a vaccine." Using flow cytometry, Onwah can perform tests that show how individual cells infected with these enzyme deficient parasites are affected and track the results to deduce a course of action for these enzyme-deficient parasites.
In addition to serving University of Manitoba researchers, the core platforms are also available for external clients – and not just in medicine. Dr. Christine Zhang, the flow cytometry core facility manager, says applications also exist for other industries such as food sciences, biotech or even agriculture. The flow cytometry lab recently helped save a global farmer-to-farmer company significant time and money.
"They wanted to run their plant samples on our flow cytometry instrument to determine which plants are reproducible and which ones are sterile," said Zhang. "Ultimately it saved them the cost, resources and manpower of growing thousands and thousands of non-reproducing plants."
For more information, a full list of RFHS cores is provided here:
https://umanitoba.ca/health-sciences/research/core-facilities-platforms-and-services