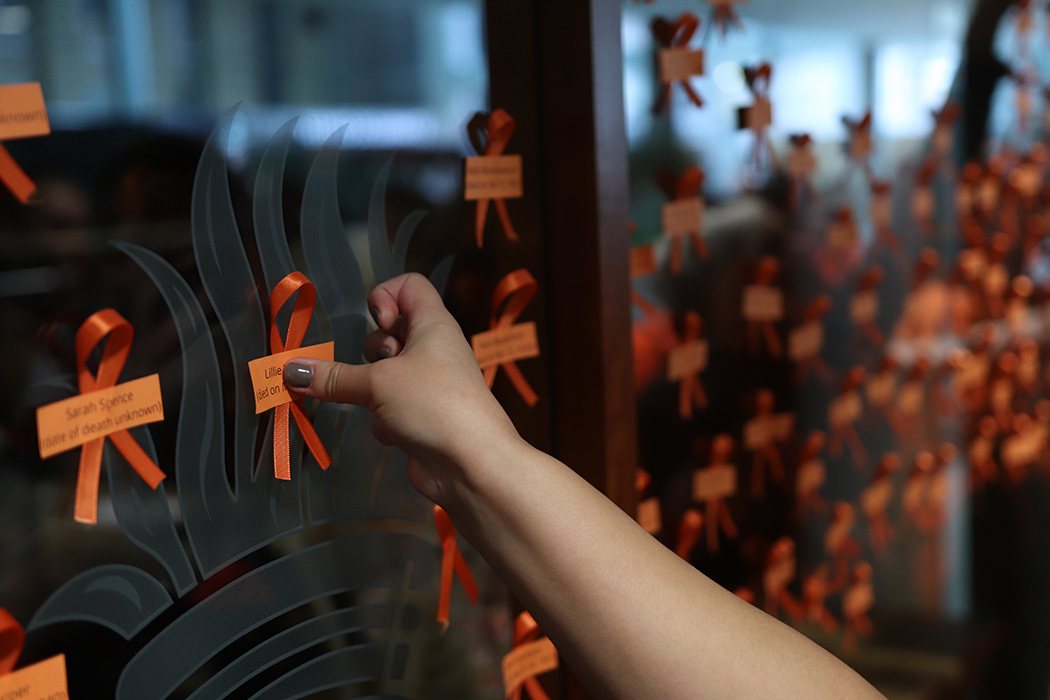 Rady Faculty honours National Day for Truth and Reconciliation with orange shirts, powerful messages
October 4, 2023 —
Hundreds of people wearing orange shirts filled Brodie Centre atrium for the National Day for Truth and Reconciliation event on the Bannatyne campus presented by Ongomiizwin – Indigenous Institute of Health and Healing.
Elder Margaret Lavallee gave the opening prayer and Debra Beach Ducharme, director of Indigenous health integration with Ongomiizwin – Education, hosted the event.
Dr. Peter Nickerson, vice-provost (health sciences) and dean of the Rady Faculty of Health Sciences, told the audience that before there can be healing, there must be truth-sharing, apology and commemoration.
"Orange Shirt Day is associated with a powerful message – Every Child Matters," Nickerson said. "In health care, we provide care on the basis that every patient matters. Every patient has an equal right to physical, mental, emotional and spiritual health. We must never allow any form of prejudice or bias, including racism, to influence the quality of care that we deliver."
Melanie MacKinnon, executive director of Ongomiizwin – Indigenous Institute of Health and Healing, spoke about how many people drive to the Bannatyne campus down Tecumseh Street but they might not know where the name comes from. She explained that the street is named after Chief Tecumseh, who united many Indigenous nations and was allied with the British during the War of 1812.
"That is the name that I think we should all remember when we drive down the street and that gratitude to that particular ancestor who's closer to us than we may have thought," MacKinnon said.
Danielle Hart, a graduate student in community health sciences at the Max Rady College of Medicine, spoke about the orange shirt design she created for the event.
"I wanted to embody Indigenous joy, healthy families, empowered families and just celebrate the work that we're all doing," Hart said.
A panel discussion called Exploring the 'Truth' in Truth and Reconciliation took place. The panel included Melody Muswaggon, health innovations lead for Ongomiizwin – Health Services, Dr. Linda Diffey, assistant professor of community health sciences, Leanne Niziol, a fourth-year medical student, and Dr. Ian Whetter, medical director of Ongomiizwin – Health Services. They discussed several topics including what the National Day for Truth and Reconciliation means to them and the role for non-Indigenous people in the process of truth and reconciliation.
The event ended with an honour song performed by Dr. Lisa Monkman. Orange ribbons with the name of a child lost in Manitoba residential schools were handed out to audience members, who were asked to place the ribbons on the windows of the former bookstore.
Nursing students' annual Orange Shirt Day walk
At Fort Garry campus, hundreds more attended the Nursing Students' Association's (NSA) annual Orange Shirt Day Walk from the Helen Glass Centre for Nursing to the National Centre for Truth and Reconciliation.
The walk took place following the Teach-In for Reconciliation at Investors Group Athletic Centre and began with greetings from Elder Donna Green, a residential school survivor from northern Manitoba and the province's first Indigenous principal.
Green spoke about entering the residential school system as a teenager and about working in education as an Indigenous person.
"I worked for the school division for 23 years, and let me tell you, as a First Nations person with strong First Nations values, it's very hard to survive in a Euro-based system," she said.
She also offered a message of hope around bridging gaps between communities. "Yes, we do have differences, but we also have commonalities. One of the strongest commonalities that we all have is our spirit. We are all human, we all enjoy respect, consideration, dignity and acceptance. That is what will bind us together."
Dr. Netha Dyck, dean of College of Nursing, spoke about the history of Orange Shirt Day, which is held annually in honour of Phyllis Webstad, a residential school survivor who had her new orange shirt taken away on her first day of school in Williams Lake, B.C.
"We continue to acknowledge and recognize the horrific harms that were caused and continue to be felt and experienced today," she said.
Dyck commended the NSA for its role in raising awareness over the last few years.
"When our students held their inaugural Orange Shirt Day nine years ago, they made a pledge to provide culturally safe nursing care in partnership with Indigenous people and their families to create an environment that supports, affirms and celebrates all people, and to be positive role models."
At the National Centre for Truth and Reconciliation, NSA senior stick Arij Al Khafagi renewed the nursing students' pledge. Everyone present was then given the opportunity to pay tribute to those affected by residential schools by saying a prayer and throwing tobacco into the sacred fire.
"As future nurses, we choose to ally ourselves with Indigenous children, youth and their families to create an environment that supports, affirms and celebrates all peoples," Khafagi said.
The event concluded with a feast and performances by cultural dancers and drummers.
Watch a social media video recapping the events.