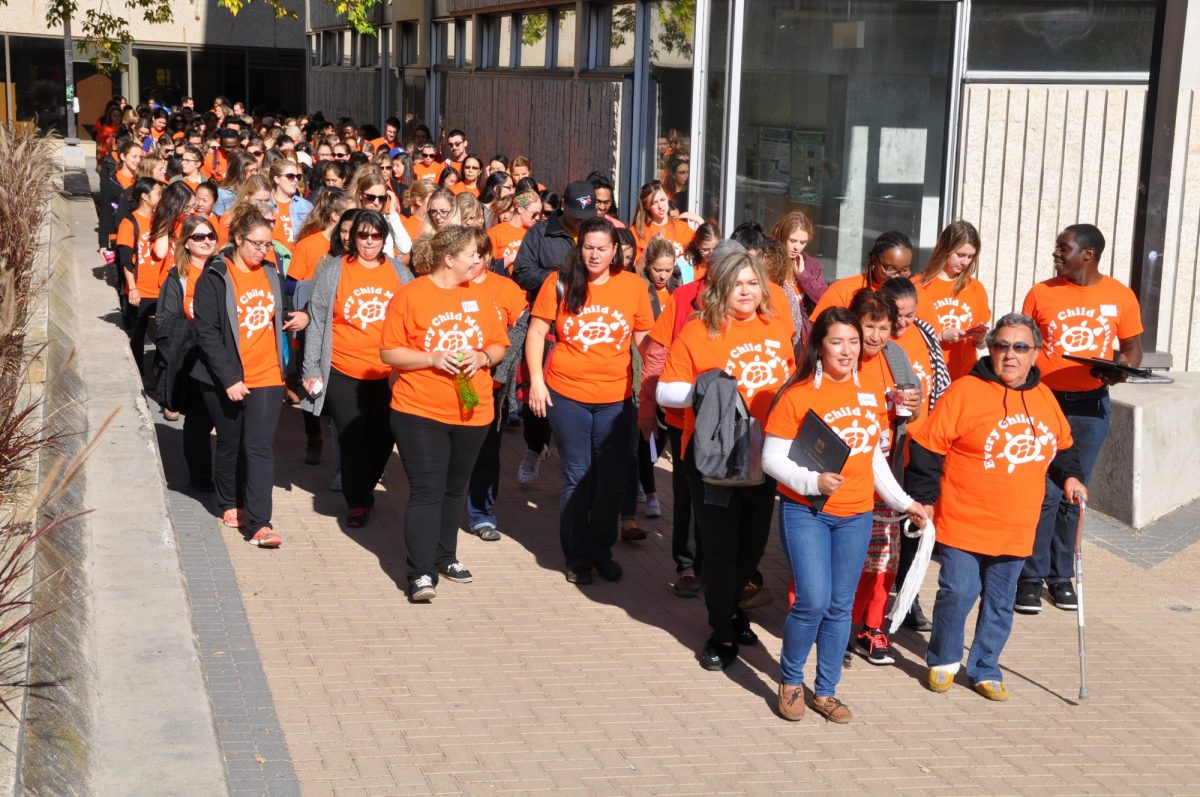 Rady Faculty dean encourages participation in National Day for Truth and Reconciliation
September 27, 2021 —
A message from Dr. Brian Postl, Dean and Vice-Provost, Rady Faculty of Health Sciences
On Thursday, Sept. 30, the University of Manitoba will be closed in observance of the National Day for Truth and Reconciliation, a federal statutory holiday.
I strongly encourage all learners, faculty and staff of the Rady Faculty of Health Sciences to participate through individual reflection or organized activities.
It is vitally important that we honour the truth about the ongoing harms inflicted by the colonization of Indigenous Peoples. It is also essential for each of us to examine our own attitudes and actions and commit to advancing reconciliation.
Sept. 30 has previously been known as Orange Shirt Day and has carried the powerful message Every Child Matters. The symbolic wearing of orange shirts honours the story of Phyllis Webstad, who as a six-year-old had her new orange shirt stripped from her on her first day of residential schooling in Williams Lake, B.C.
Such abusive attempts to erase identity were part of what we now recognize as cultural genocide. We must acknowledge the inexcusable legacy of trauma left by residential schools, listen with empathy to the truth-telling of Survivors, and honour the thousands of Indigenous children who did not survive at the schools.
The recent discovery of unmarked graves at former residential school sites was a tragic reminder that the truth that must precede reconciliation has yet to be fully told.
In the Rady Faculty, we recognize that the health inequities experienced by Indigenous populations are caused by factors that include systemic racism, lack of access to consistent care, the ongoing removal of children from their families, and social determinants of health such as poverty and inadequate housing.
On the National Day for Truth and Reconciliation, I hope you will reflect on steps you can take to decolonize health care, improve access to equitable care and provide culturally safe care in partnership with Indigenous communities.
Familiarize yourself with the seven health-related Calls to Action (No. 18 to 24) made by the Truth and Reconciliation Commission. They urge actions such as closing the health gaps between Indigenous and non-Indigenous communities, incorporating Indigenous healing practices and ensuring that health-care students receive anti-racism training.
Each of us has a responsibility to recognize and dismantle racism, intervene when witnessing racism, and promote work and learning environments that are free of racism.
On the Bannatyne campus, everyone is invited by Ongomiizwin, the Indigenous Institute of Health and Healing, to join in Honouring Our Children ceremonies at the Medicine Garden/Mashkiki Gitigann (on Bannatyne next to the Basic Medical Sciences Building) on both Sept. 28 and 29 at 9:30 a.m.
On Wednesday, Sept. 29 from noon to 1:30 p.m., the Nursing Students' Association and College of Nursing will hold a virtual Orange Shirt Day ceremony.
Please set aside time to listen, learn, show respect and join in remembrance during this important week in the journey toward reconciliation with Indigenous Peoples.