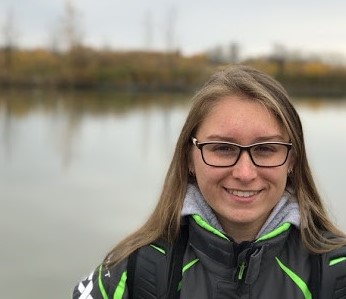 Q&A with Grad Student Katelyn Rodgers
October 26, 2018 —
This fall semester, there have been a few new faces in the Centre for Earth Observation hallways.
CEOS is excited to welcome Katelyn Rodgers, Master's student (supervised by David Barber & Greg McCullough) to our team. Let's get to know her a little better with this week's Coffee with a Co-worker.
Master's student: Katelyn Rodgers
Studying in: Centre for Earth Observation Science (CEOS), Clayton H. Riddell Faculty of Environment, Earth, and Resources
Advisor: David Barber
Where are you from?
Winnipeg
Why did you choose CEOS?
In my last term of Undergrad I took a 3000 Environmental course, and did a research course with CJ Mundy. We looked at what is going on underneath ice with phosphorus and chlorophyll levels during the fall, winter, and spring seasons. That led me to looking at CEOS' website and I saw Greg McCullough's profile and the papers he published. His research really interested me, so I contacted him to find out if he accepted any students, and he put me in touch with David Barber.
What's the focus of your research at CEOS?
Right now I am researching Freshwater Science, mainly focusing on the Lake Manitoba and Lake Winnipegosis Watershed, and am looking to see how land use can impact water quality in rivers and streams.
What kind of water do you drink?
I prefer tap water, I don't mind well water, but am not a fan of bottled water.
If you could be a SuperHero, what SuperHero would you be?
There's no particular SuperHero that I would like to be but I am a huge fan of Matilida. She gets to move objects. But if I can have a particular power it would have to be water bending.
Do you have any hobbies?
Gym, yoga, and I like reading books. This past summer I tried kick boxing. I am part of Ducks Unlimited U of M Wetlanders Student Chapter. When I am not busy, I volunteer at Parkland Mews where I get to work with Peregrine Falcons. I also love to dance. Up until 5 years ago, I danced competitively in hip hop, lyrical and jazz. I got to travel to different states each year for dance competitions, such as Minnesota and Chicago, and my team placed first for a few dance numbers. I would really love to get back into dance when I have more spare time!
What book are you currently reading?
Outlander by Diana Gabaldon.
Place you'd like to visit and why.
I would love to visit Europe, particularly Ireland to see the castles. New Zealand sounds like a really cool place to visit as well.
What puts a smile on your face:
A lot of things. I think overall I am a pretty happy person. Every day is a good day, you just have to find those good parts of the day.
What did you want to be as a kid?
I have always been interested in Science, but I also thought I would be a fashion designer or a Mechanic. I found a lot of things interesting!
Coffee or tea:
Neither. But I do love my hot chocolate.
Salty or sweet:
Sweet. Definitely sweet. Pastries. Aka. Pie
Favorite Holiday:
Halloween. I love dressing up and it's my B-day! (Author's note: Look for Katelyn on Halloween, she gave me a preview of her costume and if she comes to CEOS dressed up, it's going to be awesome!)
One thing not too many people may know about you:
I am a huge water bug. My parents put me in the water at 3 months old and I have lived around water most of my life. For many summers I worked as a lifeguard at beaches and pools, I'm not doing that anymore but then I became involved with water in water studies. The last few years I have been working with the Province of Manitoba obtaining water quality samples as part of their Beach Program, taking samples for E.coli levels and algae blooms, and their Long-Term Water Quality Program, taking water samples of various rivers around the Province.
Where do you see yourself in the future?
In a field that relates to water quality.