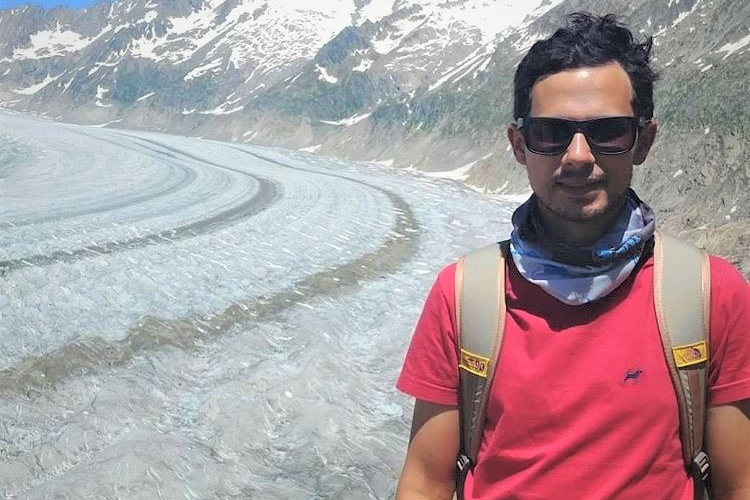 Q&A with grad student Enoil de Souza Junior
August 14, 2018 —
Approximately 3,600 students are enrolled in the University of Manitoba's Faculty of Graduate Studies. They come from Canada and around the world to study here and CEOS is getting to know some of them on a more personal level. We want to know who they are, why they chose the field they did, about their hobbies and SuperHero abilities.
PhD student: Enoil de Souza Junior
Studying in: Centre for Earth Observation Science (CEOS), Clayton H. Riddell Faculty of Environment, Earth, and Resources
Advisor: David Barber, Canada Research Chair (Tier 1)
Where are you from?
I'm from Porto Alegre, Brazil.
What made you want to come here?
The program. I really wanted to work in the Arctic, as a lot of people in Brazil study the Antarctic, and I wanted to do something different. We also heard that Winnipeg has a lot of sun in the winter and we heard many good things about Canada.
Why did you choose CEOS?
I studied Geography back home in Brazil and wanted to continue with my studies in Climate Change. I spoke with my Supervisor in Brazil who knows many in the Arctic community, and together we put a few feelers out. Dr. Barber responded right away, and after checking out his CV, we were very impressed. Plus, we thought that he looks like Santa, so he must be nice.
What did you want to be as a kid?
A soccer player. Everyone in Brazil wants to be a soccer player.
Coffee or Tea?
I drink both but drink tea when I'm cold.
Have you tried any new sports since you've been here?
I tried cross country skiing for the first time last winter. I fell a lot, but it was so much fun. I'm hoping to try snowboarding this winter.
Do you miss anything particular about home?
BBQ. Family BBQ's on Sunday are the best. The food is so good and I haven't found anything like it here.
Do we have any different customs here?
People here have personal space and it is important to them. In Brazil we are very touchy. When we meet someone, we always greet them with a kiss and a hug.
If you could be a SuperHero, what SuperHero would you be?
Wolverine. He's very cool.
You spend your free time doing what?
My wife and I like to volunteer. Last winter we volunteered at Le Festival du Voyageur, and we have volunteered at the Manitoba Marathon, Bomber games and we joined the Rotary Club. It's a good way to meet new people and getting involved in the community helps you learn about Manitoba.
One thing not too many people may know about you:
I really like to talk. I find most people here are quiet.