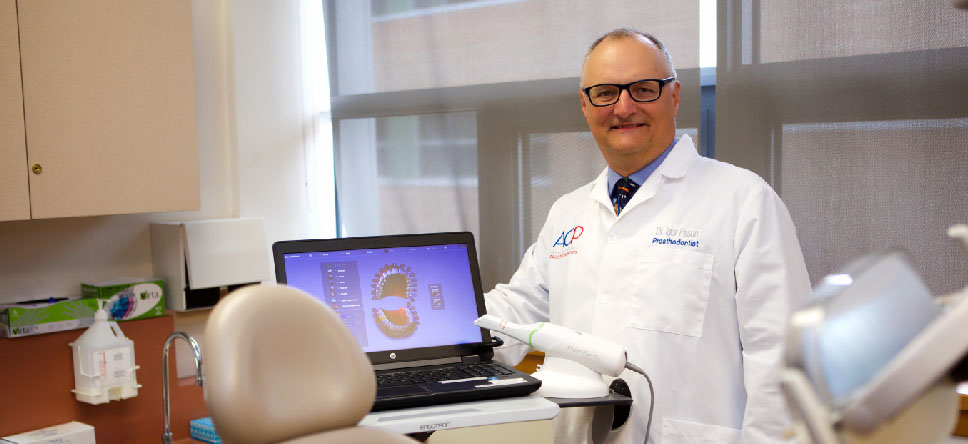 Prostho progress
October 26, 2018 —
Igor Pesun [DMD/87] knows from experience that there's a shortage of prosthodontists in Manitoba.
"There's an incredible need," says the associate professor, who is director of the new graduate prosthodontics program in the department of restorative dentistry. "Between southern Ontario and Alberta, there are probably only 10 full-time prosthodontists. Manitoba has four full-time, and a few of us who practise part-time. We see patients from Thunder Bay to Saskatchewan, and from North Dakota to Nunavut."
Prosthodontics is the dental speciality concerned with fixed and removable replacements for teeth, such as implants and dentures, as well as esthetic dentistry and reconstruction of other parts of the mouth, jaws and face.
With the launch in August 2018 of the graduate program at the Dr. Gerald Niznick College of Dentistry, the ranks of local prosthodontists are expected to grow. And patients, particularly those who can't otherwise afford treatment, will have better access to advanced care.
The graduate clinic will charge about 70 per cent of the Manitoba fee-guide rate, says Pesun. It will take referrals from the dental community, as well as the U of M dental clinics.
The new, provisionally accredited three-year program leads to a master of science in prosthodontics. Only two other Canadian dental schools – the University of Toronto and University of British Columbia – offer graduate programs in this specialty.
Two graduate residents will be accepted each year. There will be a strong emphasis on digital technologies. Every resident will conduct research.
The residents will be able to collaborate on dental cases with those in the college's other graduate programs, including oral and maxillofacial surgery, orthodontics, pediatric dentistry and periodontics.
The program will also work with Health Sciences Centre and CancerCare Manitoba to serve patients where maxillofacial prosthetic treatment is needed because of genetic malformation, injury or disease.
The dream of a graduate prosthodontics program at U of M goes back a long way. In 1981, Dr. Lorne MacLachlan, an advocate for prosthodontics in Canada, established a charitable trust fund at the U of M to support the development of such a program.
Prosthodontist Brock Love [DMD/65], a long time instructor at the college, kept the vision alive. "We're standing on Dr. Love's shoulders," says Pesun.
In the early 1990s, Pesun assisted Love in a clinical research project, evaluating dental implants. That experience influenced Pesun to pursue graduate studies in prosthodontics in Augusta, Ga.
Pesun went on to teach at the University of Minnesota. When he returned and joined the U of M faculty in 2006, he kept hoping to see a graduate program come to fruition. But several hurdles had to be overcome.
"First, we had to demonstrate that there was enough demand for prosthodontic services at the college to ensure a steady flow of patients. So eight years ago, with support from Zimmer Dental, we launched an implant fellowship. We were able to show that there are enough implant patients for a graduate program to be viable. That fellowship has ended now, with the launch of the new program."
The second hurdle was the need for prosthodontists on the faculty. "When I arrived, there were only three prosthodontists in faculty positions. We have doubled that over the years," Pesun says.
Third, there had to be clinical space for the program. That was set in motion three years ago, when the college closed the faculty private practice clinic on the second floor. It has been repurposed as the new Graduate Prosthodontic Clinic. "We're starting with four operatories, with plans for a fifth. We also have lab and office space," Pesun says. "It's exciting to start training specialists and meeting the need for advanced prosthodontic care that we know is out there."
For more information, visit: umanitoba.ca/healthsciences/dentistry/rds/prosthodontics.html