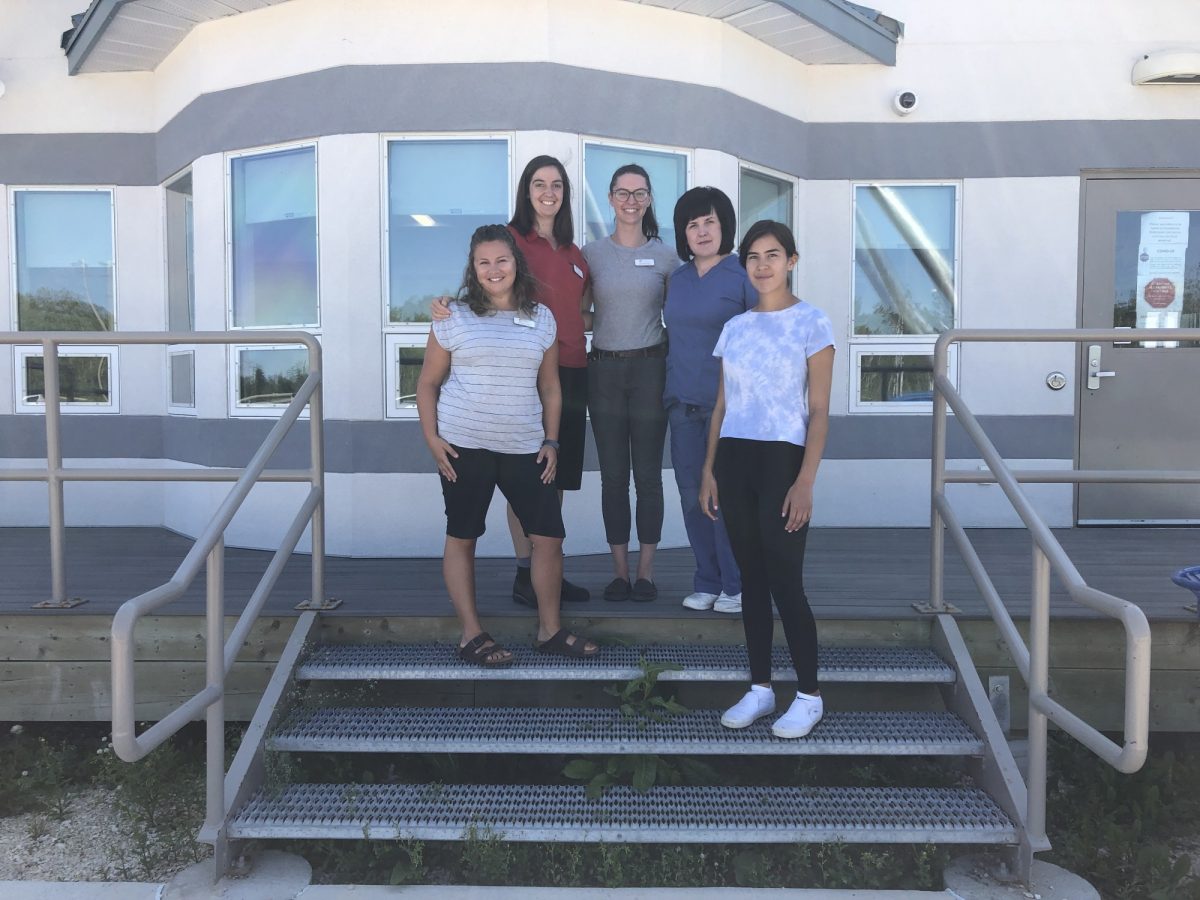 Projects explore dementia and frailty in First Nations communities
September 28, 2020 —
Physical and occupational therapy students from the College of Rehabilitation Sciences put their skills to work this summer to help Elders and those with dementia, as well as caregivers, in First Nations communities.
The projects are part of the college's Kiga mamo anokimin onji minoayawin initiative, which translated from Ojibway means "We will work together for health and wellness."
One of the projects focuses on people living with dementia and their caregivers. Through consultations with Dr. Reg Urbanowski, dean, College of Rehabilitation Sciences, Rady Faculty of Health Sciences, the community identified it would like to start with delivering help to people providing care to those with dementia or memory issues.
For six weeks starting in July, three students completed a fieldwork placement in Pinaymootang First Nation, which is located about 220 km northwest of Winnipeg.
"We were the first students to do a placement in Pinaymootang as part of this project," said master of physical therapy student Maria Dirks. "We were making connections with people who could have dementia symptoms and doing home visits."
Dirks performed strength assessments and prescribed exercises, which she had to teach to the clients and caregivers. She also worked closely with two occupational therapy students, who assessed their clients' ability to manage self-care, recommending strategies and ordering equipment to increase their independence.
"We got to know clients and their caregivers, finding out more about difficulties they were having caring for their loved ones, if they were noticing that their loved ones or others in the community were exhibiting signs and symptoms of dementia, and the gaps they felt existed in the community to provide support," said occupational therapy student Rachel Ward.
The students spent about three days each week in the community, reduced from a typical placement of five days per week on-site because of COVID-19 restrictions.
"Initially, we thought this placement would have to be completely virtual, but at the last minute the community opened up again," Ward said. "One of the most important things I learned on this placement was to take the time to listen to the clients and what they have to say. Many were very appreciative of us taking the extra time to listen to their stories."
The other communities taking part in the ongoing project include Bloodvein First Nation, Lake Manitoba First Nation, Opaskwayak Cree Nation and Norway House First Nation.
The second project, funded by the Canadian Frailty Network (CFN), is led by Dr. Cara Brown, assistant professor in the occupational therapy department. It was developed with four First Nations communities who said they were looking for ways to engage older adults in programs that included physical activity.
Elders, older adults and other community members are taking part in the research process in Bloodvein First Nation, Black River First Nation, Hollow Water First Nation and Lake Manitoba First Nation.
The project team's tasks are: to learn what the communities think about the word "frailty" and how this relates to their thoughts on older adult health and illness; develop and test community-specific programs that incorporate physical activity; and share what they learned with each other and other communities in Manitoba, using techniques such as video storytelling.
"After a long history of colonization and mistrust, First Nations communities must decide on the approaches that will be used to improve the health of their own people," Brown said. "Based on our consultations, we will work with each community individually to develop programs that address their needs."
Andrea Simser and Kellie Slobodian, two final-year students in the master of occupational therapy program, participated in a six-week placement in Lake Manitoba First Nation, a community of 875 people, starting in late July. Similar to the placement in Pinaymootang, the students were limited to just a few days a week in the community due to COVID-19 restrictions.
"We did initial interviews with community members to understand their views on health, wellness and frailty, and to identify a possible physical activity program that could either help people who are frail or with prevention," Slobodian said. "There are a lot of people in the community who are in good health, but they want to take a preventative approach to make sure people can continue to do the things they need to do."
The students said that even though the community was only two hours away from Winnipeg, it felt very remote and showed them how caregiving in the area has its unique challenges.
"The amount of services they currently have is quite limited," Simser said. "I think this is going to affect how I practice going forward, being mindful of the different ways that people live and understanding how culture can make a difference in how you assess and collaborate with people for treatment."
For both projects, each community has its own dedicated resource, a person from the community hired to work as a liaison with the college and project team.
Kennedy Anderson, community resource for Pinaymootang, is a 19-year-old UM student who started her first year in January. She has worked at Pinaymootang Health Centre since finishing high school three years ago.
"We have a lot of Elders here who have 24/7 needs, but there isn't enough care," she said. "We really utilized this group of students and I think that's how it's going to be for the next two years – getting people what they need and making sure that everyone is seen in the community as well."
Dirks said she appreciated the difference that Anderson made, and that it's clear that community members valued the role of the liaison as well.
"She showed us around the community a few times and she knew everyone," Dirks said. "It was really nice to have that strong connection with someone in the community."
Student travel and accommodations for these projects was provided by the RBC Experiential Learning Travel Initiative.