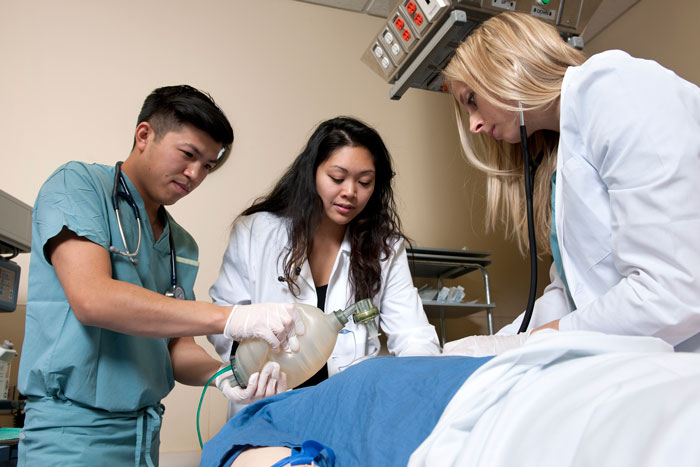 Professor recognized as outstanding PA educator
November 9, 2017 —
Dr. Jonathon Bellas, medical director of the master of physician assistant studies (MPAS) program at the U of M, has received a national honour: the 2017 Physician Assistant (PA) Educator Award.
The award, presented by the Canadian Physician Assistant Education Association and the Canadian Association of Physician Assistants, recognizes Bellas for his significant impact on the education of PAs in Canada. He received it in Ottawa on Oct. 28.
"It's nice to have my dedication to teaching recognized," said Bellas, a U of M alumnus. "It's also very humbling, because there are a lot of wonderful teachers out there."
Bellas is an assistant professor of medicine at the Max Rady College of Medicine in the Rady Faculty of Health Sciences and an internal medicine specialist at Health Sciences Centre.
He started coordinating academic courses and clinical rotations in the MPAS program in 2009 and has been strongly committed to PA education ever since.
"Physician assistant students are mature, curious and motivated learners," Bellas said. "It's inspiring as an educator to teach students like that. It keeps you enthusiastic."
Ian Jones, director of the MPAS program, said the national award for Bellas reflects well on the U of M program.
"Dr. Bellas's contribution to the program since its inception is a prime reason our graduates are outstanding medical clinicians," Jones said. "Perhaps his greatest contribution is modelling what a great medical provider should be."
Physician assistants are clinicians who work under the supervision and direction of physicians. They perform duties such as assessing patients, ordering and interpreting diagnostic tests, providing therapeutic and clinical procedures, and prescribing medications.
The U of M's physician assistant program is the only one in Canada at the master's level. It consists of one year of biomedical science and medicine courses, followed by 13 months of clinical rotations.
"The greatest challenge of educating PAs is the short timeframe for teaching the vast amount of knowledge they need to learn," Bellas said. "It requires a group of dedicated clinician-educators to guide them."
The award recognizes Bellas for his contributions to both the academic and clinical components of the program. Students have praised Bellas for effectively distilling complex subject matter and for bringing course material to life by discussing relevant clinical cases.
Bellas, who grew up in Brandon, earned his medical degree at the U of M in 2003. He completed his residency in general internal medicine at the U of M and joined the faculty in 2007. He assumed the role of medical director of the MPAS program in February of this year.
The awards committee said Bellas exemplified positive qualities such as communicator, advocate, collaborator and scholar.