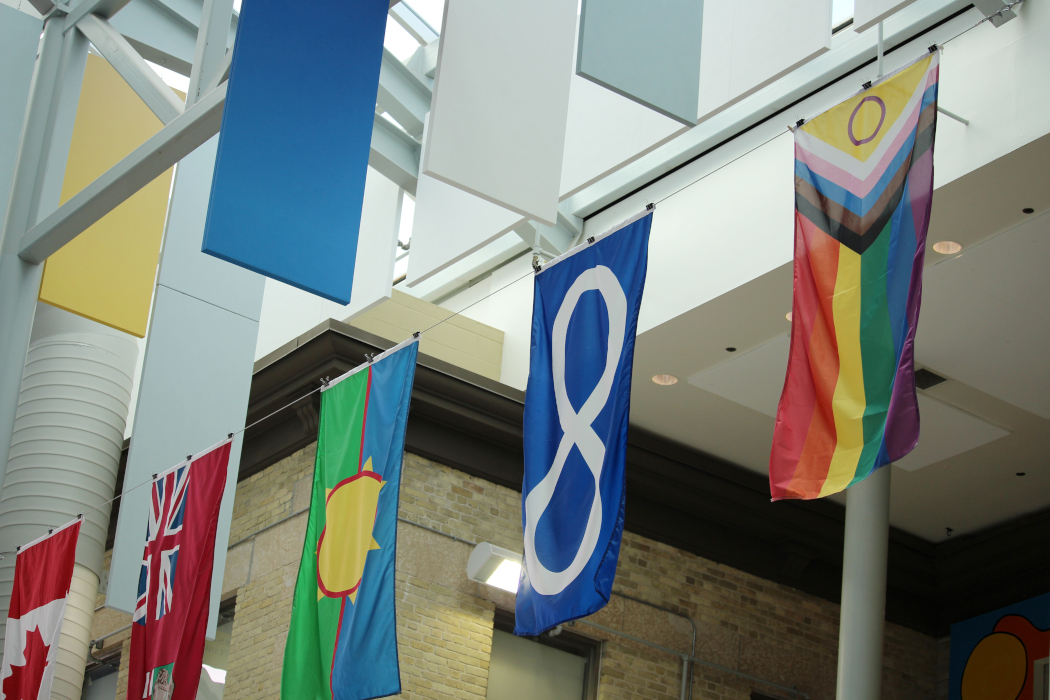 Pride flag flies permanently on Bannatyne campus
October 10, 2023 —
The Pride flag now has a permanent home on the Bannatyne campus.
In a ceremony on Sept. 25, the Pride flag was unveiled in its permanent spot above the stage in Brodie Centre atrium.
Dr. Peter Nickerson, UM vice-provost (health sciences) and dean of the Rady Faculty of Health Sciences, told the audience that flying the flag on campus is a pledge to continue to work in support of the 2SLGBTQIA+ community.
"By flying the Pride flag here permanently, it shows to our campus community that the Rady Faculty is committed to being an inclusive and welcoming space for all," Nickerson said.
Elder Charlotte Nolin, elder in residence at Ongomiizwin – Indigenous Institute of Health and Healing, gave the opening remarks.
"I was thinking about that this morning, about the Pride flag and what it means," Nolin said. "What is it that we're proud of? For myself, I'm proud of going out. I'm proud of the struggles that we've been through. I'm proud of the movement we've created and I'm proud of our youth that are coming up."
The keynote address was given by Mikayla Hunter, a master's student in community health sciences and founding president of the Queer & Trans Health Sciences Graduate Student Group. Hunter said that raising the Pride flag is an important first step in ensuring UM campuses are safe spaces free from all forms of bigotry and hate.
"As important as this step is, it is also just that – a step," Hunter said. "This flag raising cannot be performative in any way. There must also be real, concrete action taken by administration to stand in solidarity with 2SLGBTQIA+ students, staff and faculty."
Hunter shared their hopes for the future, which included equitable access to gender inclusive washrooms at UM, and education for all faculty members on how to combat microaggressions and other instances of bigotry in the classroom.
"I hope for a University of Manitoba where students in all faculties are able to look up to a faculty member who is like them, be it their race, their sexual orientation, their gender identity and so much more," Hunter said. "Being able to see your existence reflected in those positions can be so incredibly important to young students."
Dr. Tina Chen, UM vice-provost (equity) and distinguished professor of history, told the audience that she takes pride and joy in seeing the Pride flag raised permanently, but knows that it is only a mark to hold them accountable.
"It is not an end step," Chen said. "It's not here for performance, but it's actually to symbolize the commitments that we intend to make going forward and I hope that it is there so all members of the 2SLGBTQIA+ community will use that to hold each and every one of us in our positions accountable."
Learn more about the 2SLGBTQIA+ community at UM: https://umanitoba.ca/2slgbtqia-community.