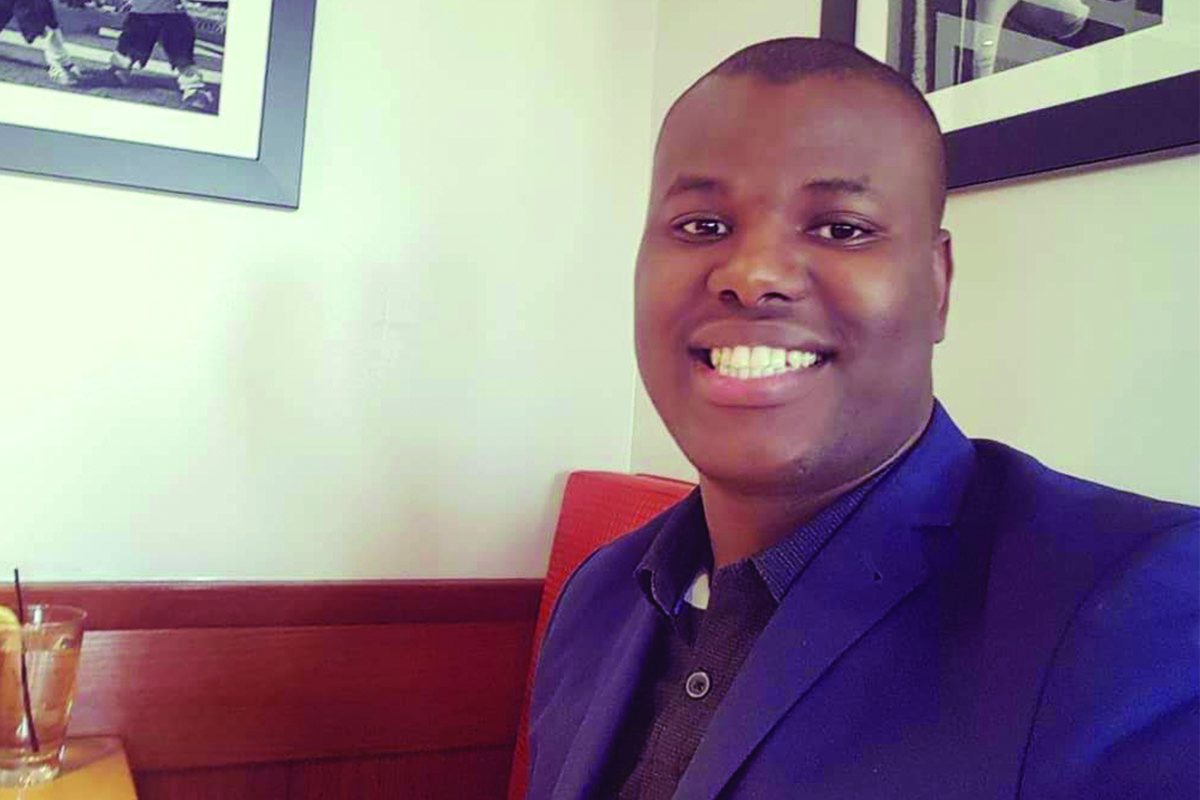 Positivity and practice guides career choices
Recent alumnus builds career on relationships, shares experience with students
October 31, 2019 —
The Arts Career Round Table is an annual event that brings together Faculty of Arts alumni and current students in a speed-networking setting. It provides an opportunity for students to learn from alumni who started out just like them!
Emmanuel Briggs [BA/15], sees value in sharing his experiences with current students. Briggs graduated just four years ago and has participated as an employer in the Arts Career Round Table each year since he graduated. He will be back again for 2019.
We sat down with Briggs to find out more about his career path and why he comes back to help Arts students.
Take us through your career path so far.
My career path started when I was still in university. I was an international student from Nigeria who came to the University of Manitoba and started in U1. Talk about stepping into the unknown! I have always been interested in the study of resource management, demand and supply and how to match what people want with the resources available (through a marketing plan). Actually, I was fascinated with how to run a successful business. So, I chose an Economics major and a Business Management minor.
I worked and volunteered on campus while I was a student. It not only helped to build experience on my resume but it also was really the beginnings of me learning how to make contacts and build professional relationships and, more importantly, learning not to be afraid to meet new people and work with them.
After graduating, I worked in the banking industry. Not surprisingly, I got the position through a referral. While there, I learned how a large organization works and how to serve customer needs. I'm an extrovert – I needed and wanted to work with more people so I moved on to management training at Enterprise Holdings. There, I learned how to manage a branch and many more details about customer service and employee development. I expanded my network beyond individual customers to now include business accounts from many industries. As I started my family, I made another change, this time to the insurance sector as a Commercial Account Broker. Here, my focus changed again where I was now doing a lot more marketing, sales calls, visiting small businesses and marketing the products to individuals.
I'm now at Camp Arnes, a not-for-profit that has served the community for 80 years. As the Director of Marketing and Communications, I help to grow the organization. I have learned about fundraising and working with volunteers. I've called upon my past marketing planning and sales experience. However, my sales focus has shifted. I'm now cold calling businesses to raise funds and secure sponsors and donors. My past relationships have been very valuable for this so far. I find the role very fulfilling and I enjoy working with and inspiring young people.
The industries and tasks have changed but, the themes of relationship building and understanding the sales process have remained constant.
How did your time at the Faculty of Arts help prepare you for the working world?
I was the type of student that never missed a class. Everything that is taught to us has a meaning. Each topic and each course builds on the last. Many Arts courses have a participation mark component. This scares some students, but I tried to look at it positively. It definitely helped me to practice my communication skills in preparation for my future cold-calls and sales meetings. Making decisions and communicating them effectively, on the fly, is both challenging and relevant for the working world. I look back on that now and realize how important it was.
Why do you volunteer for the Arts Career Round Table?
School is tough but, I truly believe we come out better at the end. The University of Manitoba is very dear to me. I love coming back to campus. The Arts Career Round Table is one way I can give back. I like to say that real life starts when school ends. I hope that by sharing my experiences and my tips to overcome their fears, I can give students a sense of what that life can be like and encourage them to keep going,
Can you give us a taste of some of the advice you give students?
Don't just go through school, allow school to go through you. Make the best use of what is available; participate in what is happening; take control of your situation and make positive experiences for yourself. Looking back, I am glad that I took advantage of student supports and resources. I regularly met with academic and career advisors to help keep me on track. I worked and volunteered. I went to career fairs to meet contacts and read all the posters to find out what was new. I looked for anywhere I could go to step outside of my comfort zone and practice my skills.
Looking back even five years ago, I never would have imagined my life this way. I have a degree, I love my job. I started a family and, last year, I bought my first house. I got my start at the Faculty of Arts and I am excited and hopeful for what the future will bring.
---
Are you a student wondering about career options after your Arts degree? Register on careerCONNECT for the Arts Career Round Table on Tuesday, November 5, 2019 from 2:30 pm – 5:30 pm.
The Arts Career Round Table is co-hosted by the Faculty of Arts, the Arts Student Body Council and Career Services.