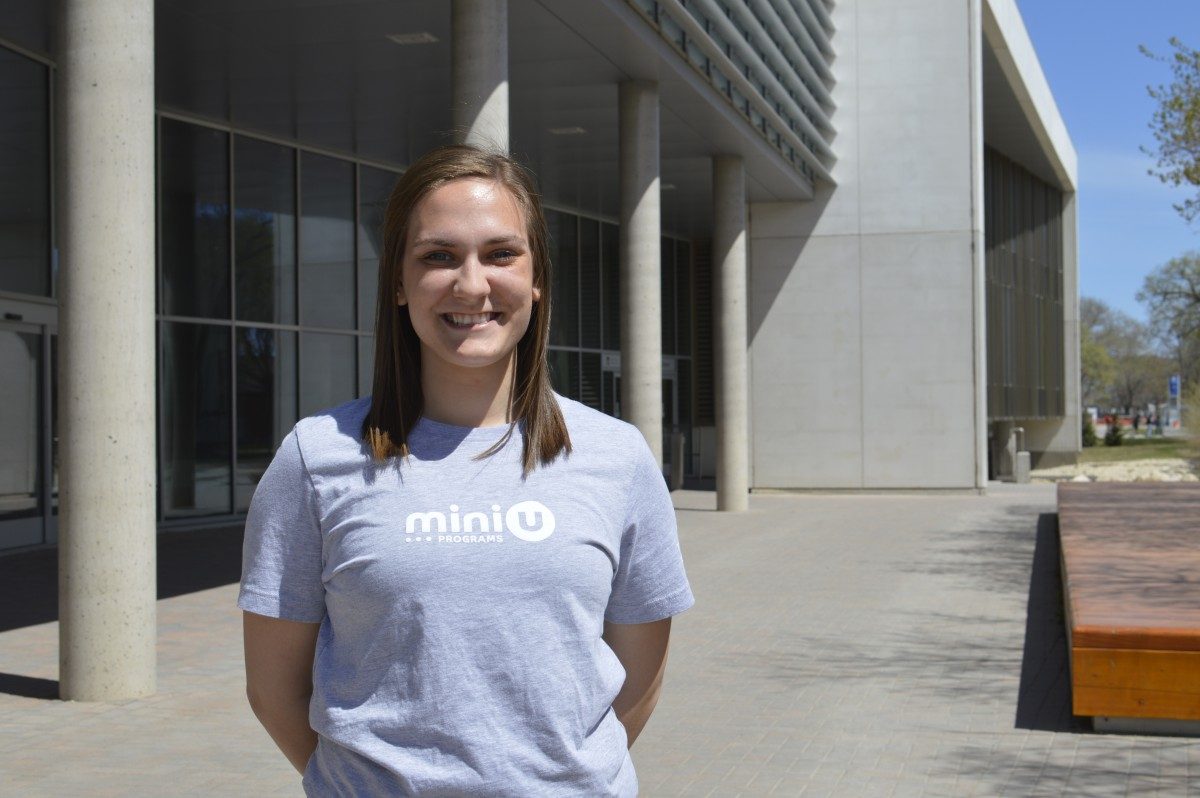 Positive vibes keep Mini U staff coming back for more
First-year supervisor 'inspired' by Mini U's culture of positivity
June 4, 2018 —
University of Manitoba Rady Faculty of Health Sciences, College of Nursing student Laryssa Yakimosky looks forward to spending her summers at Mini U Programs. This year, she says she feels lucky to get a jump start on summer as she prepares for her role as supervisor.
Laryssa shares more about her transition from leader to supervisor and what it means to her to be a part of the Mini U team.
Name
Laryssa Yakimosky
Years at Mini U
3
Favourite Snack
Chocolate chip cookie dough ice cream, or salt and vinegar chips (or blackberries)
Favourite Hobby
Dancing
If you could do any Mini U Camp what would you do?
Bring it on Broadway, Junior Scientists, or SUP camp.
What positions have you had at Mini U before being a supervisor?
My first summer, I was aMini physical education leader, then I was a mini group leader, and now I'm one of the Junior Sport supervisors.
What does the Junior Sport Supervisor do?
Our responsibilities include staffing the group leaders and physical education leaders in our area, hiring and managing external staff, planning for miscellaneous one-week camps such as tennis and karate, and organizing and ordering sporting equipment. Once camp gets going, we're focused on ensuring all of the Junior Sport programs are running successfully.
What made you want to be a supervisor?
I looked up to the supervisors so much. They were so positive and so influential to my development as a leader and as a person outside of Mini U. I really wanted to carry on that legacy and do that for other people. I wanted the opportunity to further develop myself and those around me.
How did you feel before your first day as a supervisor?
So excited. I had been counting down the days since I received news I was a successful applicant. Through final exams in April, Mini U was all that I could think about. I love what I do in school, but I was so ready for Mini U start.
As far as the job went, I didn't really know what to expect. The first day was amazing. We were given a great outline as to what we were going to be doing for the next four months together. As the week went on, it became more evident that it was going to be a big job with a lot of responsibilities.
What is your favourite part about working at Mini U?
So many things. It's just so amazing. After being away from Mini U during the year, coming back on the first day and being reminded how incredible it is to be around everyone at Mini U feels so amazing. I go home so much happier. It's funny how much you forget those vibes while you're doing other things during the year. You come back to Mini U and immediately remember why you missed it so much. I also just have such a love for being around the kids. It's going to be a bit of a shift having a different role with the kids this year as a supervisor, but I think it will be an exciting challenge. I also just love how much our coordinators invest in us. They genuinely care about our development as leaders, supervisors, and people. Its truly an amazing place.
Is there one moment in particular that stands out to you that had a large part in you becoming a supervisor?
I remember sitting in the crowd of 200 people at leader week and raising my hand to answer a question. Jay Gamey [Mini U Programs Director] called on me by name and I was stunned because we had only met once in my interview, and yet he knew me by name. It was immediately clear the coordinators and supervisors genuinely cared. Everyone was so incredibly nice and welcoming. The vibes at Mini U make me want to come back year after year. Being on the receiving end of such positive vibes inspired me to become a supervisor.