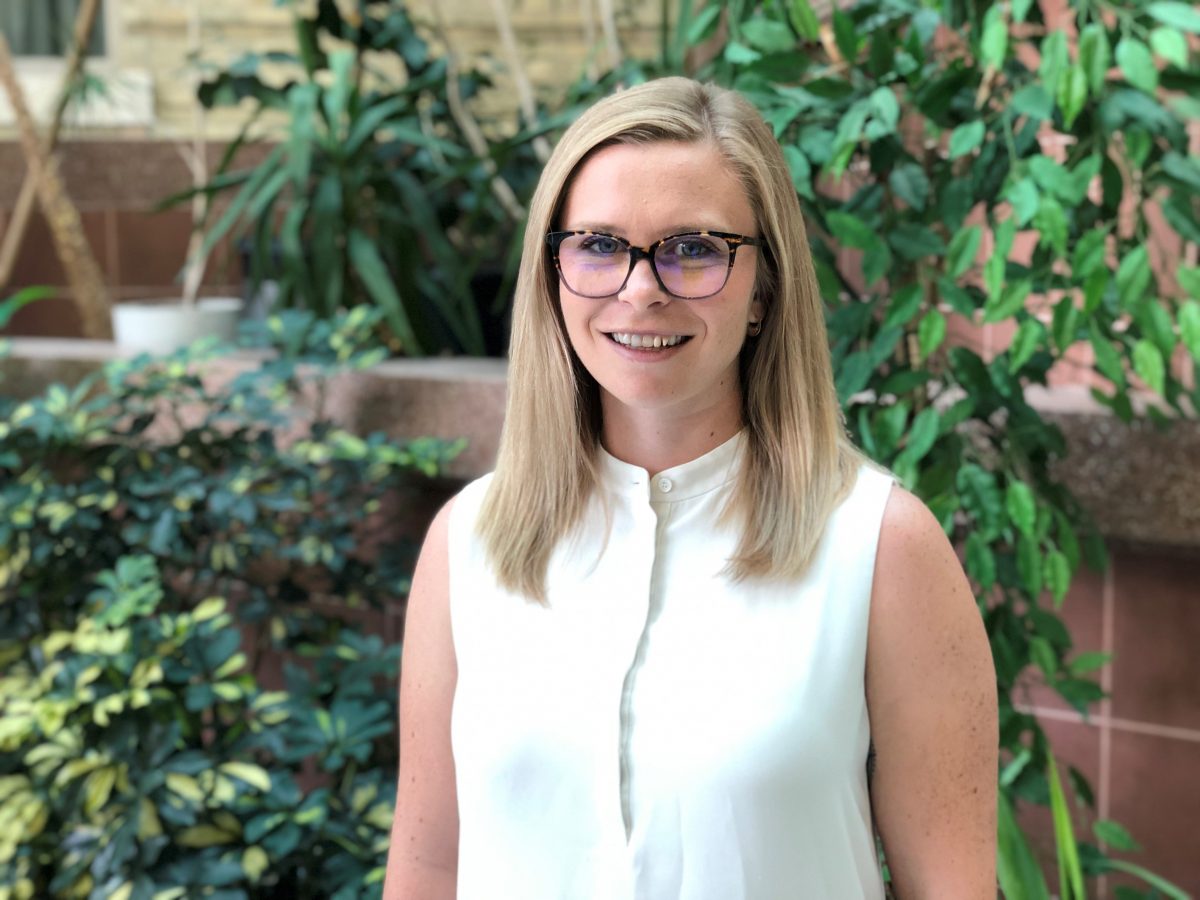 Population health researcher wins U of M Distinguished Dissertation Award
June 24, 2019 —
A prodigious PhD graduate in Community Health Sciences – who delved into the effects on mothers when their children are apprehended – has won a prestigious award.
Dr. Elizabeth Wall-Wieler is the recipient of a University of Manitoba Distinguished Dissertation Award for her work looking at the outcomes of mothers whose children were placed in foster care.
"It's a huge honour," said Wall-Wieler, who completed her PhD last year in the department of community health sciences, Max Rady College of Medicine and conducted her research with anonymized data housed in the Manitoba Centre for Health Policy (MCHP). "I know that there's a lot of people doing amazing work in the other departments. It's great to see a social epidemiology study being highlighted this way."
The Faculty of Graduate Studies hands out six dissertation awards annually, one in each of the following categories: applied sciences, humanities, interdisciplinary science, natural sciences, social sciences – and the area Wall-Wieler won – health sciences. The award comes with a $3,000 prize.
Wall-Wieler's dissertation found that mothers whose children are placed in foster care face many challenges in the years leading up to custody loss. However, these challenges become substantially worse after they lose custody, including increased mental illness and a higher risk of premature mortality, mainly due to avoidable causes such as death by suicide, she said.
Wall-Wieler examined whether there were changes in the health outcomes of mothers in the two years after their child was placed in care compared to the two years before. The most significant differences she saw were increases in diagnoses for substance use disorder and anxiety.
In the two years before their children were placed in care, 14 per cent of mothers had a diagnosis for substance use disorder, she said. In the two years after, almost twice as many mothers (28 per cent) had a substance use disorder diagnosis. Wall-Wieler also found that 17 per cent of mothers had an anxiety diagnosis in the two years before, and 23 per cent of mothers had an anxiety diagnosis in the two years after.
Dr. Hope Anderson, vice-dean, graduate studies, Rady Faculty of Health Sciences, congratulated Wall-Wieler on behalf of the Rady Faculty.
"This prestigious award is yet another achievement of many that demarcates the distinguished nature of her dissertation research," Anderson said.
Wall-Wieler believes she won the award because her dissertation was fresh and the research leaves an impact on people when they hear about it.
"There had been a couple of smaller qualitative studies, but no one had ever done this at a population level, so that was novel," she said, adding she received great mentorship and support from her colleagues in MCHP. "I think it's a story that people can understand relatively easily. It's something that when you actually think about it, it makes sense that losing your child to child protection services is really traumatic."
Wall-Wieler is currently a post-doctoral research fellow at Stanford University's School of Medicine in the department of pediatrics. Although she's enjoying the sunny Californian weather, she wants to return to Winnipeg.
"I want to do at least another year of postdoc," she said. "At that point, I would like to get a tenure track position, go into academia and continue doing research with large data sets. I would love to come back to the University of Manitoba."