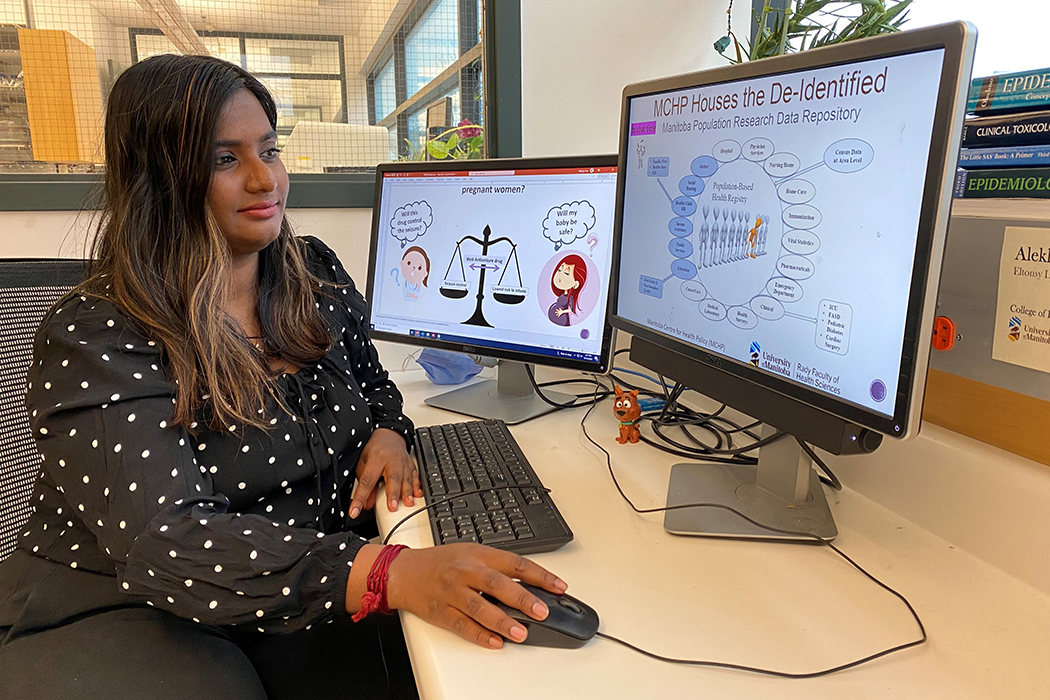 Pilot promoting health sciences grad studies, professional programs 'helps students find their passion'
October 26, 2022 —
Organizers of the Multidisciplinary Health Research Experience (MHRE) say the pilot was a success and will be offered again this year to University of Manitoba undergraduate students interested in the health sciences.
More than 100 UM undergrad students registered to take part in the MHRE pilot that ran virtually from Jan. to June of this year. MHRE is run by the Health Sciences Graduate Students' Association (HSGSA) and funded by the Science Students' Association (SSA).
The undergraduate students took part in two seminars each month that covered a wide array of disciplines and research areas in the health sciences, which included everything from immunology to gender identity to epidemiology. The one-hour seminars were led by Rady Faculty of Health Sciences graduate students or learners from professional programs.
"The MHRE pilot was a great success," said Toby Le, MHRE's founding program director and a PhD student in medical microbiology and infectious diseases at the Max Rady College of Medicine. "There's a lot of appetite for learning about the different opportunities in the health sciences. MHRE helps students understand the health sciences on a much deeper level. The program explores beyond medicine and dentistry, and provides examples of just how much of an impact research has on society."
This year, the MHRE sessions will run virtually from Nov. to late April. Undergraduate students can apply to the MHRE program by Nov. 1, 2022.
Miguel San Pedro, a second-year bachelor of health sciences student in Rady Faculty's Interdisciplinary Health Program, was considering the well-known occupations in the health sciences like physician, nurse and pharmacist. But after taking part in the MHRE pilot, his options significantly expanded to include careers like researcher, nutrition specialist and epidemiologist.
"One of my takeaways from MHRE is just how vast the health sciences can be – from a minute nerve and individual cells, all the way to the big picture, like communities and the social determinants of health," San Pedro said. "It's such an immense field."
Like San Pedro, third-year psychology student Madelaine Baigrie said the program helped broaden her horizons.
"I thought it was a really innovative idea and I was appreciative to be part of the program," Baigrie said. "I think it's really beneficial for anybody who wants to go into the health sciences."
This feedback is exactly what Kyra Cebula hoped to hear. The SSA president said the MHRE program gives students on the Fort Garry campus the chance to learn about the many programs and research opportunities that take place on the Bannatyne campus and in nursing.
"You go into the Faculty of Science and there are so many things you can do with your degree that aren't really advertised," Cebula said. "Just having that exposure to different fields in the health sciences is super beneficial. It helps students find their passion."
Not only is MHRE beneficial for undergraduate students, the instructors gain valuable experience as well.
Alekhya Lavu, a PhD student in the College of Pharmacy, knew she had to be part of the program when she heard about it because it would give her some teaching experience. She led a session about how to conduct research using administrative health databases in Manitoba.
"You wouldn't know about the field I'm working in unless you finished your undergrad and became a graduate student," said Lavu, whose research involves population databases. "It felt amazing explaining to the students that this is an opportunity they could also have. If someone would have told me about this area I would have specialized in it earlier than I did."
Learn more about the MHRE program. MHRE is also hosting a research pitch competition for undergrads to explore research and have their work published. Learn more about the research pitch competition.