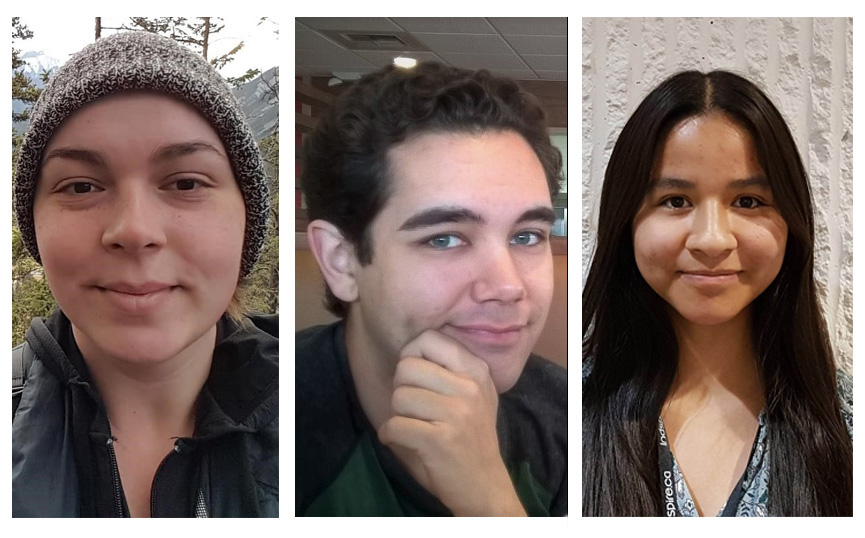 PIKE-Net interns adapt to at-home research
August 21, 2020 —
Student interns in Prairie Indigenous Knowledge Exchange Network (PIKE-Net) this summer, had a slightly different experience than they would have had any other year, due to the office closures and social distancing measures that came with the global COVID-19 pandemic.
However, the students said, working from home did not get in the way of their valuable experience.
PIKE-Net, housed at the Rady Faculty of Health Sciences' Indigenous Institute of Health and Healing – Ongomiizwin Research, is a student mentorship network program that provides a variety of supports and opportunities for undergraduate and graduate students interested in Indigenous health research.
This year, 14 students took part in 13 different Indigenous health research projects with guidance from 18 mentors.
"When the order to stay home happened, we were just starting the matching process between our registered mentors and interns, and it quickly became a scramble to see how we could adapt the program," said Ashley Edson, PIKE-Net program coordinator.
She said mentors adapted projects to focus on Indigenous health and wellness issues around COVID-19, supported flexible work hours, and shifted all workshops to online. "It was challenging because the heart of this program has always been the relationships we build and the mentorship shared between each other."
Nichol Marsch
Nichol Marsch, a Metis UM fine arts graduate, is part of the program for her second summer, as she prepares to enter the occupational therapy program in the College of Rehabilitation Sciences.
"My background is in the arts, but I've always had an interest in science, and this program has been a really good entry point into that field," she says.
Marsch is working with mentors Dr. Cara Brown, department of occupational therapy, and Dr. Patty Thille, department of physical therapy, on a scoping review for a project on self-management education and support in Indigenous communities.
"It's about how to deal with chronic illness in day-to-day life, which is especially important for communities that don't have constant access to health care," she says.
Marsch, 28, is originally from Winnipeg and grew up near Stonewall, Man. While working on her arts degree, she worked part-time in medical device reprocessing, which led to an interest in prosthetics and orthotics. She learned about occupational therapy while in PIKE-Net last summer.
"I thought it seemed like a really cool profession that aligns with a lot of my interests," she says.
"The one pitfall is that we didn't get to go into the communities this summer, but the college has community partners that they work with and they're always looking for ways to engage with them that are helpful."
Jordan Gelowitz
Third-year Max Rady College of Medicine student Jordan Gelowitz also joins the program for a second year. Gelowitz is working with Dr. Kellie Thiessen, associate professor, College of Nursing on a project about wellbeing associated with maternity care in northern regions.
"Our big question for the moment has been, 'how do you define wellness from an Indigenous context?'" he says, noting his role involves reviewing feedback from the communities. This includes mothers who have delivered in their communities, those who delivered in Winnipeg, policymakers and health-care staff. "They each have their own perspective on the issue, and that is important. It has really brought to mind that health care is really complex."
Gelowitz, 26, says his interest in maternity care goes back to his childhood, growing up in Big River First Nation near Saskatoon.
Gelowitz said he'd recommend the program to any Indigenous students who are interested in research that will make an impact.
"PIKE-Net is designed to learn research in a fun integrated way," he says. "I found in medicine there are a lot of different research opportunities, but the thing I wanted was something that had more flexibility and more of a focus on Indigenous health."
Zoe Quill
Third-year faculty of science student Zoe Quill joins PIKE-Net for the first time. The genetics major is working with clinical researcher Dr. Alison Dart and pediatric endocrinologist Dr. Brandy Wicklow at the Children's Hospital Research Institute of Manitoba on the iCARE study, the largest observational study of youth with type 2 diabetes in Canada.
Quill, a member of Sapotaweyak Cree Nation near Swan River, Man., says the research is of interest to her because she's known many people affected by the disease.
"The study is kind of unique because it determines not only the biological risk factors, but also the psychological and social factors – so their overall wellbeing," she says.
As part of the research, Quill, 20, is doing phone surveys with affected families to determine how they've been coping with the effects of COVID-19.
"It's been really great," she says. "I know the pandemic has caused us to work from home, but I still feel like I'm working in-person. PIKE-Net and iCARE have really stepped up to make the most of this experience."