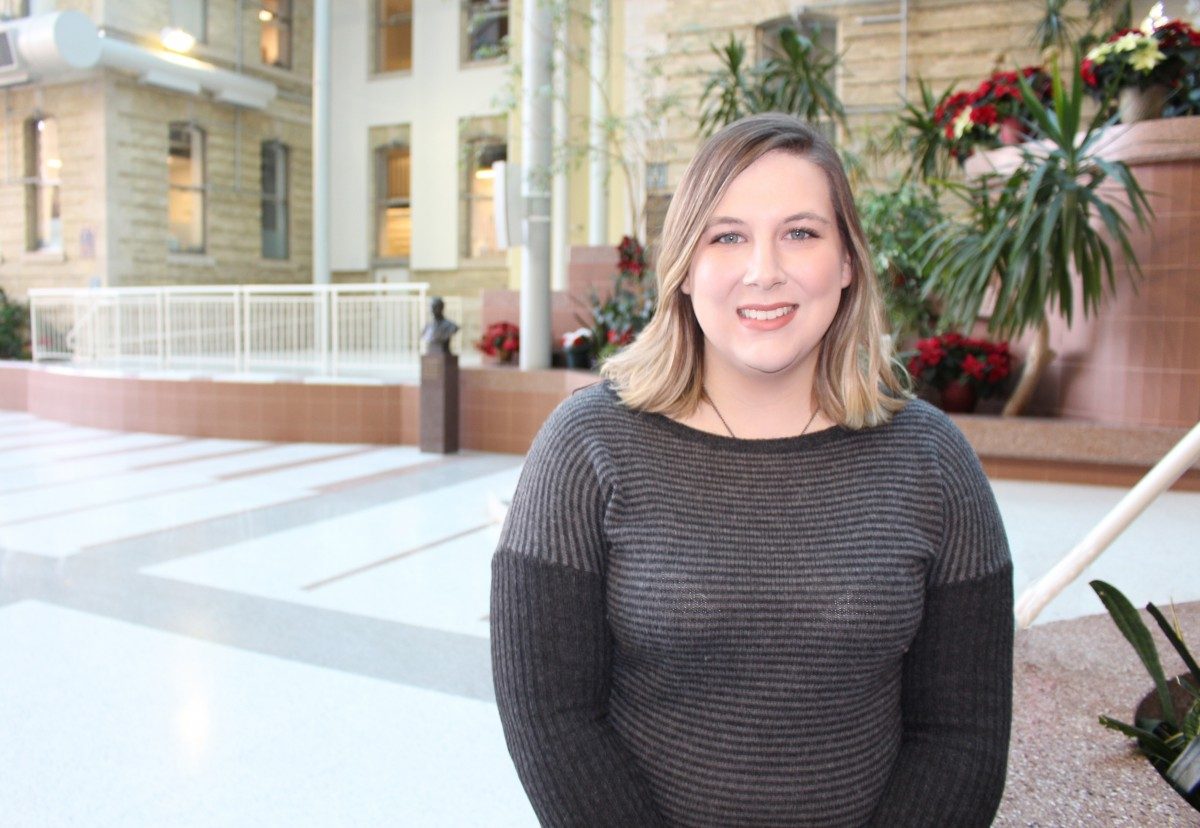 "Research can be exciting and fun": PIKE-Net award winner
December 18, 2018 —
The Prairie Indigenous Knowledge Exchange Network (PIKE-Net), housed at the Rady Faculty of Health Sciences' Indigenous Institute of Health and Healing- Ongomiizwin Research, is a student mentorship network program that provides a variety of supports and opportunities for undergraduate and graduate students interested in Indigenous health research.
The program seeks to expand the pool of Indigenous health researchers working in the university and communities. Funded through the Canadian Institutes of Health Research—Institute of Aboriginal Peoples Health (CIHR-IAPH), the program links First Nations, Métis and Inuit communities and researchers and supports health research capacity building for students and community researchers.
Kirsten Fleury, a fourth-year undergraduate student in the Faculty of Science and recipient of a $6,500 PIKE-Net summer research internship award for 2018, says the program is a valuable, culturally safe opportunity for Indigenous students interested in research.
In October, 21-year-old Fleury, originally from St. Francois Xavier, won third prize in the health sciences category at the 2018 Undergraduate Research Poster Competition for her project entitled "Métis Culture & Youth Wellness." The competition determines winners in five different categories, which also include applied sciences, creative works, natural sciences and social sciences and humanities.
Fleury's research, carried out in partnership with the Manitoba Métis Federation, examined the idea of using "culture camps" as a platform to hold discussions with Métis youth on their perspectives of health and wellness. The youth participants were asked to create a strengths-based health and wellness message in the form of a transportable mural to evaluate the effectiveness of health and wellness messages generated by Métis youth in Métis communities.
Have you always been interested in biology?
I enjoyed all of my classes in high school, but when it came to biology I always wanted to keep learning more about how and why everything works the way it does. My curiosity about biology and my interest in a career in medicine led me to pursue biology as a major.
What drew you to this field of research?
My entry detailed the research I took part in this summer as an undergraduate research assistant to associate professor Dr. Michelle Driedger, director of the community health sciences graduate program at the Max Rady College of Medicine. I was drawn toward her research as I was interested in the idea of a Métis researcher working with Métis people. I wanted to gain more experience with the field of health sciences and, as a Métis person, it seemed like a good fit even though it's outside the scope of my major.
What did you learn working on this research?
While working on the research and the subsequent poster, I learned that research can be exciting and fun. I assumed when I was younger that research meant you were stuck to a desk, doing the same experiment on repeat, which did not sound interesting. It wasn't until I started exploring different research opportunities that I realized it could a lot more engaging. I also learned that it is possible to connect culture with research activities, and I had the chance to learn about Indigenous research methodologies.
What are your plans going forward?
I am working towards a major in biology and a minor in chemistry and English. This is my first post-secondary degree. I will graduating in spring 2020. My plan post-graduation is to apply for a master's program as well as to the Max Rady College of Medicine. My ultimate goal is to be a doctor, and I'm leaning towards becoming a family physician and setting up a practice in rural Manitoba. But if it's not in the cards to start med school in 2020, then I will take the time to complete my master's degree, which will most likely involve a blend of health and culture.
Would you recommend the PIKE-Net mentorship program to other Indigenous students?
I thoroughly enjoyed being a part of the program, and I think it's great that Indigenous students have this support in place if they are interested in exploring health research. The program provides a culturally safe space for students to learn and, on top of getting research experience, there are workshops provided on various life skills. If there are any Indigenous students out there who are interested in trying out research, I highly recommend they chat with Ashley Edson, the PIKE-Net coordinator, who is really great at matching students with potential mentors, and is a great mentor herself.