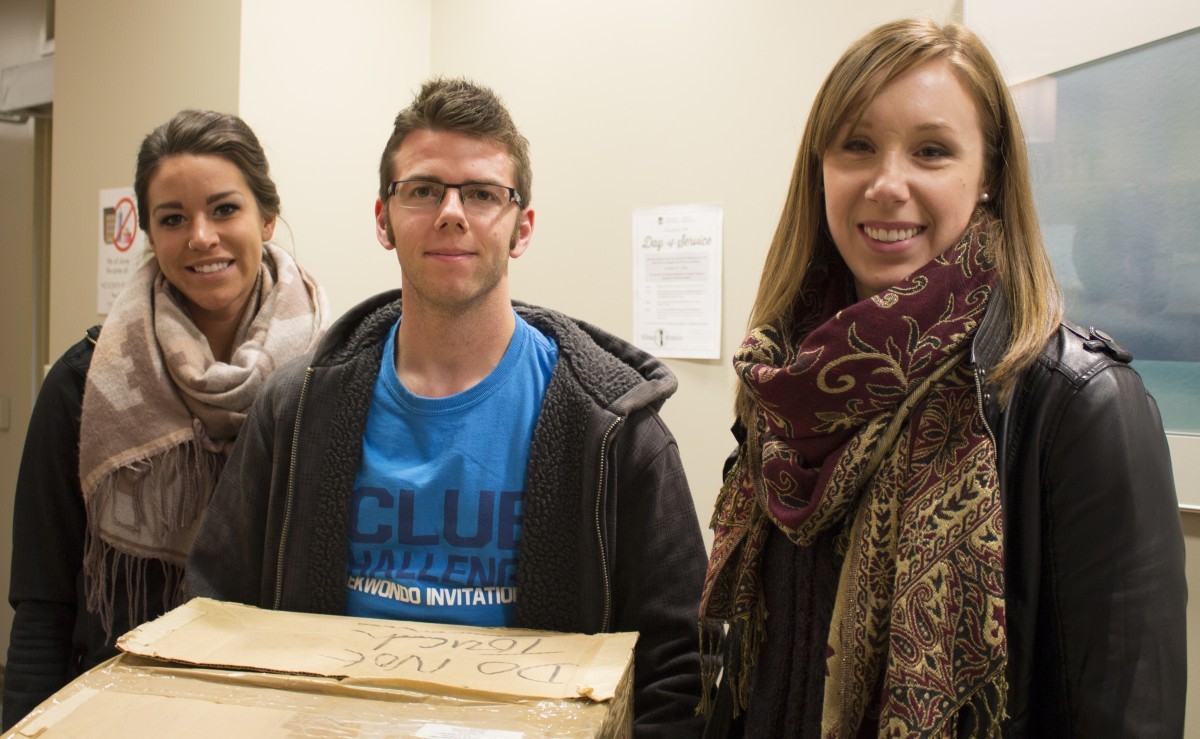 Physical Therapy students give back locally
October 16, 2015 —
When Physical Therapy students Kaitlyn Joyal and Ashley Desloges decide they want to get involved in something they don't go half way.
Joyal and Desloges organized a local donation drive for the Global PT Day of Service, on Saturday, October 17, 2015.
The first annual Physical Therapy Day of Service (PTDOS) is a new initiative that encourages physical therapy clinicians, practitioners and students to volunteer in different communities around the world.  The PT Day of Service was developed by Efosa Guobadia and Josh D'Angelo, two PT practitioners who wanted to unite the profession, inspire others, educate the public and empower physical therapists to give back to their communities.
As part of the local initiative of PTDOS, College of Rehabilitation Sciences students Joyal and Desloges are concentrating their efforts on raising donations of food and clothing to Siloam Mission.
"When Kaitlyn and I were brainstorming she had the idea to do a food and clothing drive," Desloges says. "We are both familiar with Siloam Mission and decided it would be a good choice. It allows so many who are unfortunate to get help with getting back on their feet so it only seemed fitting to choose Siloam."
The two students observed that Siloam has a gym that is underutilized, partly due to a lack of gym clothes.
"I thought that having more gym clothing and shoes would allow more people to utilize the space," Joyal says. "Of course, we understand that not everyone has old shoes and shorts around, and we recognize that Siloam Mission has a great need for other items, so we opened up donations to clothing and food, with an emphasis on workout shoes, shirts and shorts."
Desloges says there were a couple of reasons that motivated her to get involved with the Physical Therapy Day of Service.
"I wanted to be part of something that has never been done [that] is happening all over the world on one day and to pave the way for future University of Manitoba graduates to be able to give back to the community while advocating for the profession."
She adds that "it is a lot of work but we are hoping to pave the way for next year's class and that it will only get bigger and bigger. I feel proud of the work that Kaitlyn and I have done so far. I look forward to the outcome and impact it will have on our profession and on the community as a whole."
To get involved, participants can pledge online. Donations of food and clothing can be dropped off at the College of Rehabilitation Sciences head office, Room 100, 771 McDermot Avenue at the Bannatyne campus. Donors are also invited to pitch in on Saturday, October 17, to help deliver donations to Siloam Mission.