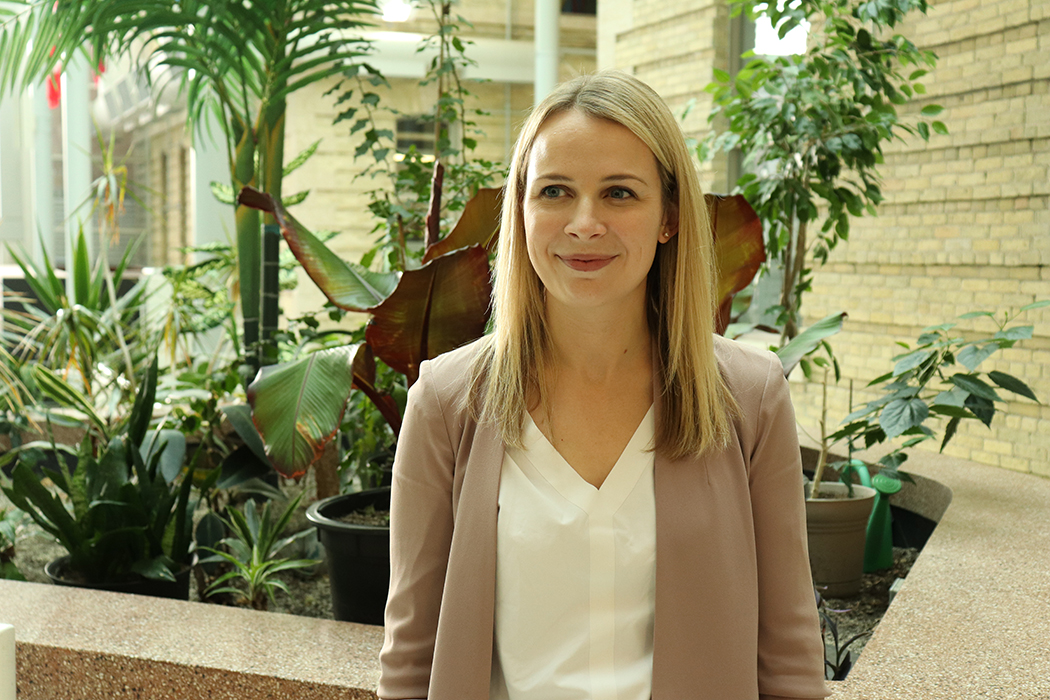 PhD through College of Pharmacy opens doors for physician
November 21, 2022 —
When Dr. Brett Houston graduated from the College of Pharmacy with her PhD last month, it brought her one step closer to accomplishing her goal of combining her clinical practice with a successful research program.
"It's definitely an end to a very long chapter, but I think it's the beginning of another exciting one," she said.
Houston, who earned her doctor of medicine from UM in 2013, focused her PhD research on the use of tranexamic acid, a medication that prevents bleeding. She studied its use in non-cardiac surgeries to see if patients experienced less bleeding and required fewer blood transfusions.
Houston's PhD thesis identified an at-risk surgical population who may benefit from tranexamic acid, and her research informed various elements of trial design.
"One of the reasons I chose this research is because I'm a hematologist, and opportunities to minimize bleeding are always appealing," said Houston, who is assistant professor of internal medicine, Max Rady College of Medicine.
The project also had a blood conservation component to it. Houston said there's a limited resource of blood across Canada, so any opportunity to decrease the need for transfusions is beneficial from a societal perspective.
One reason Houston pursued her PhD in the College of Pharmacy is because she was offered the flexibility to combine her clinical training and PhD work at the same time. She also chose the college because of the excellent supervisor support she would receive from Dr. Ryan Zarychanski, associate professor of internal medicine, Max Rady College of Medicine, and Dr. Jamie Falk, associate professor, College of Pharmacy.
"I'm not a pharmacist, so it's a little unusual for a physician to do a PhD through the College of Pharmacy, but a number of people on my advisory committee were from the college, and they taught me various research methodologies and skills throughout the course of my training," said Houston, who works at CancerCare Manitoba and is focused on blood cancers and bone marrow failure syndromes.
Now that Houston has completed her PhD, she's already using the skills she learned.
Utilizing her PhD research, she's co-leading a multicenter randomized clinical trial looking at tranexamic acid usage at the time of major surgery. The trial will run at 10 sites across Canada and she anticipates that more than 8,000 patients will be enrolled by the end of 2023.
Houston is also working on a clinical trial with Zarychanski, her longstanding mentor and supervisor when she was doing her bachelor of science in medicine at UM, on a study called ATTACC-CAP. The clinical trial is evaluating the use of the blood thinner heparin in patients admitted to hospital with pneumonia with a goal of reducing critical illness and mortality. She has been integral to the clinical trial design and implementation of the study in Manitoba.
"Brett is one of Manitoba's most promising clinical scientists – the product of hard work, and commitment by herself and many others at UM," Zarychanski said. "She represents the next generation of inspirational physicians who will care for patients while simultaneously studying how best to care for these same patients."
Falk said Houston was an incredibly diligent student who was unafraid of challenges.
"Her strong clinical acumen, combined with her ever-expanding research skillset, give her tremendous potential as a leading clinical scientist," Falk said.
Houston earned her bachelor of science from UM in 2009. Following medical school, she completed her residency training in internal medicine at the University of Toronto in 2016, and a hematology fellowship at UM in 2018. In 2020, she also completed the Clinician Investigator Program at UM.
Houston said she loves research because it directly applies to her patients.
"Research allows me to ask questions about what I'm doing, why I'm doing it and if I should be doing it," she said. "I can then study those questions to see if there are ways to optimize how we deliver care. It's profoundly rewarding to be able to push the envelope, implementing not only what is already known, but to also generate new knowledge to improve the way we deliver patient care to improve clinical outcomes."