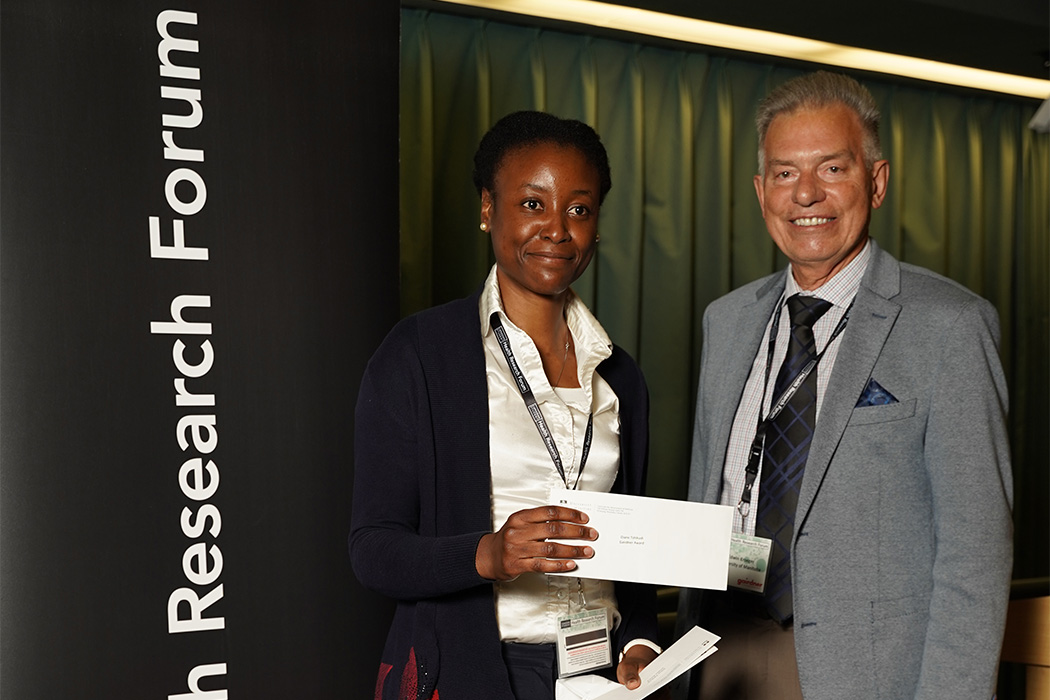 PhD student chosen to network with Nobel laureates
August 9, 2022 —
While her classmates were reading fairy tales and watching Disney movies, Diane Tshikudi was flipping through textbooks on different types of diseases.
"My dad had this old book filled with all these pictures of people with diseases like sleeping sickness, and to me, that was like Sleeping Beauty. There was something so interesting about it," says Tshikudi.
When she was growing up in Mayumba, Democratic Republic of Congo, her father, a science teacher, encouraged Tshikudi's burgeoning curiosity about science. Father and daughter did experiments together, sparking Tshikudi's love for the subject.
"I don't have any memories of wanting to do anything else but science," she says.
Tshikudi earned her bachelor's and master's degrees in biochemistry and biology respectively at the University of Quebec at Montreal. Now a PhD student in immunology at the Max Rady College of Medicine, she took top honours in the national research poster presentation that took place at UM during the Canadian Student Health Research Forum (CSHRF.) As the first place Gairdner Prize winner, she also took home the prestigious Lindau nomination awarded to exceptional scientists under the age of 35.
Award-winning scientists from around the world will be invited to travel to Germany next June to attend the Lindau Nobel Laureate Meeting. The scientific conference serves as a forum for exchange between 40 Nobel laureates and 600 young scientists.
"The Lindau Prize offers graduate and post-doc researchers an invaluable opportunity to share their knowledge on an international stage and connect with and be mentored by Nobel laureates. To have Diane chosen from a group of over 100 top PhD students nationally speaks to the quality of students attracted to our UM programs and the quality of training and support we provide at UM," says Dr. Ed Kroeger, chair of the CSHRF and professor of physiology and pathophysiology in the Max Rady College of Medicine.
"We share pride in her accomplishment. We expect that Diane will benefit uniquely from the once-in-a-lifetime experience that the Lindau Nobel Laureate Meeting offers, and that her achievement will inspire excellence among our students."
Tshikudi is excited to have the opportunity to meet with Nobel Prize-winning scientists and learn what she needs to do next in her career to follow in their footsteps.
Because there is no cure for IBD (ulcerative colitis or Crohn's disease), patients who have been diagnosed can only hope for reduction or remission of their symptoms through diet, medications or other treatments. "There is still so much that needs to be investigated [about IBD}," she says.
Patients with IBD rely heavily on the health-care system – a frustrating issue for patients and a costly one for hospitals.
But Tshikudi hopes to change that. Her research focuses on one small molecule that may have a big impact on IBD. Researchers have shown that high levels of Chromogranin A may be a marker for IBD and ulcerative colitis. No one knows exactly what the molecule does, but Tshikudi plans to find out by researching its effect on the immune system and the walls of the intestine.
While she is looking forward to the coveted experience of attending the Lindau Nobel Laureate Meeting, Tshikudi is already planning her next steps.
"I'm hoping the meeting will help show me what else I can do," she says. "What are the other opportunities out there for me? I will discuss with these people that have already accomplished so much. They may have more advice on the trajectory that I need to take to get where I want to be."