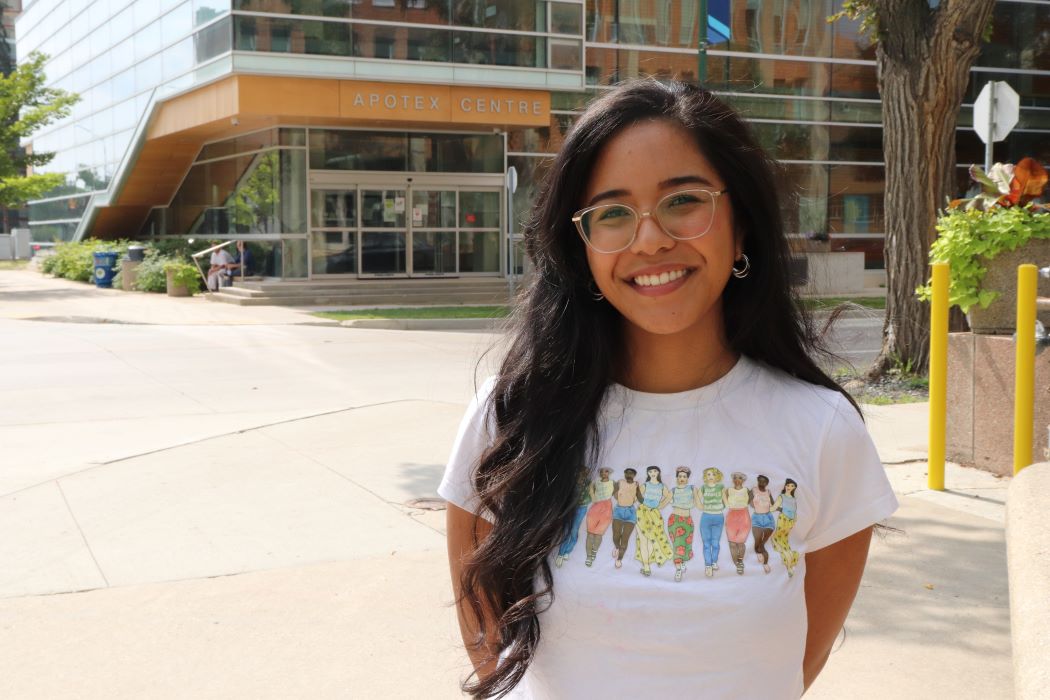 PhD candidate in immunology wins three awards at Health Research Forum
September 20, 2022 —
Marina Costa Fujishima, a PhD candidate in immunology in the Max Rady College of Medicine, took home three prestigious awards at the Canadian Student Health Research Forum, a national event held this past summer at UM.
She received the Dean of Medicine Poster Award, the Canadian Institutes of Health Research Sex and Gender Research Gold Award and the Gairdner Award.
Costa Fujishima, who is from Brazil, conducts research focused on how the vaginal microbiome interacts with the immune system, and how the outcome of these interactions can play a role in reproductive health and susceptibility to disease.
Earlier this year, her achievements and potential were acknowledged when she became the inaugural recipient of the Dr. Forough Khadem Scholarship.
The scholarship was established to honour the life, spirit and work of Khadem, a student from Iran who earned her PhD in immunology at UM. It recognizes an outstanding international female graduate student who demonstrates leadership and a desire to have an impact on the world through science.
We recently spoke with Costa Fujishima about her PhD research.
What drew you to immunology?
I took an immunology class during the fourth year of my bachelor's in microbiology. My current supervisor gave a guest lecture in the class, and I was just in love with it immediately.
What is the main focus of your research?
I'm currently looking at how the composition of the vaginal microbiome can influence the immune system in the female genital tract. This is very interesting because human cohort studies have shown that certain microbial communities present in the vaginal canal can increase susceptibility to disease, including spontaneous pre-term birth and sexually transmitted infections like HIV, but we still don't understand why.
Those same studies showed a high abundance of white blood cells called neutrophils in the genital tract of these women, which also seemed to correlate with increased susceptibility to disease. So my research is trying to understand: How can these vaginal microbial species influence neutrophils? What exactly are neutrophils doing when they encounter different bacteria? Could neutrophils' response result in adverse health outcomes, specifically increased HIV infection?
How did it feel to win three awards at this year's Canadian Student Health Research Forum?
It was great! I'm not a native English speaker, so I usually get very nervous thinking I will forget how to say everything I want in English. I was not expecting to win, but it was amazing. I loved explaining my research to the judges.
Can you tell us more about what you presented at the forum?
I talked about the mouse model we have set up in our lab. I have been able to show that neutrophils rapidly enter the vaginal tissue in the presence of certain bacteria species, but not others. Neutrophils not only come in, but I also found that they cause a lot of bystander damage in the vaginal tissue, which allows the HIV virus to enter the body more easily. When we prevent neutrophils from entering the vaginal tissue, there is less damage despite the presence of the bacteria.
Why did you choose UM for your PhD?
The immunology department and HIV research here at UM are so strong. There is so much cool work done here by world-renowned scientists and so much collaboration that it creates the perfect environment for young researchers like me.
Who are your mentors?
My supervisor, Dr. Thomas Murooka, is the best mentor I could have asked for. I look up to him a lot. Also my committee members, Dr. Lyle McKinnon, Dr. Catherine Card and Dr. Sam Kung.
What are your plans after you finish your PhD?
I want to stay in academia and become an independent researcher. I want to understand how the immune system can recognize and tolerate microbes that live within us, and how it decides whether those microbes are our friends or enemies. I am fascinated by this topic, so I want to stay in the field.