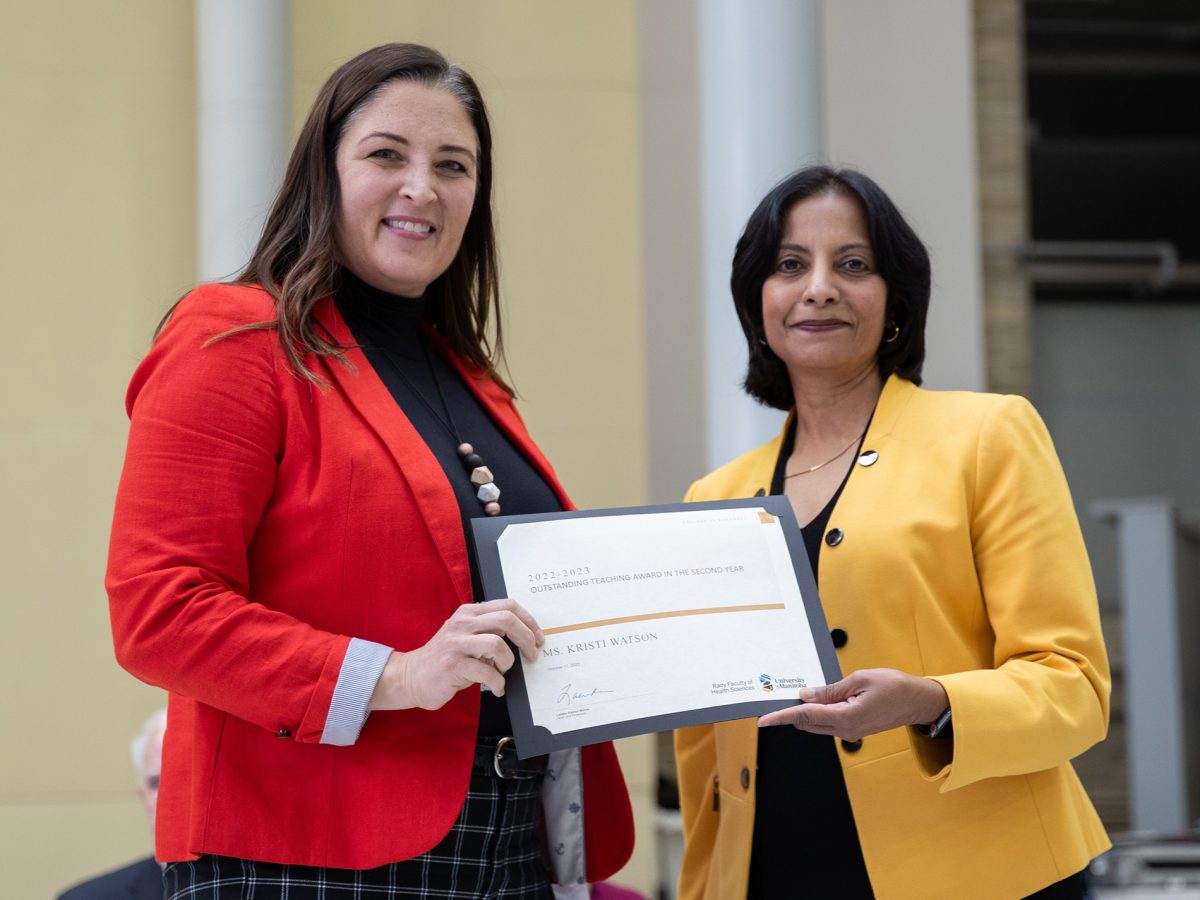 Exceptional faculty members recognized for outstanding teaching at the College of Pharmacy
November 10, 2023 —
Kristi Watson became a faculty member at the Rady Faculty of Health Sciences only a year ago, but the students already know a good thing when they see it.
"There are no other professors who teach in the way that she can," said Madison Waites, a second-year student in the College of Pharmacy. "I've never met someone willing to go above and beyond for students in the way that she does. [She] is genuine and that is the biggest compliment."
Watson was one of three instructors who received Outstanding Teacher of the Year awards at the October 17, 2023, College of Pharmacy academic awards ceremony. Sheila Ng received the First Year Outstanding Teaching Award, while Kristi Watson and Heather MacPhee received the Second- and Third-Year Outstanding Teaching Awards respectively. Nominations for Outstanding Teacher Awards come from the student body, selecting the faculty members they feel have made exceptional contributions in their efforts to coach and mentor their students.
"As a new instructor in the College of Pharmacy, I was stunned to have won this award," said Watson, who brings 19 years of practice to the position. "I feel deeply humbled when hearing some of the words students shared. I am very grateful for having the opportunity to be involved in their education and I look forward to my teaching career ahead."
For Sheila Ng, the best part about being an instructor at the College of Pharmacy is watching the transformation from an uncertain novice into a confident professional.
"Supporting students and watching them grow and develop new skills and confidence throughout this course and through their time in the program is truly satisfying," said Ng. "Another thing I love about being an instructor is the opportunity to make a meaningful impact on the future of our profession. I get to share my knowledge and passion for pharmacy with the next generation of pharmacists."
"We're very proud of the quality of instruction at the College of Pharmacy," said Dr. Lavern Vercaigne, associate dean (academics). "It's gratifying to know that the students also recognize the dedication and commitment the teaching faculty brings to the program."
Fourth year student Wyatt Baloun offered praise for MacPhee, who encourages students to make teamwork a habit so that they don't develop a "siloed" approach when they enter the workplace. "[She] truly cares about her students and ensures they are given every opportunity to succeed," said Baloun. "It ensures that students learn to truly deal with the issues we face in the health-care field."
"Receiving this award is an incredibly humbling and gratifying experience," said Ng. "It's a validation of the time and work I've put into my role as an instructor, and it motivates me to continue striving for excellence in my teaching. Having my effort recognized by my students is a very special moment for me."