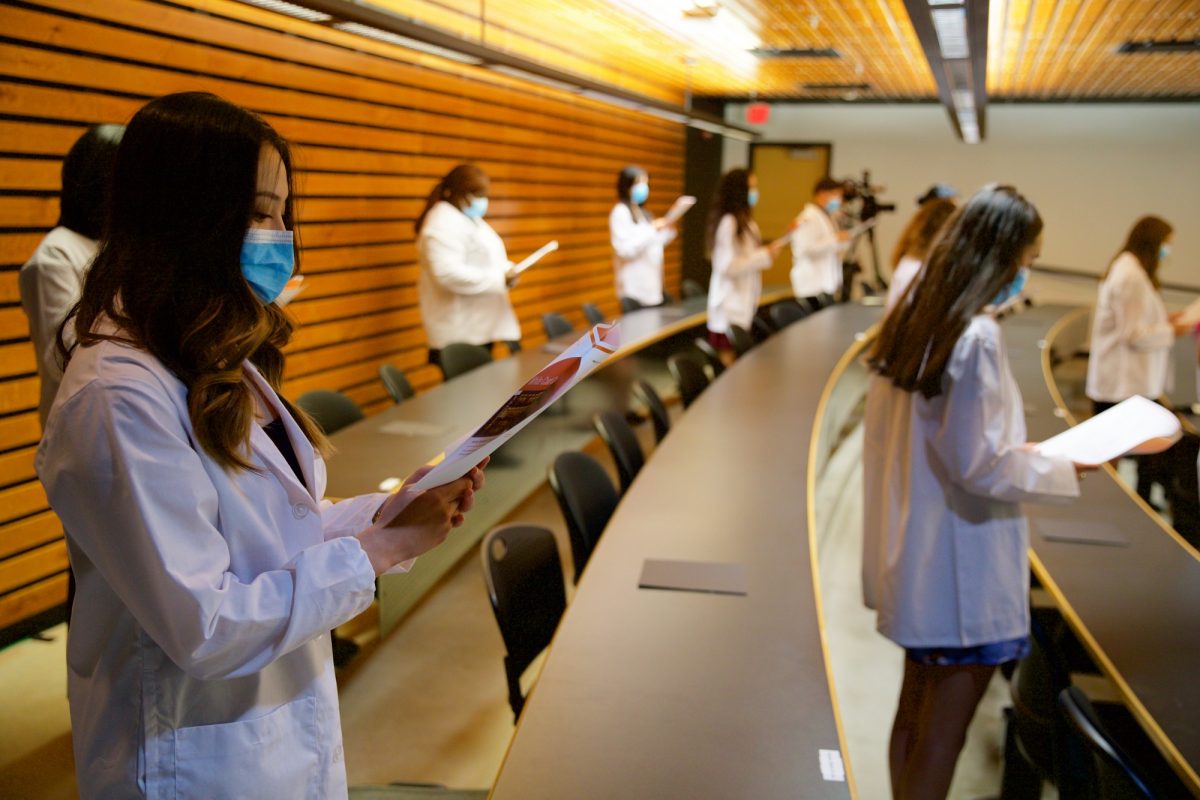 Pharmacy students welcomed at White Coat Ceremony
October 7, 2021 —
When Kathleen Watts stood before her new College of Pharmacy classmates and put on her white coat, she was thinking about how amazing the moment felt.
"It kind of felt like an awakening, because up until then, everything felt surreal," she said. "I knew I got into pharmacy months ago, but it wasn't until the White Coat Ceremony that I felt I truly made it."
Watts and her classmates are members of the doctor of pharmacy (PharmD) Class of 2025. On Sept. 27, they took part in the College of Pharmacy White Coat Ceremony. The event welcomed learners to the pharmacy profession with the cloaking of their first white coats and the recitation of the Pledge of Professionalism.
The students took part in the ceremony on the Bannatyne campus in two groups to ensure physical distancing, while their families and friends watched the event via livestream (https://youtu.be/6AwbcEf8qoE).
"In a pharmacy tradition, the white coat is a symbol of dedication to responsibility, inspiration for excellence and a professional designation," Dr. Lalitha Raman-Wilms, dean of the College of Pharmacy, Rady Faculty of Health Sciences, told the students. "At this very beginning of your pharmacy learning journey, it is important for us to instill the fundamental elements of the pharmacy profession and to realize the responsibilities and duties associated with learning and serving the public."
Raman-Wilms' welcoming remarks were followed by a blessing by Leslie Spillett, Knowledge Keeper with Ongomiizwin – Indigenous Institute of Health and Healing, Rady Faculty of Health Sciences. Dr. Lavern Vercaigne, associate dean (academic), College of Pharmacy, led the students in the Pledge of Professionalism.
"It was a really cool experience to hear us all reciting the Pledge of Professionalism and realize that we're going to be part of this profession," first-year PharmD student Kezra Gerbrandt said.
Gerbrandt was awarded the Ronald F. Guse Scholarship for Excellence in Pharmacy. She wants to become a pharmacist because she has many family members and friends in the health sciences and she likes how accessible pharmacists are in the community.
Wendy Clark, president of the College of Pharmacists of Manitoba, addressed the students and said that pharmacy can open many doors.
"Pharmacy is a profession that gives you the opportunity to work in a multitude of practice areas and in different communities," Clark said.
This message resonated with first-year PharmD student Tan Jia Ming. The different options he'll have after graduation was one reason becoming a pharmacist appealed to him.
"There's a variety of options that pharmacy now offers," he said. "It's not just community pharmacy. You can also work as a hospital pharmacist, you can do research and there are also other options."
Watts and Jia Ming were awarded the William G. Eamer/College of Pharmacists of Manitoba Undergraduate Scholarship. Another award-winner was Shaelyn Gustafson, who received the
Marguerite Hulme Scholarship in Pharmacy.
Gustafson spent the past two summers working as a pharmacy assistant in a community pharmacy in Brandon. This is where she realized that pharmacy was the profession for her.
"Putting on the white coat was a very exciting moment," she said. "It felt nice to officially begin this journey."