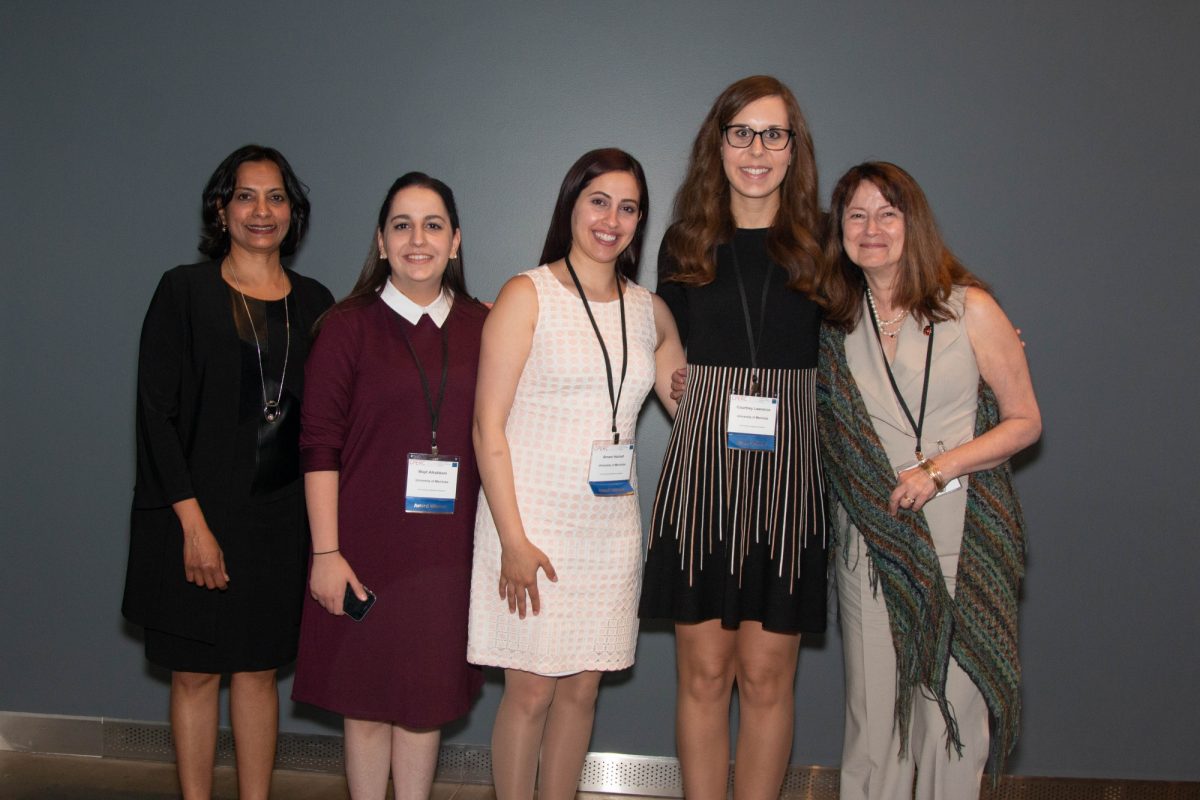 U of M pharmacy students stand out at national awards banquet
July 18, 2019 —
Three students from the College of Pharmacy in the Rady Faculty of Health Sciences were recently recognized for their achievements at the Association of Faculties of Pharmacy of Canada (AFPC) Awards Banquet on June 12 in Edmonton.
Notably, four out of the seven awards presented went to University of Manitoba students, with one U of M student receiving two awards.
Dr. Lalitha Raman-Wilms, dean of the College of Pharmacy, said she is proud to see the graduate students being recognized nationally through these awards.
"This really speaks to the calibre of our students and their potential to contribute to the professional community, as well as to their supervisors, who are outstanding mentors to them."
Here's a look at the winners:
Amani Hamad
AFPC/Council for Continuing Pharmaceutical Education Graduate Student Research Award
What is your work/educational background?
I completed my bachelor's and master's in pharmacy at the University of Jordan, then worked as a drug and poison information specialist from 2009 to 2014 at a hospital in Saudi Arabia. That inspired my interest in medication safety and led me to the PhD program at the U of M.
What is the focus of your research?
I'm studying the long-term safety of antibiotics used during pregnancy and in infancy, and the associated risk of neurodevelopmental disorders, such as autism and attention deficit hyperactivity disorder (ADHD). Children with autism and ADHD have abnormal microbiota composition, and we want to see if this is induced by antibiotic exposure in early life. We're studying data housed at the Manitoba Centre for Health Policy at the University of Manitoba.
What impact do you hope to make?
Antibiotics are the most commonly prescribed medication for children and are also commonly prescribed in pregnancy. Identifying an association with autism and ADHD will help us better understand the causes of these disorders and highlight the importance of rational antibiotic use. I presented our research at the AFPC, showing that antibiotic use during the first year of a child's life does not increase the risk of autism disorders, which will be reassuring to prescribers and parents.
Courtney Lawrence
AFPC/Merck Canada Inc. Postgraduate Pharmacy Fellowship Award
What is your work/educational background?
In 2018 I completed my bachelor of science in pharmacy at the U of M and began working as a community pharmacist. I pursued my passion for research by enrolling in the master's program in the College of Pharmacy in the fall of 2018 under the supervision of Dr. Sheryl Zelenitsky.
What is the focus of your research?
Antimicrobial resistance is a serious threat to high-risk populations, where infections can be life-threatening. My research will focus on optimizing antimicrobial therapy in dialysis patients. It includes a pharmacokinetic study at the St. Boniface Hospital hemodialysis unit, aimed at optimizing the dosing of three commonly used antibiotics.
What impact do you hope to make?
The most exciting aspect of being both a pharmacist and researcher is that I will participate in clinically relevant research and directly translate my research to practice. The goal of my pharmacokinetic study is to provide evidence-based dosing recommendations that can be used to improve the treatment of infectious disease in dialysis patients. This research is directed at improving patient outcomes, preventing toxicity and reducing the development of antibiotic resistance. In the future, I hope to extend my research to improve antimicrobial stewardship (including optimizing antimicrobial therapies) in other high-risk populations.
Wajd Alkabbani
AFPC/Council for Continuing Pharmaceutical Education Student Research Poster Award
AFPC-Whit Matthews Graduate Student Poster Award
What is your work/educational background?
I graduated in pharmacy from Kuwait University in 2016 and completed my master's in the College of Pharmacy at the U of M this spring. I just started my PhD at the University of Waterloo's School of Pharmacy.
What is the focus of your research?
My research focus at U of M was in pharmacoepidemiology, studying the use of cannabis-based pharmaceuticals. I looked at annual trends, predictors of use, sociodemographic data and duration of use, based on data from the Manitoba Centre for Health Policy. Interestingly, we found that while these drugs have Health Canada approval for cancer, AIDS and multiple sclerosis, they were being used more often for fibromyalgia and anxiety. We also found that although the rates of use have increased, there were no concerning trends for abuse or long-term use, and nearly 80 per cent of users discontinued using them within one year.
What impact do you hope to make?
I hope this study will provide some input for policy makers and prescribers about the use of these agents. Our results showed that certain populations that are suffering from pain might derive some benefit from them. I hope the study will lay the groundwork for future research regarding these medications' effects and outcomes in these populations.