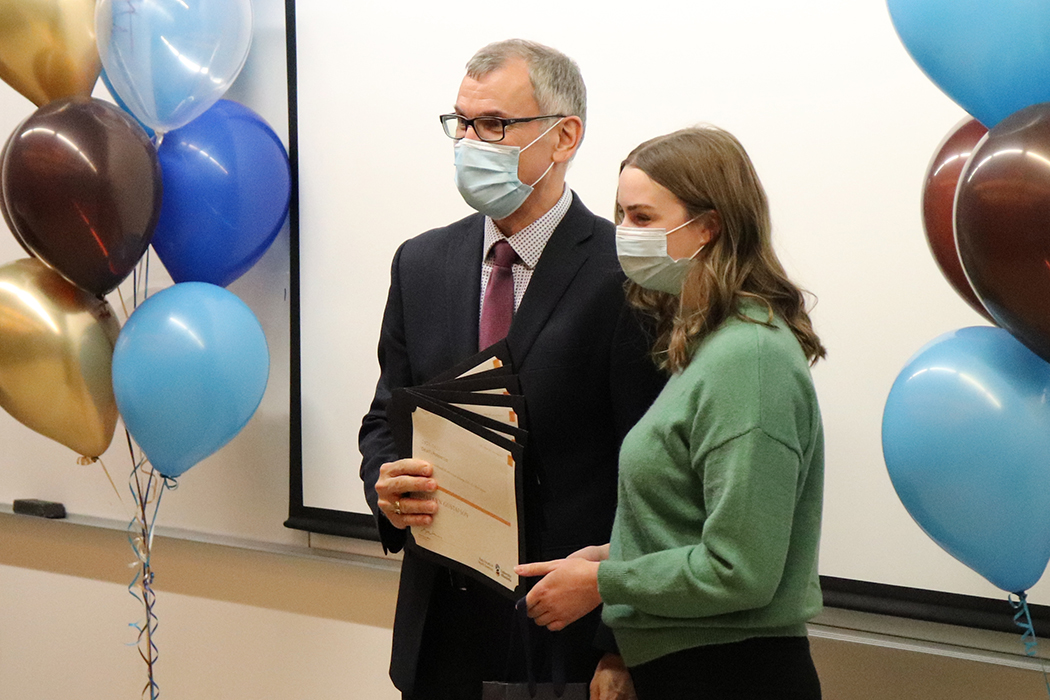 Pharmacy students honoured for hard work, perseverance
December 2, 2022 —
Shaelyn Gustafson wore a wide smile beneath her mask as she posed for a photograph at the College of Pharmacy Academic Awards Ceremony on Thursday.
Gustafson was one of more than 40 doctor of pharmacy (PharmD) students recognized for their achievements at the annual ceremony that took place at Apotex Centre on the Banntayne campus. It was the first time since the COVID-19 pandemic began that the event took place in person.
"It feels really amazing to be back in person," said Gustafson, a second-year PharmD student.
She received six honours, including the Dr. A.W. Hogg Undergraduate Scholarship and the Flexon Silver Medal.
"I think it will definitely motivate me to keep working," Gustafson said. "I like to work hard anyways, but it's nice to be recognized. It definitely inspires you to keep going."
During his welcoming remarks, Dr. Lavern Vercaigne, associate dean (academic) at the College of Pharmacy, said the students in the PharmD program showed great perseverance throughout the pandemic.
"We know you've worked really hard," Vercaigne said. "We know the dedication that you've shown to the program. We know it's been difficult on all of you – just getting from one year to the other – but to excel in the way that you have and to be here winning the awards is just exceptional."
Second-year PharmD student Marc Herrera said it's been a difficult time because of the transition back to in-person classes, but winning the William G. Eamer/College of Pharmacists of Manitoba Undergraduate Scholarship is a morale boost.
"It was something I applied for really not having too much hope because I know I have excellent classmates. It was just something available to us, so I thought I should give it a try," Herrera said. "I'm so proud of everyone here and I'm really happy that I'm here with them."
Fourth-year PharmD student Rebecca Zimmer said it's been tough during the pandemic but it was nice to be together with her classmates at the ceremony to celebrate their achievements. Zimmer was named to the Dean's Honour List.
"It felt like a good achievement," she said. "I worked hard last year, so it felt good to be recognized for it."
View the full list of award recipients.