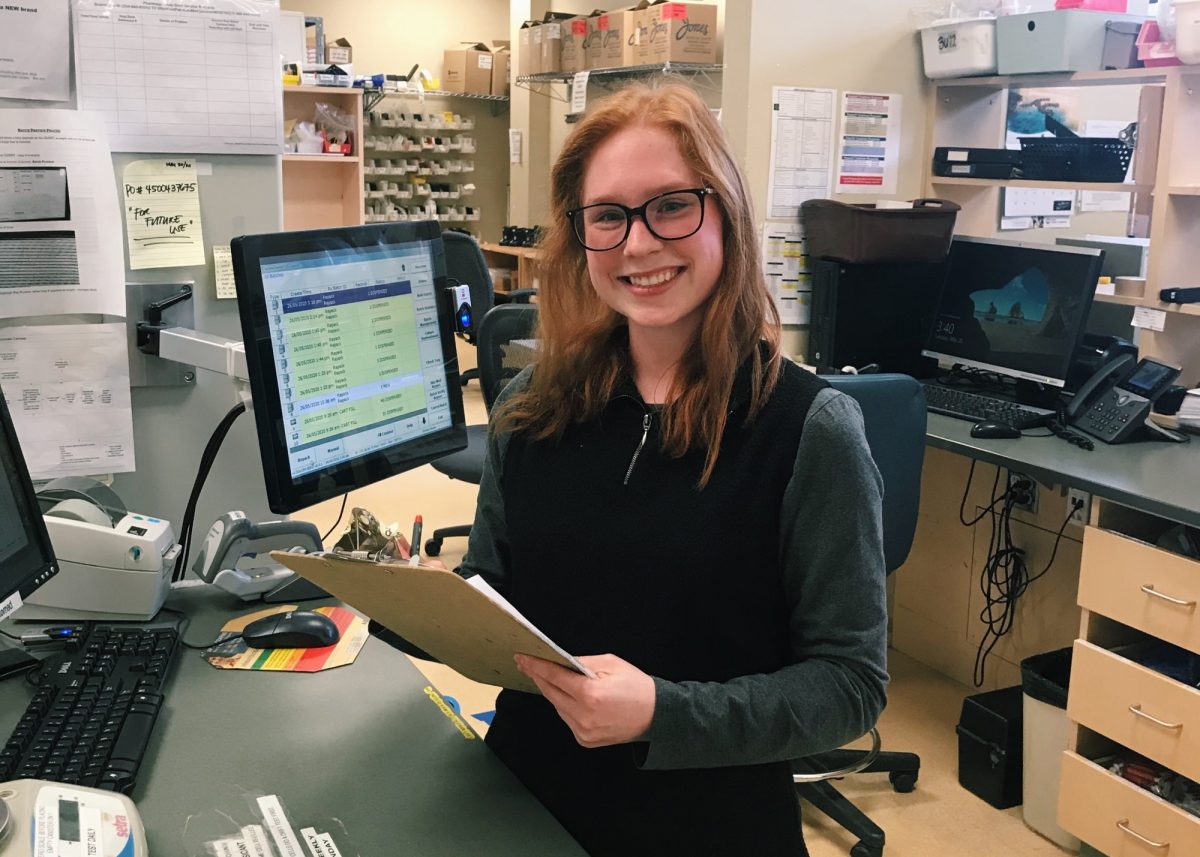 Pharmacy student learns about interprofessional care through unique rotation
June 4, 2020 —
New pharmacy graduate Melissa Ireland gained invaluable insight into collaborative patient care when she participated in a primary care rotation working as part of an interprofessional team.
Ireland, who was a fourth-year student at the time, completed her rotation at PRIME at Misericordia Health Centre. PRIME is a health centre for those 65 years or older with complex medical needs. The clients receive full health and social care one to five days a week from a team of health-care professionals, enabling them to continue living at home.
This is one of several new primary care rotation sites for students and the College of Pharmacy plans to add more sites as part of their experiential learning program.
What made you want to do a rotation at PRIME?
I was interested in doing my elective at a primary care site, so Kelly Drummond, the experiential program coordinator, sent me a list of programs that were taking on fourth-year students. I chose PRIME because last summer I worked on a research project related to polypharmacy and de-prescribing in the elderly. Primary care is unique in that you follow patients long-term in the community and you can tackle issues and learn things you wouldn't otherwise get to focus on.
What did your rotation entail?
One of my roles included medication management with the patients – educating patients on new medications and on anything changing in their medication profile.
As well, I had a fourth-year medical student with me who was on an interprofessional rotation with pharmacy to see health care from a more targeted pharmacy standpoint. I got to do a lot of teaching around the role of pharmacy and the more niche tactical background work we do that physicians and other health-care professionals don't necessarily see.
How was your experience working with other health-care professionals?
I worked with a widely interprofessional and collaborative team – physician, nurses, occupational therapists, physiotherapists, speech language pathologists and dieticians. There are daily work meetings where the team comes together to discuss care plans for different clients. Every team member has an opportunity to give their input, ensuring that you never miss anybody's role.
I learned a lot from other people. I sat down with the speech language pathologist to learn about how they help patients, how to identify patients who would benefit from speech language pathology and indications for referral. I also spent time with a physiotherapist and it was incredible seeing how they physically help their clients because it's not something you usually get to see in pharmacy.
As a new graduate, what are your plans for your future career path?
I just started work at Seven Oaks General Hospital doing my internship in regular medicine. I don't think I would have ended up in hospital practice had it not been for my time at PRIME and in emergency at the Selkirk Regional Health Centre. Also, my time at PRIME and my research in relation to elderly patients have increased my interest in wanting to help and serve that population.
What would you say to pharmacy students about experiences like the one you had at PRIME?
I highly recommend PRIME to any pharmacy student, everybody should get a chance to spend some time there. I left with so much more confidence in my abilities, in being able to interact with other health-care professionals and knowing my role when there's so many professionals with different roles all working together. You see what differences you can make and what you can add to a patient's care to make their life better. It's really valuable.