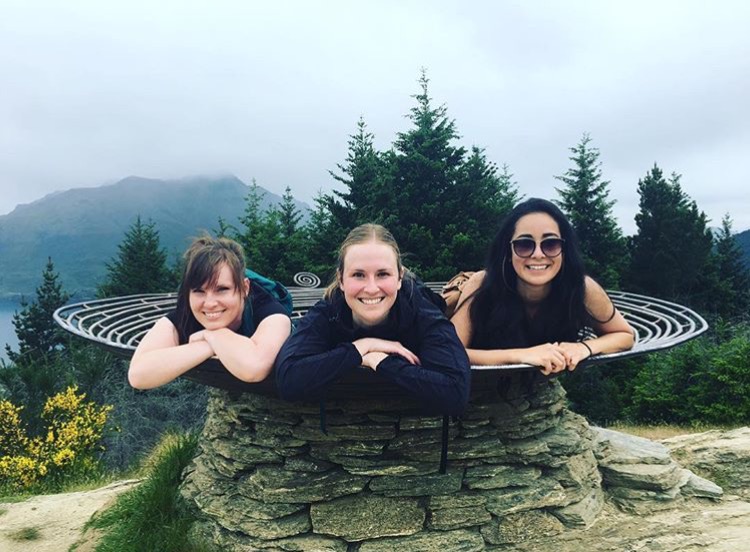 Pharmacy rotation down under was over the top
February 2, 2017 —
Sometimes a change of location is all it takes to get a new perspective.
For three College of Pharmacy students that change meant travelling to New Zealand for a seven-week rotation from November to December 2016 as part of the elective program.
Jennifer Richelle, Taira Hill and Kirsten Chale – all fourth year pharmacy students in the Rady Faculty of Health Sciences– spent their elective at Middlemore Hospital in Aukland where they shadowed 30 clinical pharmacists. They also worked with a preceptor from back home, Jillian James, a 2014 University of Manitoba College of Pharmacy grad and former senior stick now living and working in New Zealand.
"Our job was to collect data for a study the hospital was working on to determine a baseline for how much time pharmacists at the hospital spent doing particular tasks in order to gauge the benefit of implementing a fully electronic patient chart system," Hill said.
Working in the New Zealand system allowed the students to observe and compare how pharmacy is practiced in the two countries.
For Hill, the similarities in practice outweighed the differences with a shared focus on clinical care.
"The most interesting thing I learned was how similar both countries were in their goals for evolving patient care with the pharmacist providing a more clinical role," she said. "For the most part I found New Zealand practices to be very similar to Canada with minor differences seen in brand names for medications and some meds being used for different indicators."
For Richelle, the opportunity to work in an international setting with other pharmacists was a valuable one.
"It was an eye-opening experience that allowed me to think critically about where our health-care system here in Canada shines and where it could use some improvement," she said. "It is through our projects and interactions with patients that I came back with a vision of where I want to see the profession of pharmacy move towards over the course of my career and how I can be part of that change."
The Manitobans' rotation experience wasn't all work though. New Zealand is a small country with a bounty of things to see and do and the Manitobans took full advantage of the opportunity. Staying at a flat rented through Airbnb, they were able to go hiking, bungee jumping, white water rafting, as well as visit the Hobbiton movie set where the Lord of the Rings movies were filmed.
Richelle is aware of how fortunate they were to complete their rotation half way around the world.
"I can truly say that my experience in New Zealand is one of the most unforgettable experiences of my life. It provided me with insight into the profession of pharmacy that I wouldn't have gained had I not taken the opportunity to spend my elective abroad," she said. "I will forever be grateful for this experience and the people who made this possible."