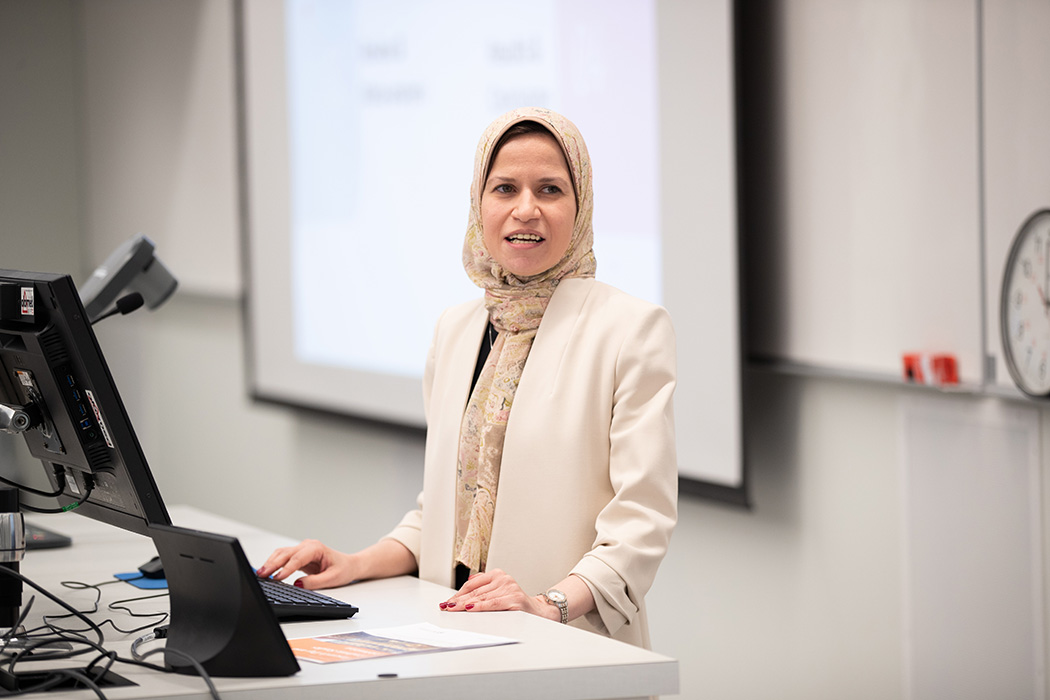 Pharmacy Research Day showcases students' valuable work
March 28, 2023 —
Winning the oral presentation category at the College of Pharmacy's Research Day showed PhD student Dr. Laila Aboulatta that she's on the right track with her PhD project.
"I'm extremely happy to win this prestigious award," she said. "It's an achievement."
Research Day, which took place earlier this month, gave participants the opportunity to show off the projects they've been working tirelessly on. Aboulatta was one of four learners who took part in the invited oral presentation, and 18 participants in the poster competition.
Aboulatta, who received her doctor of pharmacy from Alexandria University in Egypt, is examining the impact that COVID-19 measures and restrictions in Manitoba had on pregnant individuals and perinatal care. She's working to determine whether adverse perinatal outcomes, like preterm births and stillbirths, can be caused by factors exaggerated by the pandemic measures – like stress, anxiety and socioeconomic factors.
"The actual causes of preterm births and stillbirths have puzzled researchers for decades," she said. "With the measures that took place during the pandemic, it gives us an opportunity to dig more and find the real causes."
Aboulatta's advisors are College of Pharmacy assistant professors Dr. Sherif Eltonsy and Dr. Kaarina Kowalec.
For College of Pharmacy master's student Dr. Luis Perez Davalos, winning the poster competition was unexpected.
"I was trying to really tell a story that portrayed the work we're doing," he said. "It went well, and that led to winning the award. I wasn't aiming for that."
What Perez Davalos is aiming at is the development of a placenta-on-a-chip model to test nanodrugs to treat preeclampsia, a high blood pressure disorder that can occur during pregnancy. Perez Davalos, who received his medical degree from the National Autonomous University of Mexico, is working to replicate the conditions that happen in preeclampsia in the placenta, but on a chip.
"By creating a placenta-on-a-chip it will possibly accelerate the development of an intervention and instead of taking us 15 years to develop a new drug, maybe we can do it in a third of the time," he said.
Perez Davalos' advisor is Dr. Hagar Labouta, an assistant professor at the College of Pharmacy.
"I wish to congratulate the winners of the College of Pharmacy Research Day Presentation competition," said Kowalec, who chaired Research Day and helped organize the event. "I would also like to say a warm congratulations to all the students, trainees and postdocs who contributed to an engaging and high level of scholarship during the day's presentations."
Research Day was combined with the College of Pharmacy's annual graduate studies celebration and the Morris D. Faiman Lectureship. Dr. Christine Allen, a professor at the University of Toronto's Leslie Dan Faculty of Pharmacy, gave the lecture on the technological approaches to accelerate development of advanced drug delivery strategies. Allen is an expert in drug formulation and the co-founder of Nanovista Inc., a company focused on high-precision, image-guided cancer therapy.