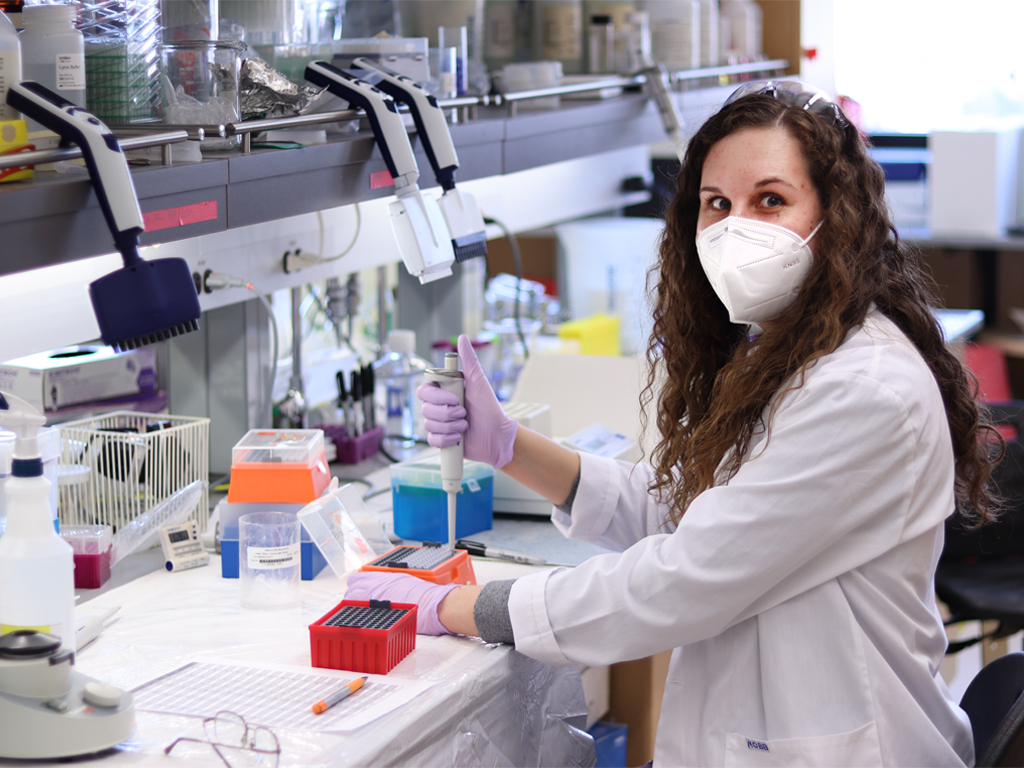 Pharmacy Research Day highlights studies of drug effects, multiple sclerosis data
April 21, 2022 —
A graduate student who won the award for the best oral presentation at the College of Pharmacy's Research Day says it's gratifying to conduct research that has strong potential to benefit patients.
"Our results can directly impact patient care," says Courtney Lawrence, a PhD student who is also a practising pharmacist. "It feels rewarding to participate in a study that's aimed at improving the quality of life of dialysis patients."
At the annual Research Day, held virtually on April 6, Lawrence presented findings from a current UM study funded by the Kidney Foundation of Canada. She is a co-investigator for the project led by pharmacy professor Dr. Sheryl Zelenitsky, her PhD advisor.
Their study focuses on optimizing antibiotic dosing for patients receiving hemodialysis for kidney disease. Although these patients are at high risk for serious infections, there has been very little research on appropriate antibiotic dosing for them.
"Currently, everybody gets the same dose, regardless of important factors like body weight and residual renal function," Lawrence says.
Lawrence is analyzing the levels of two prescribed antibiotics in pre- and post-dialysis blood samples from study participants. Her presentation focused on the drug cefazolin. She and Zelenitsky found that the current recommended dose may result in below-target levels of the drug in nearly one-third of patients.
"Our goal is to develop new, evidence-based dosing recommendations," Lawrence says.
The award winner for the best poster presentation was Donica Janzen, a PhD candidate and pharmacist whose supervisor is Dr. Silvia Alessi-Severini. Their study used linked, anonymized health data to compare patients with psychotic disorders who were prescribed different medications.
They found that drugs known as "second generation long-acting injectable antipsychotics" reduced the risk of treatment failure, incarceration and treatment discontinuation in patients by about 30 per cent compared with the other antipsychotic drugs that were studied. However, they found no significant difference in psychiatric hospitalization.
The keynote address at Pharmacy Research Day also highlighted how anonymized health databases can be mined to study "real-world" drug effects in large populations.
"It's a very cool resource," said the speaker, Dr. Helen Tremlett, professor of neurology at the University of British Columbia and Canada Research Chair in neuroepidemiology and multiple sclerosis (MS).
Tremlett's team recently published studies that used anonymized health data to show that current drugs for MS were associated with a 23 per cent lower risk of hospitalization, compared with taking no drug. But the drugs did not show this benefit in patients over the age of 55.
Tremlett has also used data to look back in time and trace health-system use in the "prodromal period" – the years before a patient reports classical MS symptoms and is diagnosed with the disease.
By analyzing data for people with MS and comparing them with matched controls, Tremlett's team found that those with MS had significantly higher health-care use in the five years leading up to the onset of MS. These patients were seeking help for a wide range of health issues, such as depression, digestive and urological problems, headaches and sleep disturbances.
Notably, in the year preceding MS onset, patients had 78 per cent more hospital visits, 88 per cent more physician service use and 49 per cent more prescriptions filled than the matched controls.
This evidence of an "MS prodrome" points to exciting potential to identify people whose symptoms and risk factors indicate that they are at high risk for the disease, Tremlett said. As "neuroprotective" drugs are developed in the future, such patients could be offered enrolment in clinical trials.
"Maybe we could recognize MS earlier," she said. "Maybe we could intervene earlier and prevent disability."